Fonterra to invest NZ$615 mln in buying 20% of Chinese infant formula group Beingmate and forming Australian j/v; Keeps milk payout forecast at NZ$6/kg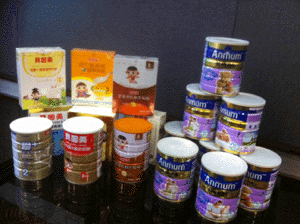 By Bernard Hickey
Fonterra has announced its biggest investment yet in China's fast-growing infant formula market and given the green light for NZ$555 million worth of new milk processing plants in the North and South Island.
New Zealand's biggest dairy cooperative and the world's biggest milk powder exporter also held its forecast milk payout at NZ$6.00/kg despite recent slumps in dairy commodity prices.
Fonterra announced plans to buy up to 20% of Chinese infant milk formula group, Beingmate, for NZ$615 million as part of a global partnership deal. Beingmate has around 11-12% of China's market share by value for infant formula, making it one of the biggest local players. It has six plants, 7,000 staff and 20,000 maternal service consultants selling premium end infant formulas from more than 1,000 authorised Beingmate stores and 80,000 retail terminals.
The deal also involves Fonterra and Beingmate forming a joint venture in Australia to buy Fonterra's Darnum plant in Victoria in Australia and then for Beingmate to distribute Fonterra's Anmum brand in China.
Fonterra separately announced it had maintained its forecast milk payout for the current 2014/15 season at NZ$6.00/kg and that it had decided to invest a further NZ$555 million building a new high efficiency milk powder drier at Lichfield in the Waikato and three new plants at Edendale in Southland.
Fonterra said the partnership with Beingmate would create a fully integrated global supply chain from the farm gate direct to China's consumers, using Fonterra's milk pools and manufacturing sites in New Zealand, Australia, and Europe.
"The partnership is intended to increase the volume and value of Fonterra's ingredients and branded products exported to China," Fonterra said.
Fonterra would first buy up to 20% of Beingmate and then set up the joint venture to buy Darnum.
Fonterra Chief Executive Theo Spierings said the partnership would be a "game changer" that would "provide a direct line into the infant formula market in China, which is the biggest growth story in paediatric nutrition in the world."
"The partnership will also play a part in promoting leading product quality and safety standards in the infant formula market in China, participating in the ongoing development of the Chinese dairy industry, and supporting the development of Beingmate's business," he said.
"By working together with Beingmate, we will strengthen our infant formula brand presence in China and link China to high quality ingredients from New Zealand, high value paediatric products made at Darnum in Australia, and whey specialty ingredients manufactured at our new plant in Heerenveen in the Netherlands and in alliance with Dairy Crest in the United Kingdom. We will also work with Beingmate to evaluate mutual investments in dairy farms in China."
Beingmate Chairman Wang Zhentai said working with Fonterra would create a "globally competitive, safe and secure supply chains to deliver high quality, advanced dairy nutrition to meet the needs of China's growing population as well as global consumers."
"The partnership will see our business take a significant step forward in its globalisation ambitions," he said.
Wang said the partnership was "well-aligned with the Chinese government's desire to see a strengthened focus on quality and consumer safety in the local dairy industry."
"We believe this global partnership will play a constructive role in the development of China's and the global dairy industry as both parties work together to drive a two-way flow of capital, technology, supply and distribution," he said.
NZ$33 billion market
They estimated the infant formula market in China was worth about NZ$18 billion today and was expected to be worth NZ$33 billion by 2017.
"This growth is driven by increasing urbanisation, higher disposable incomes, a preference for premium brands, and relaxation of the one child policy," Spierings said.
The key elements of the proposed global partnership between Fonterra and Beingmate are:
Fonterra said it would offer to buy up to to 20% of Beingmate at RMB18 per share, subject to Beingmate's shareholder, government and regulatory approvals. The bid is at a 20% premium to Beingmate's share price before the offer.
"Depending on the response to the tender offer, Fonterra's investment in the global partnership will be NZ$615 million (including proceeds from the JV in Australia)," it said.
If confirmed, the shareholders' agreement would provide for Fonterra to be able to nominate up to two directors on the Board of Beingmate and for Beingmate Group to retain at least a 30 per cent controlling stake in Beingmate, and Fonterra's shareholding not to exceed the shareholding of the Beingmate Group.
Beingmate will own 51 per cent of the JV to satisfy Chinese regulatory requirements. Fonterra would maintain day to day control of the Darnum plant. Spierings said he and Wang would be on the strategy committee of Beingmate's board.
Spierings said the partnership with Beingmate gave Fonterra a strong position as the Chinese Government encouraged the creation of five or six local champions in the dairy industry, one of which would be Beingmate. It was expected they would then tie up with five or six major global players, one of which is Fonterra.
Payout forecast held
Meanwhile, Fonterra kept its milk payout forecast unchanged at NZ$6.00/kg and its dividend estimate at 20-25c/share.
Chairman John Wilson said the decision to maintain the forecast reflected the longer term outlook for international prices for dairy.
"Current market views supported by our own forecasting indicate commodity prices improving later this year or in early 2015, with global demand for dairy continuing to grow year on year," Wilson said.
"While the long-term market fundamentals remain sound, we need to recognise that the current market conditions are difficult and there remains further downside risk," he said.
"There is still volatility. This reflects challenges with supply and demand following a good dairy season globally.  Given these factors, the forecast is our best judgement at this time."
Fonterra would update shareholders on its performance with its annual result on September 24
New plants get green light
Elsewhere, Fonterra said it had approved plans to invest NZ$555 million in processing capacity in New Zealand. Approval had been given to build a drier at the Lichfield site in South Waikato that could process up to 4.4 million litres per day. It would cost around NZ$400 million.
It would be similar to the world's largest drier at Darfield, which produced  up to 30 metric tonnes of Whole Milk Powder per hour, and 700 metric tonnes per day
Three plants will also be installed at the Edendale site in Southland, including a Milk Protein Concentrate (MPC) plant which separates protein from skim milk and turns it into protein powder – capable of processing 1.1 million litres per day, a Reverse Osmosis (RO) plant which will increase capacity on an existing drier by 300,000 litres per day, and a Anhydrous Milk Fat (AMF) plant capable of processing 550,000 litres of milk into cream per day. These plants would cost around NZ$140 million.
Fonterra Managing Director of Global Operations Robert Spurway said the Co-operative has invested more than NZ$1.8 billion to grow processing capacity since 2011.
"We are investing ahead of the milk growth curve to give us the flexibility to take advantage of relative market prices, including during the peak season. It will also accommodate growth from existing farmers and new volume from joining farmers," he said.
"We have to ensure we have the right balance with having the capacity to cope with additional milk produced during the peak of the season, while making sure we avoid having millions of dollars' worth of infrastructure standing idle in our quieter months," he said.
"There will be 50 full-time jobs at Lichfield once the drier is complete and 25 more roles will be created once the plants are finished at Edendale. That's on top of the hundreds of builders, labourers and others who will be working during the construction phase."
(Updated with details, quotes, background, details from Auckland news conference)