Allan Barber investigates why stock prices differ so much between the Islands, looking to see whether the variances will ease soon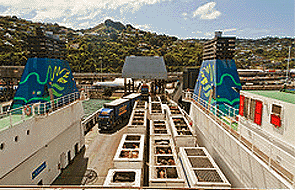 By Allan Barber
Every year when livestock numbers pass their peak in the North Island, there is a constant stream of trucks carting stock across the Cook Strait to plants for slaughter.
There are two obvious reasons for this – either there isn't enough South Island capacity at the time or the cost of procurement plus transport is less than the price in the North Island.
These two explanations are two sides of the same coin, because there is no need for South Island processors to pay more than they have to when their plants are full.
This is even more evident from the species with the largest price gap which is cull cows, possibly wider than it has ever been. However there is absolutely no point in paying dairy farmers over the odds for what is a fully depreciated asset they have to get rid of.
But the price gap isn't restricted to cull cows, because the same applies at the moment to bulls and prime. Admittedly there aren't very many of these species being slaughtered at this time in the South Island, but the current NZX Agrifax Farm Gate report (and interest.co.nz monitoring) shows a gap of 48 cpk on prime and 68 cpk on bull, $144 and $214 per head respectively at 300 kg.
So I decided to do some research into the variation between the two islands to find out if there was a more fundamental reason for the difference.
All the companies spoken to were very willing to discuss the issue and provided plenty of logical explanations.
Alliance's Livestock General Manager Murray Behrent reckoned the gap is almost entirely procurement driven, although he added the South Island pays lower levies than the North.
However there is plenty of evidence South Island farmers get lower rewards than their North Island counterparts, especially at certain times of the season.
There was general agreement from Silver Fern Farms, ANZCO and AFFCO on the importance of procurement competition in determining the main reason for the divergence between the two islands.
But other factors mentioned include the seasonality of the South Island, a flatter kill profile in the North, relative plant operating and processing costs, differing union agreements and cartage costs, and a higher proportion of chilled production in the North Island.
Plants in the North have more ability to recover fixed overheads because of the kill profile which allows better utilisation of plant and employment of labour. Keith Cooper highlighted the respective scale and efficiency of Silver Fern Farms plants across the country: three times as many cattle processed in the North Island, but the same number of slaughter facilities, while two ovine slaughter plants process the same volume as four southern plants.
Conversely the shorter killing season in the South Island means higher labour costs and larger facilities capable of handling the peaks. Nor at this stage do sheepmeat operations in the South have the benefit of an extended bobby calf kill when lambs are not so readily available.
The lamb kill has changed markedly in recent years with both islands having a similar number of lambs to slaughter, compared with 20 years ago when the South Island had up to 50% more. Over the same period, but especially since the formation of Fonterra, the land use profile has changed dramatically to dairy, boosted by the increased dairy payout and rise in the amount of irrigation.
In spite of plant rationalisation, notably at Belfast and Mataura, carried out by both SFF and Alliance, they have found it a challenge to handle the change of processing configuration dictated by today's land use. There is less opportunity to dedicate South Island plants to specific types of production and certain customers, while it is also harder to justify installation of machinery to save co-products which are an important source of revenue.
SFF operates on a regional basis within each island rather than on a North and South Island pricing structure, although the company continues to publish only two separate schedules which Cooper reckons are 'pretty close to the mark.'
Another factor mentioned to me is the fact there is more contracting in the South Island, with the contract price generally being quite a lot better than spot prices. But North Island procurement prices are more volatile and are adjusted up or down faster than in the South.
The inevitable conclusion is South Island farmers suffer a price disadvantage because of a shorter season leading to the need to recover overheads over a shorter period and the resulting peak kills which cause backlogs at the very time farmers must get livestock slaughtered.
They also suffer from being serviced by plants which are generally older than the North Island plants and which were originally built to handle a different mix of species. This must adversely affect the processing margin and procurement price.
Even taking all these factors into account, suppliers must question the justice of companies with operations in both islands paying more, in some cases substantially more, to their North Island suppliers.
But judging by the reasons given to me, South Island procurement prices are unlikely to improve to the point where they match those across the Cook Strait.
In that case raids by North Island processors are unlikely to stop any time soon.
-------------------------------------------------------------------------------------------------------------------------------------------
Farms For Sale: the most up-to-date and comprehensive listing of working farms in New Zealand, here »
-------------------------------------------------------------------------------------------------------------------------------------------
Here are some links for updated prices for
- lamb
- beef
- deer
- wool
---------------------------------------------------------------------------------------
Allan Barber is a commentator on agribusiness, especially the meat industry, and lives in the Matakana Wine Country where he runs a boutique B&B with his wife. You can contact him by email at allan@barberstrategic.co.nz or read his blog here ». This article first appeared in Farmers Weekly and is here with permission.