Fonterra cuts milk payout forecast for 2014/15 to NZ$5.30/kg from NZ$6/kg, but lifts dividend range forecast; 'reflects medium term rebound view'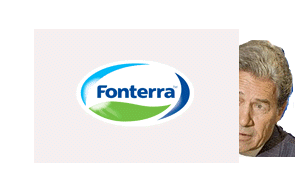 By Bernard Hickey
Fonterra has cut its forecast for the 2014/15 milk payout to NZ$5.30/kg from NZ$6.00/kg as widely expected, but has increased its dividend payout range to 25-35c/share from 20-25c/share to soften the blow somewhat.
"The market is currently influenced by strong milk production globally, the impact of Russia's ban on the importation of dairy products, and the levels of inventory in China," Fonterra Chairman John Wilson said, adding there had been some relief recently from the falling New Zealand dollar.
Fonterra confirmed a NZ$8.40/kg milk payout for the already completed 2013/14 season and a 10c per share dividend, which was better than the slight fall that some economists expected.
"Under the current market conditions, there is further downside risk. However, the forecast reflects expectations that prices will increase in the medium term," Wilson said.
Economists estimated the drop of more than NZ$3/kg would reduce revenues to the dairy sector and the wider economy by around NZ$5.5 billion or over 2% of GDP. The New Zealand dollar dropped more than half a US cent to 80.75 USc. Economists said the forecast assumed a 30% rebound in milk powder prices to US$3,500/tonne by the end of the season from around US$2,700/tonne now.
"Recent auctions have implied a milk price in the mid-$4/kg MS mark as opposed to low $5/kg MS," ANZ Rural Economist Con Williams said.
Fonterra CEO Theo Spierings said the estimated dividend range reflected the positive impact of a lower forecast Farmgate Milk Price on product margins and significant volatility in commodity prices.
"A lower forecast Farmgate Milk Price reduces input costs in our consumer and foodservice businesses. In turn, we do expect to deliver increased returns as a result of a recovery in margins on our products," he said.
"In addition, stream returns for Non-Reference Commodity Products such as cheese and casein are currently making a positive earnings contribution, but it is still very early in the financial year," he said.
"With volatility in commodity prices, a wide range of outcomes are possible in relation to stream returns. The wider dividend range reflects this volatility, and at this stage of the financial year, it is not realistic to be able to accurately forecast the final result for the year within a narrower range."
'25% will struggle'
Dairy industry group DairyNZ said most farmers would cope with the lower prices as long as there was not another drought, but around a quarter of farmers may struggle to pay their farm working expenses and interest payments.
"Our real concern is maintaining profitability across the industry if milk prices remain low for the 2015/16 season," said DairyNZ's general manager of research and development, David McCall.
"We expect farmers to make a determined effort to control farm working expenses this season, with an average budgeted reduction in farm working expenses of around 40 cents per kgMS to $4 per kgMS," McCall said.
"Our surveys show that farmers will reduce their spending on bought-in supplementary feed, fertiliser and repairs and maintenance, which all increased in 2013/14," he said, adding farmers should think about the next five years and whether their systems can handle such fluctuations in the payout;.
"Our analysis shows we are just within the long-term bounds of the trends for average dairy company total payouts – and if you can't survive those, then you need to look at your farm system and what to change. We know there are dairy farmers who operate low-cost farming systems that are able to make a profit with a $5 Farmgate Milk Price," he said.
Federated Farmers Dairy Chairman Andrew Hoggard said losing the 70c/kg would hurt and that a quarter of farmers would be loss making. He said he was optimistic about the payout rebounding above NZ$6/kg for 2015/16.
"Farmers will be kicking capital works into touch and will be pruning herds to rid themselves of any passengers," Hoggard said.
"What we know from DairyNZ is that two-thirds of dairy farms have working expenses of between $3.25 and $4.75 kg/MS.  Of course when you start paying back the bank manager, the average cash costs on-farm head up to $5.40 kg/MS."
Conspiracy theory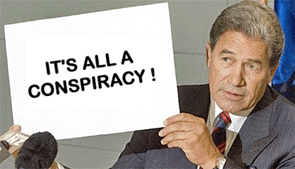 New Zealand First Leader Winston Peters suggested that Fonterra may have delayed the announcement to benefit the Government.
"Questions need to be asked by New Zealand voters on why they were not informed about this serious decline before Election Day," Peters said.
"The drop in payout is a $5 billion hit to the New Zealand economy and 2 per cent off nominal GDP. It appears the government and Fonterra joined forces to keep the facts hidden from voters?," he said.
"And why did Rabobank, a leading rural lender, wait until the first working day after the election to release a survey showing that almost half of our dairy farmers expect the performance of farms to worsen in the next year and that rural confidence is at a two-year low?"
Spierings denied Fonterra had delayed its result to suit National, saying it always released its result in the last week of September and National had simply chosen an earlier election date than normal.
"We have not moved an inch," Spierings told Guyon Espiner on Morning Report .
(Updated with detail, market reaction, farmer reaction, comments from Winston Peters, reaction from Spierings)