Rick Powdrell urges all sheep farmers to vote in the Wool Levy Referendum, joining the 43% who have already done so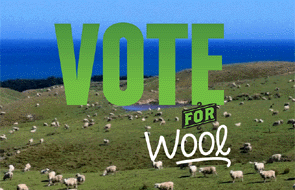 By Rick Powdrell*

UPDATE: Voting has now closed.
The turnout was 46%. (The 2009 voting turnout was 39%.)
Results will be announced next week.
----------------------------------------
Sheep farmers have only one day left to vote for the Wool Levy Referendum, closing at 2pm this Friday, 10 October.
"This is the final call for sheep farmers to decide the future of their wool industry on Friday," says Rick Powdrell, Federated Farmers Meat & Fibre Chairperson.
"It is great to see 40 percent of the eligible sheep farmers have already voted, but we want to make sure the last 60 percent have their voices heard on how they want their $700m industry to move forward.
"Voting can be done by fax toll free on 0528 233 532 869 or online at www.votewool.co.nz, however postal voting has now closed.
"We are the world's third largest wool exporter, supplying 45 percent of the world's carpet wool, but it is predicted by the industry that wool's share of the global market will inevitably decline to less than 1 percent by 2040.  It is clear we need a united voice.
"Sheep farmers genuinely want to see more unity and I believe the Wool Levy will provide that common voice and industry good support.
"Voting yes means $4.2m to represent and develop the industry, based on a 2.75c/Kg levy for the 154,000 tonnes of wool produced in New Zealand each year.
"It will give us the opportunity to have an internationally recognised, non commercial voice to represent wool growers effectively and in a way that ultimately makes a difference.
"This week it is vital that sheep farmers make sure they understand what it means for the industry and seize the opportunity to have their say for our large and very important sector.
"It only takes a few minutes, simply go to the website or fax your voting papers that you received in September. If you are unsure whether you are eligible to vote or you have lost your papers phone ElectionNZ.com by phoning 0508 666 002 toll-free.
"I urge sheep farmers to make their voice count. If not now for the wool industry, when," concluded Mr Powdrell.
-----------------------------------------------------------
To subscribe to our weekly Rural email, enter your email address here.
-------------------------------------------------------------------------------------------------------------------------------------------
Farms For Sale: the most up-to-date and comprehensive listing of working farms in New Zealand, here »
-------------------------------------------------------------------------------------------------------------------------------------------
Here are some links for updated prices for
- lamb
- beef
- deer
- wool
----------------------------------------------------------
Rick Powdrell is Federated Farmers new Meat & Fibre chairperson