Andrew Hoggard has run both the 11-3 and 5-2 rostered systems on his dairy farm and he compares how each has affected his farm and the people working there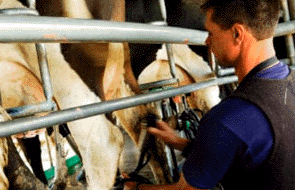 By Andrew Hoggard*

A number of comments have been made about the working hours of staff on dairy farms and the amount of time off our staff receive.
Any perception of working every single second doesn't exactly help when you are trying to attract quality Kiwis into dairying. 
Questions to me include, 'why don't dairy farm workers work five days just like everyone else?'
The standard dairy farmer response is that the cows don't take the weekend off and someone has to milk them.
It is true dairy farms operate seven days a week during the season. Yet it is also true that some farms are starting to run 'five days on, two days off' rosters and this is what I have been running on my farm this season.
So dairy farmers and similar businesses in the primary industries may be interested in my experiences, both positive and negative.
Prior to adopting 'five on, two off', we'd previously run a roster that had my workers doing '11 on and three off.' While that may seem Victorian, it was only the essentials, like milking and any feeding that were to be done on a weekend, if you happened to be rostered on.
Given that's a common roster in our industry why did we change?
It wasn't a visit from the Ghost of Dairying Future, as in 'A Christmas Carol,' but walking the talk as a farm leader.
To do my role as Federated Farmers' Dairy chair justice, I need a good team to take care of the farm.
This means better than average staff in the roles we have so a 'five on, two off' roster was a way to make our farm attractive to the staff I want and need.
Finally, with our oldest girl starting school, it means Saturday morning sports aren't that far off. Coming up with a roster where I will actually be able to go and see them play each week is another bonus.
It also enables me to do the same for the Farm Manager, who also has a young child. Finally and just maybe, I might be able to carve out some 'me time' at the rifle range putting my target rifle to good use. I haven't given up on the Olympics just yet!
So that's the theory, what was the reality?
First, the good points.
Since our weekly hours were roughly the same we didn't lose any productivity.  That also goes to underscore that our original roster in terms of hours worked, wasn't as Victorian as it may sound when splashed on Twitter.
By making Saturday and Sunday regular working days, it also meant those non-essential but important daily jobs got done instead of being left for Monday.
The not so good points were that for most of the week we operated at minimum staffing levels.
In theory that's fine for in our weekly roster all the jobs should still get done and we should still have time up our sleeves to deal with the unexpected. In reality, we found the lost flexibility of an additional person hit us when things went pear shaped, like they inevitably do in spring.
There were probably periods where we ended up working longer hours than we would have under the old roster. Admittedly, if it wasn't for the fact that I was busy off farm and if I had been a 'full-time labour unit' rather than just half of one, then I could have scheduled things a bit differently to help overcome that. For next spring, we will get a temporary staffer in just to cover the busy spring period.
The next issue we have all struggled to get our heads around is the fact that Saturday and Sunday are now regular workdays. If you're rostered on you are working the whole day and not doing just the essentials.My gut tells me we were initially not nearly as productive on weekends, myself included, as opposed to the working week.
That said this is new so like adjusting to shift work, we are getting used to it.
In terms of differentiating my farm, I am currently advertising for a new staff member. Rather than being inundated by applications attracted by 'five on, two off' it is surprisingly light.
It could be the time of the year and it could be that the 'weekend' for this role is Thursday and Friday; potential applicants may prefer the traditional Saturday and Sunday, at least every second week.
So yes, 'five on, two off' has its positives but it also has some negatives too. We have a few lessons to take from this spring and I hope we'll reduce the negatives and increase the positives.
My key message is that 'five on, two off' is doable in the context of modern employment practices, but you need to have good plans to ensure it works.
-----------------------------------------------
Andrew Hoggard is Federated Farmers dairy chairperson.