Fonterra cuts payout forecast for 2014/15 to NZ$4.70/kg from NZ$5.30/kg; NZ$ drops half a cent to 76.6 USc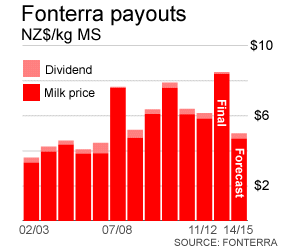 By Bernard Hickey
Fonterra has slashed its forecast payout for the year by 60 cents/kg or over NZ$6 billion, driving the New Zealand dollar down, challenging the Government's budget surplus forecast and pushing at least a quarter of farmers into financial strife.
Fonterra's board has announced it has lowered its forecast milk price for the current 2014/15 season to $4.70/kg from $5.30/kg, but it has held out the prospect of topping up its current dividend forecast of 25-35c per share with cash saved elsewhere in Fonterra.
If the payout forecast is confirmed, this would be Fonterra's lowest milk payout since the $3.87/kg paid in 2006/07. See our history of New Zealand payouts here.
The revised forecast was broadly in line with economist expectations, but not as low as some are still forecasting for the 2014/15 year. AgriHQ is currently forecasting a payout of $4.25/kg and has said that a payout of $3.65 is possible if prices do not rebound through the second half of the financial year as most still expect. The New Zealand dollar dropped half a cent in morning trade to 76.6 USc on the news.
Economsists estimated a resulting reduction in national income of over NZ$6 billion and Dairy NZ estimated a reduction of NZ$6.8 billion. It also said it expected a quarter of farmers faced some business risk this year.
"That means they will have difficulty meeting their interest payments, rent and farm working expenses without incurring more debt," Dairy NZ CEO Tim Mackle.
Elsewhere, Treasury warned that the low dairy prices would add to downward pressures on tax revenues after it reported a budget deficit of NZ$1.0 billion for the first four months of the 2014/15, which is supposed to finish with a surplus.
'Supply more than demand'
Fonterra Chairman John Wilson said farmers had been expecting the lower forecast, but it would still put pressure on their budgets.
Wilson said global milk supply remained greater than demand.
"Falling oil prices, geopolitical uncertainty in Russia and Ukraine, and subdued demand from China as it continues to work through inventory are all contributing to ongoing volatility and weak demand," Wilson said.
"Today's revised forecast reflects the Board and management's best estimates at this time. Given the uncertainty we are advising farmers to continue to be cautious with budgeting and we will update them as the season progresses," he said, adding that Fonterra would review its dividend forecast after its interim result early next year.
Chief Executive Theo Spierings said Fonterra was undertaking a targeted programme to generate more cash to support farmers.
This suggests Fonterra could use its balance sheet and its cashflow for this year to top up its dividend payout. It cannot use its balance sheet to change the milk payout, which is set according to Dairy Industry Restructuring Act rules. This would mean suppliers who were not shareholders would miss out on the cash support.
"Cash is important for our farmers and for our Co-operative," Spierings said.  "We will be further strengthening our tight controls on operating expenditure, and will be driving harder on working capital, and deferring capex – provided this does not slow progress on our V3 business strategy. This is a clear signal to farmers that we are all in this together.  We are tightening our belts, just as they are," Spierings said.
$6.1 billion hit
Westpac chief economist Dominick Stephens said so far rural confidence has remained surprisingly robust in the face of falling payout forecasts.
"The general sentiment has been that farmers can weather one low payout. We suspect that the reality of a payout as low as $4.70 is going to dent that confidence. What is more, we are now forecasting a fairly low farm gate milk price of just $6.20 for the 2015/16 season, and that is assuming that global milk prices rise rapidly over 2015," Stephens said.
"The drop from last season's $8.40 farm gate milk price to $4.70 is equivalent to a reduction in income of $6.1 billion for the New Zealand dairy industry, or 2.7% of GDP."
Meanwhile ANZ's economists said Fonterra's new forecast means all up a 100% share backed farmer is forecast to receive $4.95-5.05/kg of milk solids (MS). However, they point out the forecast still requires an assumption of an improvement in international prices in 2015, meaning downside risk remains.
"While cashflow at $6.03/kg MS for a fully share-backed farmer in 2014/15 isn't quite as bad as the headline figures, it is set to tighten dramatically in the middle of 2015," ANZ said.
"This update begs the question: at what milk price does financial stress in the sector start to increase? There is no simple answer, with a wide range of businesses and leverage within the sector. From a cashflow and financial stress point of view the bigger risk lays around the 2015/16 season."
"The industry can manage one tough year, but two years of a sub break-even payout would become problematic and entail material economy-wide consequences," ANZ said.
 ANZ is forecasting a milk price of $6.50/kg MS for 2015/16, but sees downside risks to this.
ASB sees lower dairy demand from oil producers
ASB's economists said they've cut their 2015/16 Fonterra forecast payout by 50c to $6/kg due to "lingering" dairy price weakness.
"We had been expecting some recovery in dairy prices next year. However, factors that have been weighing on dairy prices this year are taking longer than expected to reverse course. Meanwhile, lower incomes for oil producers are likely to subdue their demand for dairy products. Nevertheless, we maintain very positive about the long-term demand for dairy and expect prices will recover to a relatively high level," ASB said.
Pain in September 2015
BNZ Economist Doug Steel said the cash impact on the economy was only just starting and would tighten considerably through from May to September 2015.
"It is also worth noting that farmers appear to have saved a good chunk of the record payments associated with the previous season. Agriculture bank deposits are up nearly $1.5 billion over the past 12 months," Steel said.
BNZ was maintaining its $5.70/kg forecast for 2015/16 as a lower New Zealand dollar lifted incomes before a general improvement in dairy prices in the second half of 2015.
(Updated with NZ$ move, DairyNZ comment, Economist comments).