David Jones explains why the red meat sector growth targets are not likely without major reform, and what should be done in 2015 with a sector 'unable to help itself'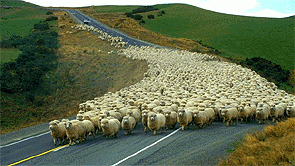 By David Jones*

Currently, over 80% of our agricultural produce is shipped offshore each and every year, and over the next decade the sector has big ambitions to double export earnings to $64 billion.
The Red Meat Sector Strategy (RMSS), launched by the Meat Industry Association of New Zealand in May 2011, hopes to achieve growth in the sector of $3.4 billion NZD by 2025, across all parts of the value chain.
The three key influences focused under RMSS are:
• Improving how and what we sell in overseas markets
• Aligning procurement between farmers and processors
• Adopting best practice production and processing
Despite being recognised as a world leader in the field, and its aforementioned aspirations for export growth, New Zealand's red meat sector is currently contracting.
More and more livestock farmers are converting their properties from meat production, in favour of dairy, dairy support and crop farming.
The 12 months to December 2014 also saw the total number of sheep in New Zealand drop below 30 million – which, given a 1980s peak of approximately 70 million, is a definite indicator that all is not well.
For some time now, the need for red meat reforms has dominated conversation in New Zealand's agricultural sector.
There is little doubt that if we wish to reverse the current trend of decline, we need to address some core issues impacting the efficiency and profitability of the sector as a whole.
The seriousness of the situation
What we're seeing today is the culmination of 30 to 40 years of constrained appetite for reform within the industry, driven by a number of factors:
Scale: 
The NZ market, fragmented as it is, lacks the scale of supply to meet the growing demands of emerging markets. There is a need to look at aggregation and leveraging new partnerships and opportunities globally and, more importantly, across the Tasman.
Excess capacity
With major excess capacities, meat-processing plants are battling one another to ensure that they have sufficient stock for each kill run, to maximise efficiency. Largely unsuccessful, this approach also undermines existing systems and alliances and the need for cooperation across the board.
Removal of overheads
There is a need to eliminate unproductive costs from within the industry with multiple handling and intermediaries that don't add value.  It is essential the value of spend is optimized through generation of on farm productivity.
Improve on farm productivity
It is paramount that we optimize best practice farming systems and apply top decal practices with on farm management and production systems. Driving farm profitability measures and sharing of best practice in science, technology and financial management are a key catalyst to changing fortune of the industry.
Lack of a single global brand
New Zealand currently has a number of suppliers exporting to the global market. This becomes counterproductive, driving prices down as they compete with one another to be stocked in overseas supermarket chains.
Pre-gate investment
Farmers are investing heavily in their own operations, as they seek to work smarter and more efficiently. If they are to see returns on this investment, there is an absolute need for the value-add to generate greater profits. We must smooth the volatile returns of the market as we attempt to deliver consistent revenue flow to the farm gate. Production should be encouraged on a dollar per kilogram basis, making sure we are meeting the demand of markets that best allow us to optimise that return, irrespective of traditional slaughter timings. The industry has invested heavily in positioning New Zealand product better on the global stage - we need to tidy up our back yard and work collaboratively to capitalise on that. This is an undertaking that will need to be driven by scale and consistent returns.
Suggestions to revitalise in 2015
At this stage, the fragmented nature of the industry limits its ability to build a sustainable and enduring offering behind the gate, both domestically and globally.
The sector is unable to help itself.
We need the industry, supported by Government, to step in and take affirmative action above and beyond what it has started with the Red Meat Profit Partnership.
It is crucial, however, that we strike a balance between a totally controlled environment, dictating to the industry what it can and cannot do, and a laissez-faire system.
Anything too prescriptive, by way of moratoriums and mandates, would limit the appeal to foreign investors, who will be instrumental to the industry's recovery.
Foreign investment brings huge opportunities, by granting access to equity, wider markets for export and better systems. New Zealand produces to feed approximately 40 million people - we are totally reliant on exporting overseas and need to be more accepting of investment from these markets.
There is also a serious need to ensure we are not competing amongst ourselves once we are in those overseas markets.
Exporting under a single global brand would stop us from shooting ourselves in the foot, engaging in a pricing war to be stocked in foreign supermarkets.
Growing to achieve an extra $3-$4 billion NZD in annual export revenue simply isn't possible under the current system.
Urgent reform is needed if we are to stop the industry's decline.
-------------------------------------------
David Jones is the New Zealand Head of Agribusiness at PPB Advisory. You can contact him here.