The Weekly Dairy Report: Prices and drought rock confidence, rain lifts facial excema spore counts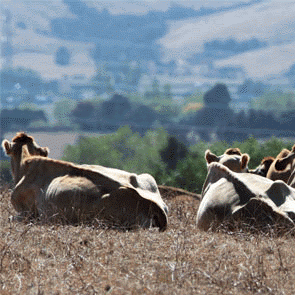 DAIRY
Good rains in some areas of the North Island lifting facial excema spore counts, but drought areas have missed significant rains and still bake in temperatures above 30 degrees.
Record low rainfall has been recorded in 13 places in January in both islands, and the dry areas have recieved 10% of the normal.
Irrigation from the Opuha scheme has nearly stopped, and after some recent filling of water into storage dams, the Rangitata flows have returned to their unharvestable levels.
Farmer confidence has plummeted, as the worst triple whammy of feed shortages, low prices, and costs of production rising to $6.20/kg ms, has arrived.
NIWA in it's seasonal outlook, predicts a 60% chance El Nino conditions will exist for the next 3 months, so farmers should plan for having to manage this dry well into the autumn.
Dairy advisers in the lower North Island, are urging those with feed issues, to cull to 80-90% of peak herd numbers, milk once a day, and only feed affordable supplements.
Landcorp has reported on a 43% profit fall, as even the biggest farmer in NZ is struggling with the dry, and commodity price weakness.
The latest dairy auction gave farmers a much needed boost, with a 9.4% rise in prices, led by whole milk powders lifting 19%, and accumulated gains for 2015 are now 25%.
Some bank analysts increased their 2014/15 payouts (Westpac to $5kgms)  based on this upturn but Synlait was however much more pessimistic, and lowered it's forecast to $4.40/kgms, citing lack of demand out of China and plentiful global supplies holding back the upturn.
Numbers of 50:50 sharemilking jobs are reported to be in decline and participants are concerned  the pathway to farm ownership is being made harder by this change.
However different management systems have evolved in their place, like equity partnerships, contract milking, and variable order sharemilking, that all reward skills over and above a wage, and allow in time, land purchase opportunities to be considered.