Waikato Fed Farmers calls for debate on dairy conversion moratorium; Greens call for Landcorp to stop conversions; PM backs Fed Farmers' efforts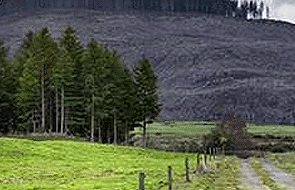 By Bernard Hickey
The debate over whether parts of New Zealand have hit 'peak dairy' and require moratoriums on conversions has flared again from an unlikely source.
The President of Federated Farmers' Waikato division, Chris Lewis, recently questioned at an executive meeting whether a moratorium was needed in the Waikato before thousands of new cows were added at the upper reaches of the Waikato River, making it more difficult for existing farmers to meet new Waikato Regional Council 'Variation 5 and 6' rules on water allocations and nitrogen footprints.
"A moratorium is about taking stock of where we are and deciding if any more conversions happen, that it would be of great benefit to the regions," he was quoted by the Waikato Times as saying.
"No one is saying stop it (dairy). At the moment we're just chucking the discussion out there," he said.
"People are doing their sums in their head and are wondering, 'are we in a sustainable place'?"
Federated Farmers' Waikato dairy section head Craig Littin was quoted as saying farmers downstream were spending heavily on infrastructure to limit nitrogen loading, but big new conversions upstream could render that useless.
"You see someone on the same catchment converting 20,000-30,000 cows and you think, why bother?," Littin was quoted as saying.
Call for moratorium on Landcorp conversions
Green Party water spokeswoman Catherine Delahunty called on Landcorp to suspend its conversions of forest into dairy farms.
The state-owned Landcorp is converting 20,000 hectares of former forests at Wairakei near Taupo into dairy and support land for an extra 27,000 cows by 2021.
"Government owned Landcorp poses a huge environmental threat with their dairy conversion plans. We urge Landcorp to listen to Federated Farmers and back the moratorium," Delahunty said.
"This is a Government-sanctioned environmental disaster in the making," she said.
"The Government is already spending NZ$210 million cleaning up the Waikato River from pollution caused by dairying. It doesn't make sense for them to make that problem worse by further dairy conversions.
Landcorp CEO Steve Carden was reported as saying the Waikato Regional Council had granted consents for the conversions and was obviously therefore comfortable.
"We're trying really hard to build dairy farms that are at the forefront of environmental best practice and I think it's really frustrating that Federated Farmers is penalising us because we are relatively new into that region when I think there are a lot of other dairy farmers that are not making nearly as much effort to reduce their nutrient runoff," Carden was reported as saying.
PM says environmental capacity the issue
Prime Minister John Key was asked about the comments by Federated Farmers at his post-cabinet news conference on Monday.
"What should drive that debate is the capacity for maintaining and improving the environment," Key said, adding he had not been advised on whether the Waikato catchment could handle more farms or cows.
"The driving force is not a certain number of farms. It's the capacity of the environment to cope with that and we've seen in certain situations in the lakes around the Taupo-Rotorua area that land has been retired because it's been deemed to be the most effective way of controlling runoff and nutrients into the lakes, and that's a sensible solution there," Key said.
"Whether there's enough or too many in the Waikato, I just don't have advice on that," he said.
Asked if therefore there was a risk of 'Peak Dairy' constraining a key plank of the Government's economic growth strategy, he said: "No.  It speaks volumes about why the sort of environmental measures that Federated Farmers and Fonterra are taking are the right ones, including the Government when we announced the retirement of land adjacent to waterways during the (election) campaign."
Key was not asked if he supported the call for a moratorium on Landcorp's conversions.
Guy says room to grow
Later, Primary Industries Minister Nathan Guy said the industry still had room to grow and any decisions about moratoriums were ones for regional councils, rather than the Government.
"We believe there's further opportunity to expand the dairy industry here in New Zealand," Guy told reporters in Parliament.
"There's a lot of work going on to mitigate the environmental footprint to do with dairying," he said.
(Updated with comments from Guy)