Allan Barber reviews the major MIE report which contains some serious options for revitalising the red meat sector, but wonders whether it will lead to change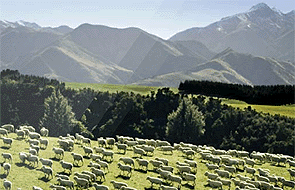 By Allan Barber
The Meat Industry Excellence Group commissioned report on the red meat sector 'Pathways to Long Term Sustainability' was launched last night in Wellington to a group consisting of MIE farmer members, meat company directors, politicians, industry analysts and commentators, consultants and one meat company CEO.
The report's conclusions are based on very detailed analysis of the processing sector by international consulting firm GHD, although the local GHD executives have many years of experience in the New Zealand meat industry.
The analysis suggests a total value of $444 million per year in benefits available from rationalising the processing sector to be gained equally from the sheep and beef sectors.
The largest savings would come from processing capacity rationalisation, followed by market supply chain benefits and savings in procurement costs.
There is 53% unused sheep and 41% unused beef capacity. The consultants recommend 21% of ovine capacity and 16% of beef being removed – 34 sheepmeat plants reduced to 21 and 27 beef plants down to 21.
The consultants have estimated processing capacity, throughput, utilisation percentages, fixed and variable costs for each company and plant in arriving at their final analysis. No doubt the companies will compare these figures with their own, although, given the consultants' industry knowledge, they are unlikely to be too far wide of the mark.
The analysis is underpinned by several assumptions, notably that farmers would agree to sell livestock on contract to the nearest plant, avoiding excess transport costs, and meat processors would cooperate to rationalise the industry by closing the least efficient plants.
These are big assumptions.
MIE has assessed several alternative pathways to achieve the desired restructure:
A one hit rationalisation strategy whereby each company would join a single merged company on the same date and assets to be closed would be sold to a separate Meat Industry Rationalisation Company for a debt security to be repaid by a levy on livestock;
 
Chain licensing or tradable slaughter rights, as discussed last year, supported by a moratorium on new capacity for a specified period;
 
'Big Red', a scheme which participants would join as individual or merged companies with redundant assets transferred to a single holding company in exchange for shares;
 
Multiple plant consolidation or company mergers, starting with Alliance and Silver Fern Farms and with potential addition of ANZCO, AFFCO, Ovation and as many single plant operators as could be persuaded to join.
MIE's report acknowledges a combination of chain licensing and 'Big Red' as the option with the most potential for further acceptance, but says considerably more work needs to be done in several areas.
Key issues include how to introduce contracted livestock procurement, gaining agreement on umbrella (NZ Inc) marketing, prevention of value leakage during consolidation, establishing the duration of any moratorium, and the impact of chain licensing on the large processors.
Finding the extra resources and money to carry out this work is the next big challenge. As MIE chairman John McCarthy said at the launch, MIE needs help to keep going as the group can't keep going on a shoestring.
It is hard to see who will step up to the plate to help with both finance and manpower, but one solution would be for the Meat Industry Association and Beef + Lamb to extend their oversight of the Red Meat Sector Strategy to set up a joint strategy committee to work towards an acceptable plan.
The Minister for Primary Industries, Nathan Guy, has reiterated his position which is that a proposal demonstrating 80% industry support would provide a basis for legislating. The jury is obviously still out on whether this outcome is remotely likely, but a joint approach by the organisations representing farmers and meat companies would go a long way towards it. However history doesn't offer much hope.
There is a lot of compelling evidence of the red meat sector's slow but steady decline in the report. Extrapolation of the sheep population suggests ewe numbers could fall to 15 million in five years and 10 million in 10 years, having fallen 47% since 1990, while prime beef cattle have dropped by 19%.
Whereas meat processors and exporters have benefited from an increase of 88% in dairy cattle over the same period, they have also gained from slaughtering capital stock in the form of ewes. At the same time lamb weights have risen helping to disguise the fall in slaughter numbers by retaining the product value achieved from the market.
But the sad truth which the report emphasises is that lack of profitability is slowly killing the industry off, firstly the producers who are converting from sheep and beef and ultimately the processors and exporters who will run out of livestock to process and sell.
MIE deserves credit for putting up some serious options for revitalising the red meat sector. The challenge is whether the participants can overcome their 'last man standing' mentality and truly embrace the challenge of creating a sustainable, value added industry.
Their Report is here.
---
To subscribe to our weekly Rural email, enter your email address here.
---
Farms For Sale: the most up-to-date and comprehensive listing of working farms in New Zealand, here »
---
Here are some links for updated prices for
- lamb
- beef
- deer
- wool
---
Allan Barber is a commentator on agribusiness, especially the meat industry, and lives in the Matakana Wine Country where he runs a boutique B&B with his wife. He is chairman of the Warkworth A&P Show Committee. You can contact him by email at allan@barberstrategic.co.nz or read his blog here ».