Federated Farmer president lays out how his vision for farming issues will play out in the future, both globally and locally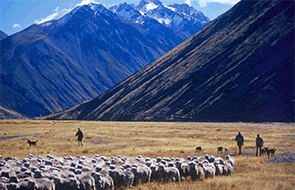 When we think of the Heartland we conjure up images of the rough and ready can-do farmer striding across the high country.
But the farmer of the Heartland is not confined to this image. 
Farming in the Heartland is a technically challenging career.  I am in constant awe of my fellow farmer, who every day must make complex decisions, dealing with the vagaries of weather, biology and the market.
Like me, my grandfather also came to farming from medicine and for the rest of his life found incredible satisfaction in the scientific challenge farming brings.
The Heartland has contributed enormously to New Zealand and our development as a country.
This month we commemorate 100 years since New Zealand's recognised baptism of fire. 
Farmers contributed their horses and their sons to the war effort.  Almost every horse and many of our men never returned. Back in New Zealand the production of food and fibre had to continue apace.  We remember the past but we also must look to the future.  The future of the Heartland.
Today I want to reflect on the contribution science and innovation makes to agriculture.
I want to traverse some of the issues that are concerning Federated Farmers and I want to give some reassurance that, not only does the Heartland have a future, but New Zealand's future depends on the Heartland; and that future is bright.
We live in a global world.  We are part of its problems and we are part of the solution.
Every three weeks the world population grows by 1 New Zealand – 4 and a half million people. 
Because birth rates in Africa are still climbing the latest UN projections have the population peaking at almost 11 billion by the turn of the century. The Food and Agriculture Organisation estimates that agricultural output must increase by 60 percent by 2050 to meet this growth.  That means the amount of land available for agriculture to feed each person on the planet will shrink so that while in 1960 one hectare was needed to feed two people, by 2050 one hectare will be needed to feed six people  – a three-fold change in less than a century.
New Zealand cannot feed the world, but we must play our part.
It would be irresponsible of us to squander or underutilise our resources.
The green revolution in the last half of the 20th century gave us spectacular increases in productivity and production. This was through the use of pesticides, fertilisers and modern hybrids. But these techniques on their own will not be enough, nor will they necessarily satisfy the requirement to reduce our environmental footprint.
We have just heard about biological farming but there are many forms of farming and they, in my view, fit across an overlapping spectrum.
At one end there is organics. But there is also integrated pest management, conventional agriculture, no-till techniques, conservation agriculture and modern biotechnology - including genetic modification and the newer gene editing techniques.
We can and we should learn from each of these techniques and understand the contribution each can make but at the heart of our progression as farmers is the scientific method. 
Science is not a fundamentalist world view, immobile to change.  It is not common sense - after all it was once considered common sense that the sun revolved around the earth. 
Science is a methodology. It is about postulating hypotheses and then trying to prove those hypotheses are wrong.
Like evolution, only the strongest survive.
We must put our assumptions to the scientific test. We must discard those assumptions which science shows to be wrong and we must be honest about the expectations of the farming methods we choose. Farming becomes a fundamentalist religion if we cling to our assumptions in spite of the evidence.
To ensure we have an honest debate – be it about climate change, health and safety, genetic modification or water quality - we need a public who are science literate.
It has concerned me that science is not valued or understood in society. However we are seeing glimmers of hope.  Led by the Prime Minister's Chief Science Advisor, the government is taking public science literacy seriously and agriculture will ride on its coat tails. 
In the public discourse on fluoridation, immunisation and 1080 we are seeing the public starting to back science and reject the worn out and unsupported rhetoric of the anti-science campaigners. 
In the debate and science of genetics, the world is thundering past us.
But there are signs the much needed discussion and reconciliation with science is happening. The editorial of this month's North and South profiled the role of the fanatic and asked "Is GM the bogey man of our time?"  It said "Unless I've missed a report on killer frankenchips, global deaths from genetically modified food are, to date, zero."
The editorial ended on this quote from Bertrand Russell: "The whole problem with the world is that fools and fanatics are so certain of themselves but wiser people are so full of doubt".
Doubt reflects a healthy scepticism which is critical to the scientific process. Science also requires we use all the facts at our disposal, not pick and choose those which suit our view.
If we are to see our Heartland prosper we must avail ourselves of all the tools of modern science and technology.  We have been world leaders in agriculture because we have been doing just that – we didn't invent fertilisers but we adapted the science to our own situation – this is the strength of our innovation.
So we are encouraged to hear that the government is to increase research and development support to businesses by 80-million-dollars and we recognise that science is the only portfolio which has seen increases year on year through this period of government austerity.
Prior to the election Federated Farmers called for an increase in R&D spending of 600-million per year to bring us up to OECD levels. This year's announcement falls well short of the mark and it also fails to address the chronic underfunding of basic research and critical capability, but it is a step in the right direction and we hope there is more to come.
We must continue to remind politicians where our strength as a country lies – and that strength is in biology.  The digital revolution is upon us. The democratization of biology is just around the corner.  We must invest in our digital future in addition to investing in biology - not instead of investing in biology. 
Biology, and by that I mean agriculture, is rooted in the land and, as the cliché goes, you can't take it with you.  So while innovations based on biology may take longer to develop they are rooted here to the land and deployed here in the Heartland. 
Our digital future will increase our productivity and help us reduce our environmental footprint as you have heard from Craig and Roz.  But we need the infrastructure to support it – we need good connectivity and we need it fast if we are to realise our potential.
North Canterbury remains the driest part of the country this year.  We in South Canterbury have had some relief in recent weeks, but one look at the landscape here confirms that it has not reached this far north. 
I am told rivers that have flowed for most if not all of the past hundred years are now dry. 
If the predictions of more frequent future droughts are true then we must all build a greater resilience into our farming operations.
I know that is of little comfort to farmers here, and wider afield to the south, who are struggling to get through to spring growth.
If there is one message I have here, then it is to talk to people who can help and plan ahead and prepare. Look after each other.
Longer term, water storage remains at the top of Federated Farmers' agenda. 
Water storage builds resilience – economic resilience, community resilience and environmental resilience.  Water ownership has been a hot debate over the past week, and to a great extent, that is a debate for the government to have with iwi and the public.
But I make some observations:
Ownership of water should not be confused with governance.  If it is, there is a risk that self-interest will get in the way of good governance decisions.
 
Secondly, any solution should not create a further grievance – in this case a grievance with farmers.
 
Third, there should be one system for all.  Perpetual ownership by one group, and short term rights for the rest, is not a recipe for simplicity, equity nor harmony.
We need cool heads if we are to get this right.
Solutions for Maori economic aspirations in water could well come through water storage.  By contributing to the development of water storage, government can help create the headroom for negotiation and settlement if such settlement is justified. 
And note I used the word "contribute", not "invest".  We already have Crown Irrigation Investments to address the hurdle of early capital shortfall and this has been welcomed by Federated Farmers.  But there is a case for government contributing to water storage in addition to its investment.  To create headroom for negotiation as I have just said but also to reflect the contribution water storage makes to the environment and the community.
Farmers are willing to pay for the benefit they receive from water storage.  They do this through the market and their own commercial decisions.
But water storage also provides the opportunity to improve habitat, increase environmental flows and provide recreation.  Both local and central government should also consider their financial contribution to effect these outcomes.
Equity in a resource-constrained world is hard to achieve.  Like water, we can use science and technology to provide more headroom in the allocation of nitrogen emissions - a fraught topic in this part of the world in recent months.
I have two principle tests for success when it comes to allocation of nutrient emissions:
The first is that any solution must not undermine the business value of the high emitters.
 
The second, and competing test, is that any solution must not undermine the land value of the low emitters.
These tests have not yet been met in the Hurunui but progress is being made.
We used these principles in South Canterbury.  With strong farmer leadership and early engagement from all farmers – dryland and irrigated – we came up with a solution which was devised by farmers, which farmers saw as equitable, and who now have genuine buy into, and ownership, of the results. 
We rejected grandfathering of nutrients – that is allocating emitters a property right related to their current emissions. 
We also rejected equal allocation per hectare. 
The final solution provided for flexibility of land use for low emitters with realistic targets for reduced emissions for high emitters. 
The key though was to have all farmers working to best practice and a sinking lid on maximum emissions as best practice through science improved nitrogen retention.
Depending on the state of the catchment the nitrogen freed up can then be redistributed to farmers or allocated to the environment. 
Continued environmental monitoring is critical and the system should be flexible enough to change as more information flows.
The challenge now is for the regulators at Environment Canterbury to translate these outcomes into a plan. 
The government has set an aspiration to double the value of primary exports by 2025. 
It is nonsense to think that we should or could do that by simply doubling production.  There is headroom to increase production in some areas, and productivity can be improved.  Yet the key to reaching this aspiration is through the investment in, and application of, science and innovation, to develop new products and add value to our current ones.
This is how we increase value and attract a new generation of customers who are looking for a safe and trusted source of food for them and their children. As families get smaller, people have become more risk averse for the children they have and that is reflected in the market place. 
We have seen this in the Chinese response to the melamine milk scandal where precious children were put at risk. I think this response is instructive.
Consumer demand driven by ethics, environmentalism represented by fashions such as organic food will come and go. That does not mean to say there are not bottom lines.  There are.
However, the basic food characteristics of quality, safety, integrity and value are here for the long term and are the real influencers of purchasing decisions over the long term.  These characteristics depend on science and good communication - not hype. 
Our reputation has been hard earned.  It is reflected in the muted consumer response here and overseas to the recent 1080 threats, which could have escalated into a serious trade issue.  It was not our self-characterised clean and green image which got us across the line but our reputation in the market place for honesty and integrity.
Implicit in that was good communication and the application of science and evidence such as ensuring supply chain security and implementing testing regimes.  So, this case just serves to illustrate that at quite different levels, science and technology has a vital role in our agriculture success.
Let us combine those tools of science we have in this country, with the natural resilience, skills and commitment of our Heartland farmers. 
The world has limited resources to feed and sustain a burgeoning population.  We have favourable climate, good soils and plentiful water. That makes us the lucky country. 
Let us not squander those resources by leaving the heavy lifting to other countries and other communities.  We have a part to play and a leadership role in this space.  Our leadership is driven from the Heartland, our future lies in the Heartland and the future of the Heartland is bright.
----------------------------
William Rolleston is the President of Federated Farmers. This was a speech delivered to the Heartland Forum, at Conway Flats in North Canterbury on 17 April 2015.