The Weekly Dairy Report: The market delivers another low blow at auction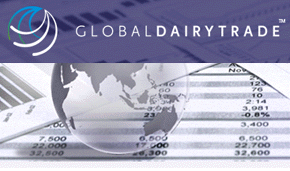 Lots of snow and heavy frosts made for a very difficult week for southern regions, as utilization of forage crops plummeted, and hay, straw, baleage and silage supplies reduced dramatically.
While in the north floods around Wanganui brought problems with road access, pasture and infrastructure damage, and in other western areas, high soil moisture levels caused pugging issues.
Farmer confidence has dropped to the lowest point in ten years, lead by the sharp reversal of fortunes for dairying, but a big farmer turn out at the nitrate management seminars is a sign that managers are prepared to educate themselves to the challenges that lie ahead.
Some indication that the dairy commodity market may be reaching the bottom were seen in the latest Oceania prices, but another test will be seen in this weeks dairy trade auction.
But hopes were dashed  last night when for the 8th event in a row the global dairy auction prices fell, led by big drops in whole milk and skim milk powders as oversupply and weak demand drove values lower still.
With the present predicted $5.25 payout dependent on whole milk powder prices recovering to $3500/tonne by Christmas, todays rate at $$2054/tonne shows a major price turn around will need to start soon to achieve this mark.
The currency has eased along with the fall to mask some of the decline, and financial analysts are suggesting another Reserve Bank driven interest rate drop maybe needed, but this will not stop global over supply and weak demand in China.
Interestingly in Australia, the Warrambool Cheese and Butter dairy company announced a payout of A$6.10 ms equivalent for the 2014/15 season, a rate all NZ farmers will look on with envy, and the new seasons price converted to NZ dollars at $6.30 will pressure NZ processors further.
Fonterra's guaranteed milk price scheme was set at $5.25/kg/ms, and was heavily oversubscribed as farmers locked in this average return, as they decide to manage risk in this volatile market environment.
Lincoln University researchers are planning to do a survey focusing on how farmers are dealing with debt, as the capital required to run a farming business grows, and with it increasing pressure of financial commitments.
More results have been emerging from last years cows deaths on swedes, with Southland vets stating more occurred on the HT variety than unmodified cultivars and urge continuing care with feeding brassicas.