CEO Theo Spierings says 'drastic changes' to Globaldairytrade may be required after price slump to below "sustainable levels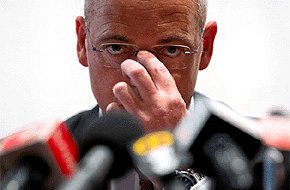 By Bernard Hickey
Fonterra Chief Executive Theo Spierings has suggested drastic changes to how Globaldairytrade (GDT) may be required to support dairy prices, which had fallen below the bottom of sustainable levels.
Spierings' comments follow another collapse in prices on GDT last week to record lows for the platform and calls from farmers and Opposition politicians for trade on the platform to be either suspended temporarily or for Fonterra to withdraw its volumes.
Theo Spierings said in an interview with Lisa Owen on The Nation that record low prices on Globaldairytrade earlier in the week were "below the bottom" and "absolutely not sustainable."
He went on to suggest Fonterra was considering significant changes to Globaldairytrade, pointing out that prices were now below the Government intervention levels seen in Europe.
"We have to look at some more drastic thinking around our Globaldairytrade auction, because in Europe there's a kind of a bottom created by Governments, and we don't have that, so we have to look at out-of-the-box solutions at that point in time," he said.
Some farmers, including Federated Farmers' Waikato President Chris Lewis, have called on Fonterra to either temporarily suspend GDT itself or to suspend Fonterra's involvement in it.
"It's madness, devoid of any common sense to keep GDT operative in these times," Lewis was quoted as saying, adding such a suspension was not unprecedented and pointing to the share market suspensions in China recently.
"Who could ever or would ever advertise their suppliers' raw material for sale at less than half the cost of production? Fonterra are, through their GDT platform, telling all of the global buyers they will sell farmers milk at half what it costs their farmers to produce," he said.
New Zealand First Leader Winston Peters also called for the suspension of Globaldairytrade and for the Government to offer concessional loans to farmers.
"Auctions are great in bull markets like the Auckland property bubble, but it is a terrible way to sell when markets turn ugly, as the record low price for Whole Milk Powder indicates," he said.
Fonterra's Group Director of Cooperative Affairs, Miles Hurrell, told Morning Report Fonterra was not considering suspending its involvement in GDT at this stage.
Foreign buyer fears grow
Labour Leader Andrew Little warned in this Q+A interview that unless the Government, the banks and Fonterra acted together there was a risk of forced farm sales that only foreign buyers could afford.
"There's pressure on them to sell, and the people with the money to purchase land are offshore. That's the US and Chinese buyers, and we run the risk of even more productive land winding up in foreign ownership in a way that we lose control of our productive sector," Little said.