Government blocks sale of Lochinver to Shanghai Pengxin on grounds any benefits aren't substantial and identifiable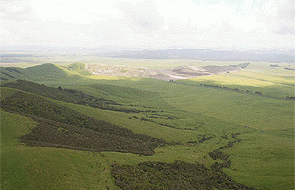 By Bernard Hickey
Ministers have blocked the sale of the iconic Lochinver sheep, beef and dairy support station on the Napier-Taupo highway to Chinese firm Shanghai Pengxin on the grounds it did not meet the tougher tests under the 2010 Overseas Investment Act for creating value for the country.
This was despite the OIO saying the decision was finely balanced and it recommending that it be approved.
Associate Finance Minister Paula Bennett and Land Information Minister Louise Upston said the application to acquire the 13,800 ha farm for $88 million from Shanghai Pengxin's Pure 100 Farm Ltd was rejected because the benefits to New Zealand weren't substantial and identifiable.
"Because Lochinver Station is classified by law as sensitive land, Ministers must consider whether the application meets the requirements set out in the Overseas Investment Act," Bennett said. 
"While we recognise and support the importance of overseas investment, the Overseas Investment Act states it is a privilege for overseas people to own sensitive New Zealand assets and therefore requires such investments to meet statutory criteria for consent." 
"After detailed and careful individual consideration, we are not satisfied there will be, or is likely to be, a substantial benefit to New Zealand – a key requirement for applications of sensitive land of this size," says Bennett.
The proposed sale was the subject of heated debate in last year's election campaign when it emerged the family-owned Stevenson Group had agreed to sell the 14,000 ha Lochinver station to Shanghai Pengxin, which owns the neighbouring Crafar Farms group, for a reported NZ$70 million. Stevenson planned to use the funds to develop an industrial estate in an old quarry in South Auckland. See more here on Interest from August 4 last year.
Bennett and Upston said the OIO had recommended approving the deal, saying the decision on the benefits was "finely balanced."
Stevenson Group CEO Mark Franklin said he was disappointed with the decision and disagreed with the assumptions used and the way the criteria was applied.
"We are concerned that this process has taken 14 months with the end result that we have been deprived of our property rights to sell to the highest value bidder for some vague national benefit which has not been defined," Franklin said, adding it was unclear why Lochinver was different to other similar deals that had been approved.
"Beyond this transaction, this decision will have significant economic ramifications for the New Zealand economy, particularly in the areas of international relations, uncertainty of foreign investment and rural land prices," he said.
Labour says 'right call made'
Labour Finance Spokesman Grant Robertson said the OIO made the right call and should take a similarly strong approach on other sales.
"This is the first time the OIO has blocked a foreign land sale since National changed the criteria in 2012. A lot of sensitive land has gone into the hands of foreign buyers in that time," Robertson said.
"Labour would strengthen overseas investment criteria by creating a publicly-searchable farm sales register, require buyers to have a clear plan to create new jobs and improve productivity and keep them to their word through spot audits," he said.
"It appears the only reason Lochinver was blocked is heightened media attention. It's unfortunate that other sales without similar attention are being waived through."
Federated Farmers welcomed the decision.
"New Zealand absolutely needs foreign investment, but there has to be clearly demonstrated benefit to the local and national economy. This was not proven here and we believe the Lochinver decision reinforces the importance of changes made to the Overseas Investment Office rules over recent years," said Federated Farmers President William Rolleston.
"We now have a more thorough and robust framework for making critical decisions on foreign investment in rural land, and what we've seen here is Ministers applying this framework as it was intended to be used. What we need is for foreign investors and those involved in the sale of rural land to work harder to find ways to demonstrate economic benefit, both on the property they are targeting and for the broader industry," he said.
"This might be the introduction to New Zealand of new technology or using their overseas networks to open up new markets for other kiwi businesses."
(Updated with reaction, detail)