AgResearch to cut 18% of research staff; scientists and farmers fear Govt's got its science funding priorities wrong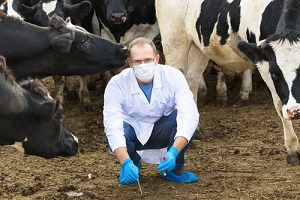 The Government's approach towards science is being questioned, as AgResearch proposes to lay off 18% of its research staff due to a lack of funding.
The Crown Research Institute (CRI) plans to cut a net 56 jobs, or 6.5% of its staff, which consists of 769 permanent and 95 casual employees.
AgResearch chair Sam Robinson says, "AgResearch must balance shifts in our sector's research needs – and therefore revenue – with the need to respond to emerging science opportunities to maximise impact for New Zealand's pastoral sector. 
"Declining R&D investment in some areas means that we are currently facing a significant and ongoing funding challenge in those areas. 
"While both private sector and Government revenue is increasing in other areas, our net science revenue is forecast to be $5.3 million less for FY16 compared to FY15."
AgResearch's funding from the Ministry of Business Innovation and Employment was already cut by $4.3 million between the 2012 and 2014 financial years, to $58.2 million. Its total operating revenue was $160.8 million in 2014.
It's now undergoing consultation to make a net reduction of 15 scientists and 41 technicians in the 2015/16 year.
While it proposes to cut 33 scientist roles, it plans to create 18. And while it looks to reduce its technician roles by 50, it wants to make nine new positions available.
Robinson says the new roles will be in areas of growing customer demand and Government investment. 
"We do not intend to completely stop research in any particular area. We are working closely with our stakeholders to ensure we continue to deliver to their needs," he says.
"We expect to make a decision on the proposals at the end of October following consultation."
Future of NZ science funding in question
The New Zealand Association of Scientists is concerned the government is funnelling too much money into commercially oriented research, through the likes of Callaghan Innovation, at the expense of scientific institutions like AgResearch.
Its president Dr Nicola Gaston says the value of the growth grants awarded through Callaghan Innovation are four times as large as the Marsden Fund, which funds all of our basic research.
"The conflation of scientific research with innovation support has meant a lot of money in the science system has moved from directly funding science to innovation, which is a more vague concept perhaps", she says.
"We need to look hard at what is happening here and improve our science strategy."
Federated Farmers is likewise up in arms over the effect funding cuts are having on an institute that supports New Zealand's biggest export income earner.
Its president Dr William Rolleston says, "Agriculture science is a long term investment which is difficult for governments on a short term three-year election cycle, but we owe it to our future farmers, and all New Zealanders, to make the investments now...
"We appreciate that AgResearch needs to ensure its capacity aligns with the work it has ahead of it, but the continual downsizing at AgResearch is a symptom of this bigger problem.
"We need a plan which will rebuild our science capability and give more responsibility to our CRIs as outlined in the CRI Taskforce Report (2010). The taskforce recommended core funding for CRIs and more decision making at the institution level.
"While this has happened, the development of the National Science Challenges has tied up a significant proportion of core funding and makes governance responsibility unclear."
AgResearch's management to cop some of the blame
Federated Farmers says it "doesn't believe AgResearch is blameless" in this situation.
"They need to examine their tactics and their effectiveness in attracting new funds both from government and the private sector", Rolleston says.
Gaston says, "There's no implication here that the scientists are not delivering on the science they're employed to do. The question is really around financial management, and that does come down to the performance of the board, which are government-appointed business people." 
She says figures tabled at the Education and Science Select Committee earlier this year show that 53% of staff at AgResearch have worked there for less than two years.
"This is a deeply concerning level of staff turnover for any organisation, let alone a science agency engaged in long-term research programmes which require continuity and stable working conditions", she says  
"One has to question the likelihood of success of any restructuring plan that will cause further uncertainty."
Gaston maintains a lot of the scientists will be lost offshore.
"Some will be able to work at other CRIs, but then other CRIs are engaged in different types of science and our universities have a limited number of jobs for agricultural scientists", she says.