Silver Fern Farms' shareholders vote 82% in favour of China's leading meat producer getting a 50% share of its business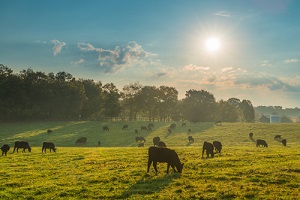 China's leading meat producer is set to take a 50% stake in Silver Fern Farms.
Silver Fern Farms' shareholders have this afternoon voted 82% in favour of Shanghai Maling investing $261 million cash in the co-operative, for a 50% share of its business.
Silver Fern Farms is the country's largest processing company, owned by more than 16,000 sheep, cattle and deer farmer-shareholders throughout New Zealand. Shanghai Maling is a listed company based in Shanghai, and is owned 38% by Bright Food Group – China's largest food company.
The transaction is expected to come into effect between March and June 2016.
Shanghai Maling shareholders will need to approve the partnership on October 30 (Bright Food Group has already stated it will vote in favour), and the deal still needs to be approved by New Zealand and Chinese authorities.
Silver Fern Farms chairman Rob Hewett says, "The Board believes this partnership will be a defining moment for our business, the co-operative as a whole, and our supplying farmers.
"The investment will provide significant financial capability to accelerate our global 'Plate to Pasture' strategy.
"In addition, with the extensive retail and distribution assets of Shanghai Maling and the broader Bright Food Group in China, we will have a unique opportunity to build establish Silver Fern Farms as the premium red meat brand in what is the world's fastest growing protein market.
"The new Partnership will allow us to invest in the things we want to, not just the things we need to, which has been the position in recent times. The investment will see Silver Fern Farms have no debt and a positive cash position at next year end.
"Shareholders clearly understand, and appreciate, the magnitude of the opportunity in front of us. Growth in our 'Plate to Pasture' strategy will generate higher returns over time for shareholders and suppliers into these programmes.
"With higher returns and lower debt we expect to be able to share profits via regular payments of dividends to the two shareholders and maintain competitive procurement prices for our livestock suppliers.
"The Co-operative will receive 50% of those future dividends and intends, subject to the Co-operative Board approval at the time, to in turn provide regular payments of dividends and rebates to shareholders."
Silver Fern Farms chief executive Dean Hamilton says Shanghai Maling brings more than just capital, as it provides the company with a huge opportunity in China.
"Shanghai Maling's integrated supply chain model will allow us to advance our product development and consumer marketing abilities in China in ways we could not do ourselves, or with any other local or international investor.
"This is a genuine game changing opportunity for our business, and I'm delighted the Co-operative shareholders are excited about the opportunity."