The Weekly Dairy Report: The auction reveals the market is still bumping along the bottom as early cows are now being dried off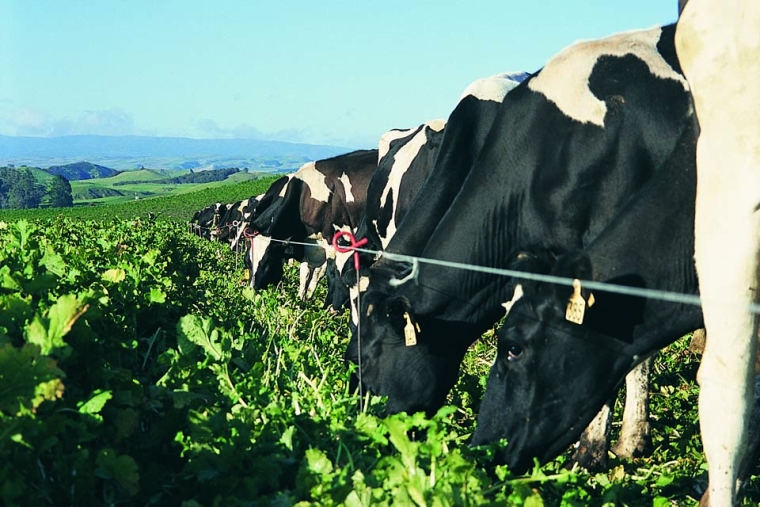 DAIRY
Soil moisture levels as May is reached are very low, and any rain from now on will come with colder temperatures and opportunities for  reduced opportunities for growth.
Many of the inland ponds are low or dry and the ducks will be dispersed far and wide looking for water to settle, as the first week in May arrives.
NIWA states in its 3 month climate forecast that May until July will have increased temperatures, normal winter rains, and see soil mousture levels recover to near normal ranges.
However many in the dry areas believe normal weather patterns will not be enough to recover the extremely dry situation to normal, and are apprehensive about growing conditions this spring.
Facial ecema outbreaks in northern regions have been described as the worst seen for years especially those provinces now getting dry, and vets warn that the affects of this disease are often sub clinical, revealing itself later, in lower production levels or in times of stress at calving.
Paddocks of low producing light cows are arriving on thin dryland pastures with straw as the winter grazing period starts, but properties with irrigation look a picture and show the value of water during these dry times.
Careful planning will be needed to ensure cows are well fed to achieve their BCS targets at calving, but not over allocated so costs can be held, but many graziers are holding out for returns of 20c/kg dm, minimum.
Some hard decisions will also need to be made on how much is spent on preventative mastitis control, as short term savings may be costly in next year's production if the infection returns.
Officials have now reported velvet leaf has been found in a North Island maize crop, as any hope of containing this weed to a single season outbreak, has all but disappeared.
In the auction overnight, more evidence that values are just bumping along the bottom with an overall fall of 1.4% for the mix of milk commodities, but another small lift for the big volume product whole milk powder, is pleasing.
Fonterra announces that milk collection for the first 10 months is 3% down on last year, but the Lincoln University Dairy Farm has produced a pleasing result with increased production and lower costs.
Globally there are less signs that present pricing levels are influencing milk flows, with latest figures from the US showing a 1.8% growth and cows producing at their highest per head levels since 2003.
A similar situation is happening in Europe and while the increase in production is slowing, it appears surplus supply will still influence the coming season negatively.
After promising optimistic milk forecasts, Australian dairy giant Murray Goulburn has had to eat humble pie and slash downwards to where others now sit, and two directors and the CEO have resigned and share values have been downgraded as a result of these poor predictions.
21 dairy farms sold in the month of March in a trend of understandably lower values, but more recievership sales are being drip fed onto the market as the banks carefully manage this downturn.
Out of the gloom the industry continues to reveal positive examples of managers skills of reducing costs down to levels relative to the payout, others using this as an opportunity to improve their genetic value of their herd, and determination to survive this downturn and learn it's lessons to be more profitable in the future.