The Weekly Dairy Report: Another lift at the milk auction and early rebate payments are helping keep the sector afloat through difficult times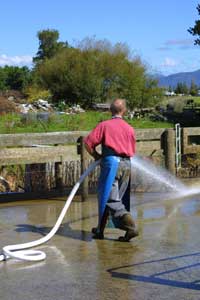 No improvement in the moisture status this week as the late El Nino continues to play havoc with dryland pastures, although some rain is forecast for this week.
Temperatures are ahead by 2 degrees nationally and as yet frosts have not arrived, but some regions have been hit with strong westerly winds.
More cows are being dried off as their calving date and BCS triggers the arrival of winter, and pastures are being prepared for cover targets around the end of May.
Irrigators are still running with ground temperatures high enough for growth, as every bit of extra grass grown on the platform means less feed needed to be purchased outside, over the winter.
Vets report that cow empty rates are higher than expected in Canterbury and the Waikato even with well fed cows, but the impact has been minimized because of the plentiful supply of cheap in calf heifers.
In it's stability report the Reserve Bank repeats it's concern about dairy debt and notes good bank support so far, but warns that land prices could fall further to anywhere between 19-63%.
The dairy cattle numbers had their first fall in 9 years to 6.5 million head in 2015 as farmers destock to lower costs, and EFTPOS transactions show money being tight in the provinces, as a result of the downturn.
Oceania dairy prices fell again across all commodities, to again show that there is still plenty of product about, and the management focus on survival will now need to be medium term.
And in the overnight milk auction prices lifted by 2.6% with whole milk powder leading the rise at $2252/tonne (now at last Decembers levels), but skim milk powder fell again (to $1658/tonne) as it has all year, and reflecting the global over supply of this commodity.
Fonterra has declared another early dividend payout of 10c to be paid on June the 7th (now 30c/kg ms has been paid) to help in farmers very tight cashflow positions.
Ravensdown has also recognised the tight times for many farmers and will pay their $21/tonne dividend 3 months early, and also reduced the cost of Urea under $500/tonne for the coming spring application.
Oceania Dairy's  Glenavy expansion is continuing in South Canterbury and will supply 200 jobs to the area and give those dairy farmers in the catchment opportunities to change and release much needed capital to sustain their under pressure operations.