The Weekly Dairy Report: Irrigated wells at risk in Canterbury as the nations yearly milk flow falls by 1.7%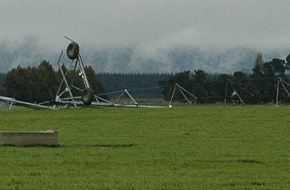 More settled weather, with mild conditions mixed with frosts saw the snow disappear from the mountains, but provide good utilization for cows on crops.
However the dry period continues to worry, as some wells in Mid Canterbury are at their lowest levels for 66 years, and the water replacement scheme to boost the aquifers from the river, seems well founded.
Hydrologists suggest replenishment of the ground water reserves relies heavily on rains in May and June, and with last months rains just being absorbed by the sub soil and little rain this month, irrigators could be facing an uncertain spring summer with unreliable wells.
Managers are looking to rebuild body condition back to 5 for mixed aged cows and 5.5 for younger animals, but also have to grapple with the compromise with attaining these goals, of having adequate feed covers at calving in a weak cash environment.
Advisers report on a Northland trial, that shows a low cost pasture operation is more profitable than an imported feed or extra crops systems, with lower income compensated by much lower costs, for a better return.
The latest Oceania milk prices revealed good lifts over all milk commodities, but these sadly were all nullified by the big currency rises this week, with the US dollar reaching a yearly high.
Tomorrows global trade auction result will once again be viewed as a snap shot of the global dairy market, but with world stocks of dairy commodities still growing, surplus supply needs to be addressed first before any upturn will seem likely.
The milk production year ended 1.7% down in June and was better than was earlier expected, but with cow numbers back 4% and some collateral damage expected out of the facial eczema outbreak, analysts are suggesting a further 3-5% fall is likely next year.
The Fonterra governance vote, while receiving support from 64% of voters failed to reach the 75% acceptance level necessary for change, and it's back to the drawing board for those driving the review.
Synlait announced it's new season rate at $4.50/kg ms, but adjusted back this year's figure to $3.90, in line with both Fonterra and Westland.
Yili's Oceania plant in South Canterbury announces another loss this year, but it is at a lower level as they build production and specialise into better returning products.
Total farms being offered for sale is now nearly half what was it was 3 years ago, as the dairy debt has ballooned to $40 billion or $2/kg ms.
Federated Farmers has responded to calls to limit immigration by stating there is a genuine shortage of NZ workers prepared to do dairy work, and migrantsare filling an important role in that regard.
Fieldays week will be viewed differently by dairy farmer visitors this year as they look for ways to reduce costs out of their systems, rather than spend up on capital improvements.