The Weekly Dairy Report: Early calves focus farmers of new welfare rules as nutrient issues influences management in the South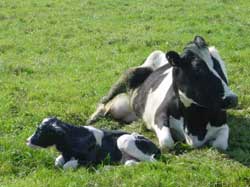 Another fine and frosty week making wintering a breeze, however managers know there is a lot of weather to go yet in July and August.
The east coast of both islands still lags behind in soil moisture levels, while the rest of the country has received above average rainfall.
Early calves are now being seen in northern herds and soon the spot light will return to bobby calf welfare by those critics of intensive farming.
Processors warn that while calf skin prices are improving they are still $10/hd behind last year and will limit returns this year.
Environment Canterbury warns that 8% of the water consent holders in the region still haven't notified the statutory body that they have installed water meters for this season and could face fines for non compliance.
Those in the Selwyn river red zone are also being reminded to provide farm environmental plans by January 2017, so the nitrates in the catchment can be managed and lowered, to improve the water quality of Lake Ellesmere.
This ECan variation to the main environment plan is seen as a template for the rest of NZ in nutrient management, and all intensive farmers should watch this development and how this issue is managed, as failure to comply and improve in this area will see errant farms needing a consent to farm.
While Oceania dairy commodity prices have lifted, last week's milk auction values continue to lag in the doldrums and while the overall prices were stable, whole milk powder fell again by 1.6%.
However the tide of production out of Europe continues unabated and could even grow greater post Brexit and threaten NZ's commodity based seasonal systems, which some commentators believe need to change.
In the US cheap grains continues to drive milk flows, as costs and regulations have stymied our low input farming operations that once gave NZ a competitive advantage in the global dairy market.
Infant milk formula volumes into China has grown by 28%, and NZ's share of this market has also lifted, and the increasing value earned from this product is a sound example of how more profit can be earned from milk, and passed back to the farm gate.
Rabobank has warned it's dairy clients that lower payout levels should be expected in the future, and farming with lower debt and reduced costs will be the way to be profitable in the short term.