Allan Barber reports the annual red meat sector gathering found little evidence of a disheartened industry, plenty who are optimistic, chasing ways to improve performance across the whole industry chain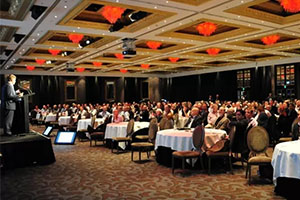 By Allan Barber*
More than 200 delegates attended the Red Meat Sector Conference in Auckland last Sunday and Monday which indicated an industry in good heart in spite of broader global challenges and less than buoyant demand from some world markets.
On a more domestic note the elephant in the room, at least for the first 24 hours, was the absence of Silver Fern Farms apart from one director. However, rather like Banquo's ghost, SFF gifts were presented to all the guest speakers during the day before Rob Hewett and Dean Hamilton miraculously materialised at the gala dinner. Normality had been restored, although the Topp Twins did their best to destroy that impression.
The conference theme was all about change, how the sector could adapt to change and the critical importance of front footing the threats from global unrest. Sir Ray Avery, founder of Douglas Pharmaceuticals, emphasised the need to put the customer instead of the product at the centre of all business strategy. He told the delegates it was essential to have a plan, citing his own experience of planning to be a millionaire by the time he was 26, which he achieved.
He set great store by the skill of observation, keeping eyes open for opportunities to satisfy an observed customer need by introducing disruptive technology, illustrating with the examples of Clarence Birdseye who got his idea for flash frozen food while fishing in the Canadian winter and Mr Velcro who invented his eponymous product after noticing the burrs his dog picked up from the bush. Examples of businesses overtaken by disruptive technology included Yellow Pages and Kodak that had failed to adapt their product and business model.
Steve Smith, founder of Craggy Range, used the New Zealand Story to underline the importance of engaging the emotions of customers by telling stories about our people, Maori and European farming heritage, and contemporary Maori images and values. He encouraged the red meat sector to tell the story of our beef and lamb, but then posed the question 'what the hell is the story?'
In his view the sector must have a laser sharp focus on what its customer proposition is, suggesting it should target the affluent customers of the world, based on health and well- being, heritage and seasonality, and using many brands, like the wine industry, under the umbrella of a consistent New Zealand grass fed red meat appellation.
Richard Brown, a regular visitor from agricultural research company Gira put the sector in the context of global trends using his enormously rich data set. Key trends which will affect the New Zealand meat sector include a global surplus of pork and poultry applying downward pressure on meat prices, herd rebuilding in the USA, Brazil and Australia, and reduced UK lamb consumption and change in status as net exporter of sheep meat as a result of Brexit. Other factors are Brazil's eagerness to export as much as possible, whereas Russia can't afford to import.
Two more very important if somewhat predictable topics at the conference were food safety and trade negotiations.
Minister for Food Safety Jo Goodhew made a strong plea for industry and government collaboration to ensure alignment of food safety and quality objectives. She noted the value of MIA's early adopter status in the food and beverage sector's participation in the new Centre for Food Safety, set up as joint venture with the government. She also emphasised consumer demand for transparency of food production, meaning it was no longer possible to obtain a better price by food safety and quality alone, but provenance, animal welfare and sustainable practices were essential. Food safety must be ingrained as part of the culture, instead of inspected into the product.
A high-powered panel, consisting of ex MFAT Deputy Secretary Crawford Falconer, current Deputy Secretary David Walker and Special Agricultural Trade Envoy Mike Petersen, addressed the subject of trade wins (and winds). Falconer, now Professor of International Trade at Lincoln University, made the point agricultural products and services make up 70% of New Zealand exports as well as being the world's most politically distorted sector with $750 billion of subsidies globally. He stated his belief TPP would be signed sooner or later, but like all trade agreements it would change and expand sooner rather than later; the ultimate aim is to establish an Asia/Pacific free trade agreement, but it would take more than one step to get there. Trade agreements are critical to the success of New Zealand's export strategy, especially as another 3 billion people are forecast to join the middle class by 2020. This could see a 20-25% increase in the value of meat exports by the mid 2020s.
The principles of successful trade negotiations are to keep the eye firmly on the prize over a 10- 15 year time horizon, continue to develop existing agreements and be flexible about other ways to achieve the desired goal. Opportunities exist to consolidate the China trade agreement, develop the relationship with Indonesia and find alternatives to TPP if that isn't signed immediately. However, Brexit and the EU present challenges for the future of trade relationships with Europe which Walker said must be tackled carefully and systematically.
Petersen argued cogently the red meat sector must have strategies to drive higher value from what it produces, but needs to become more agile in adapting these strategies. He believes the industry must address food safety and biosecurity issues which could trip it up, if it doesn't take care to build the story to substantiate the industry's claims.
There was very solid farmer attendance at the conference with little apparent evidence of a disheartened industry, rather one that is optimistic about the future and constantly looking for ways to improve performance. The dairy downturn has removed dairy grazing as a reliable source of income and there is optimism about the potential for dairy beef and sheep numbers.
All in all, it was a very positive conference signalling a strong belief in a prosperous future for the red meat sector.
---
To subscribe to our weekly Rural email, enter your email address here.
---
Farms For Sale: the most up-to-date and comprehensive listing of working farms in New Zealand, here »
---
Here are some links for updated prices for
- lamb
- beef
- deer
- wool
---
*Allan Barber is a commentator on agribusiness, especially the meat industry, and lives in the Matakana Wine Country. He is chairman of the Warkworth A&P Show Committee. You can contact him by email at allan@barberstrategic.co.nz or read his blog here ».