The Weekly Dairy Report: A great result at auction results in Westpac lifting the payout prediction close to DairyNZ's breakeven level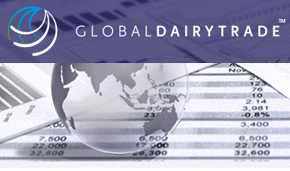 The snow has been followed by a string of heavy frosts, lowering grass growth rates and while some rain did fall last week, it did little for the soil moisture recharge in Canterbury.
The Lake Opuha Irrigation scheme has welcomed the snow as the hill cover will create the reserves to fill the storage scheme once the thaw begins.
Northern areas are drying out as soil conditions have become saturated in many regions and conflicts arise between pugging damage and rotation length. Advisers suggest a small amount of pugging damage is better than running out of feed, especially in the early stages of lactation.
The spring rotation planner use is important to ensure good BCS for mating and some are tightening feed for later calvers to ensure milkers are well fed.
Calving conditions have been good for survival and pens are filling with newborns heralding the start of a new season, and the few early sales indicate strong demand for good quality bobby calves.
More indications are being seen that the market has turned, with the futures market showing rising whole milk powder prices, amid falling milk flows both here and in Europe.
Analysts are picking another improving global trade auction this week, and if this momentum can be maintained, payout predictions could rise later in the season.
And that is what happened overnight with a very strong lift in pricing as the mix of milk commodities  lifted by 12.7%. Best of all was the whole milk powder price, which rose over US$400/tonne from the last auction to reach US $2695/tonne, the highest it has been since October last year.
Bank analysts were pleased but cautious about further rises, as they remind farmers that the market rose suddenly last October and then fell back again, but Westpac were heartened enough to lift their payout prediction to $5, now very close to Dairy NZ's breakeven level of $5.05/kg ms.
Prices for powder products have now lifted since a year ago by $500-$1000/tonne, and are within reach of the benchmark $3000/tonne needed for dairy farm sustainability, and will reignite farmers optimism that the upturn is on the way.
Landcorp, the nation's biggest dairy farmer has decided to stop using palm kernel on it's farms, citing sustainability concerns and a change back to a lower cost pasture system.
And Synlait are forecasting a big lift in profit for last year (in the $34-$35million range) as the investment into higher value products like canned infant formula, has paid huge dividends for this Rakaia based company.