The Weekly Dairy Report: A positive start to spring with milk prices and pasture production rising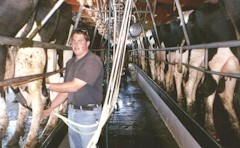 At last significant rain to parts of Canterbury on the weekend gives hope that the dry period could be easing, although plenty of follow ups will be needed.
Pasture growth rates appear above average with good feed supplies in many areas and if more rain arrives the spring is neatly set for a good start.
North Island figures have been running in the 20-25kg/dm/day while southern figures are 5kg behind and with ground temperatures rising at this stage these should build quickly.
Calving is about half way through in the south but nearly finished in the north and milk tankers are busy with the early milk flows heralding the start of the new season.
After two positive auctions Fonterra lifted the payout predictions for the year to $4.75 last week, and this rate coupled with a strong dividend forecast will put the income way over Dairy NZ's breakeven level.
Westland have followed today and lifted by 20c to $4.55-$4.95/kg/ms for this season and confirmed last years at $3.80 and milk futures trades point to another lift at auction next week.
Synlait and A2 Milk have committed to a supply deal for infant formula, as the Mid Canterbury processor looks to help those who have cows with suitable genes to take advantage of this niche market.
The alternative milk processor has had an exceptional year of growth and has turned a previous year's loss into a $30 million dollar profit, on the back of its A2 Platinum infant formula sales in Australia and China.
Heartland Bank has also recorded a big profit from it's rural lending and reports a lower risk to the dairy sector.
A rustling issue in Mid Canterbury has seen one farm lose 500 cows that were away grazing and the magnitude of this event makes it's occurrence hard to understand.
Nick Smiths address at Lincoln University about the Governments fresh water plan, shows they have a good understanding of the issues around this subject, and acknowledges the amount of time and sacrifice agriculture has made to solve the problems, now evident in some waterways.
Interest in sheep and goat milking is building as farmers look to fill niche opportunities from the market, and recognise that not all land is suitable for cows and animals with a lighter environmental footprints may be able to fill the gap.