New joint venture plant between Westland Milk and Ausnutria to be built near Christchurch to produce 20 mln cans of infant formula for China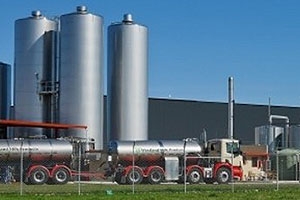 Content supplied by Westland Milk Products
Westland Milk Products has signed a joint venture agreement with leading paediatric milk formula company Ausnutria to create a new stand-alone infant formula blending and canning company to be called Pure Nutrition Limited.
Chairman Matt O'Regan said Pure Nutrition will be established through an initial investment by Ausnutria of NZ$4.5million cash, and the transfer to Pure Nutrition of land owned by Westland at its Rolleston site, which has a value of NZ$3million. Ownership will be 60% Ausnutria and 40% Westland Milk Products. 
Ausnutria will loan Pure Nutrition NZ$32 million to build and run the blending and canning plant at Rolleston. The plant's initial capacity is expected to be around 20 million cans of milk formula per year (approx. 15,000 tonnes depending on product mix). Construction is expected to commence soon and be completed by late 2017. Approximately 30 new jobs will be created.
Westland Chief Executive Toni Brendish said the joint venture (JV) meets Westland's strategic criteria for growth around nutritional products, and reinforced a strong and trusted relationship with one of Westland's key customers. There will also be an immediate benefit through increased sales of infant and toddler nutritional (ITN) products.
"Pure Nutrition will, effectively, be a substantial new customer for Westland Milk Products," Brendish said. "In addition to the direct sales to Ausnutria in China, which will continue, Westland will be the JV's sole New Zealand supplier of dairy based powders. There will be an increase in the volume of ITN base powders produced by Westland. The agreement commits the JV to purchase minimum volumes of 3000mt in its first year of operation, and 5000mt per year thereafter."
Brendish noted that after a five-year establishment phase, during which profits will be re-invested into the business, the JV's earnings are expected to provide dividends to both partners. There is also provision within the agreement for Westland to use the facility to produce canned products for its own customers and markets.
Ausnutria is a significant global company researching, producing, marketing and selling a wide range of products via multiple channels, Brendish said.
"They have experienced 34% growth year on year to the end of 2015 with their own brands and have clearly demonstrated their ability to be a strong and growing player in a very competitive market. There are clear benefits for Westland from this strengthened relationship."
In its statement to the Hong Kong stock exchange* Ausnutria Chairman Mr Yan Weibin said the joint venture will further develop and diversify its milk source, and enhance its capability to produce infant formula for anticipated growth in demand in China and other countries.
"The directors believe that the joint venture will benefit both parties in their respective production, sales and marketing capabilities both on a local and international scale," Mr Yan Weibin said.
Brendish said Westland was confident that Pure Nutrition's dividends over the period of investment will contribute significantly to the payout Westland makes to its shareholders.
* The full text of Ausnutria's statement to the Hong Kong stock exchange can be viewed here.