Keith Woodford notes China's infant formula market imports continue to grow but further business failures are inevitable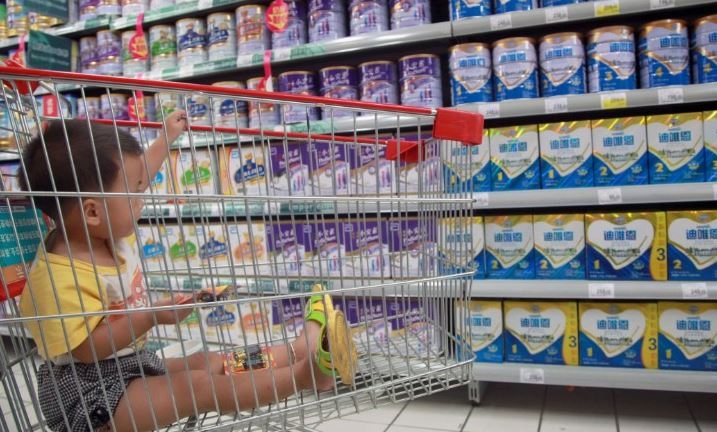 By Keith Woodford*
Chinese infant formula imports are now worth more than twice the value of whole milk powder (WMP) imports. According to Italian information analysis company CLAL, infant formula imports to China for the first nine months of this year had a landed value of US $2.1 billion, whereas WMP imports were valued at only $US 0.87 billion.  This was despite the WMP volumes being more than double those of infant formula.  On a per kilo basis, the infant formula had a landed value of US $12.63 whereas the WMP was valued at US $2.52.
New Zealand is the dominant supplier of China's imported WMP, with more than 90% market share. However, New Zealand is only a small player in the infant formula market, with 11% of Chinese imports.
Compared to the same nine-month period three years earlier, Chinese WMP import volumes were 11% lower, whereas infant formula imports had increased by 72%.  Surely there must lie a story within those numbers of relevance to all players in the dairy game.
Several years ago, about 20% of the infant formula imports came from New Zealand, but by 2015 this had declined to 9%. However, the current 11% figure for New Zealand's market share indicates that exports are now on the up again, in both percentage and absolute terms.
One key reason why New Zealand infant formula exports previously went into decline was the 2013 botulism scare, with Danone's Dumex brand in China being destroyed by Fonterra's bumbled communications.  Over preceding months, Fonterra had been testing samples of the product batch sold to Danone. This was because Fonterra's quality-control officers had noticed increasing levels of anaerobic bacteria in those samples. But they said nothing to Danone. So, in colloquial terms, when the proverbial eventually hit the fan, Danone was left up a creek without a paddle. And so the Dumex brand crashed.  Danone are now getting back in the market with Aptamil as a replacement brand, produced in what is now their own Auckland manufacturing plant.
Another key reason for decline of New Zealand's market share was the myriad of small-scale infant formula producers in New Zealand – probably more than 200 companies -  who totally mis-read the changing market rules in China. The Chinese were transparent as to their regulatory intentions and that for food safety reasons they did not want a myriad of infant formula products from either local or imported companies. For them, it created too many regulatory headaches.
China signalled its intentions well in advance. But all that our local small-scale marketers could see was the lure of an ongoing opportunistic gold mine combined with a deep-seated belief they were being discriminated against.  Those small companies and brands have now all gone.  
Selling infant formula to China is not an easy game. Almost certainly there will be more casualties.  However, the rewards are great for those who 'get it right'.  It is hard to see more than about ten companies, including both international and Chinese-owned, being around in ten years' time. 
Several of the bigger New Zealand dairy companies are currently making a new play with infant formula.  This includes Fonterra who now produce Anmum infant formula.  In March 2016, Fonterra announced that this brand, clearly aimed at Asia, would also be sold in New Zealand.
Fonterra said that it wished to become one of the three top New Zealand brands. However, it will be challenging, to convince New Zealand mums to 'go Anmum', rather than continuing to use one of the established brands such as Karicare, Nurture or S-26.
 The reason Fonterra wants to break into the New Zealand market is not to make a profit here. Rather, it is part of the process of convincing Asian mums that this is what Kiwi mums do, and therefore so should they.
Westland Dairy Co-operative have also built a nutritionals factory but may not pursue their own brand. The way forward for them would seem to be in partnership with their new China-focused partner Ausnutria.
The big infant-nutritionals success story within New Zealand has arguably been Synlait, largely through their association with The a2 milk Company.  Approximately one-third of Synlait's 200 farmers now have pure A2 herds with many others currently converting. Synlait and The a2 Milk Company are now interdependent, with The a2 Milk Company 100% reliant on Synlait for its leading a2 Platinum infant formula.
Not all of Synlait's partnerships appear to have prospered.  Akarola is marketed online with Chinese partner New Hope. But Synlait has said nothing recently about that brand. Similarly, 'Pure Cantrbury', which has been marketed as a premium brand by Shanghai-based Bright, seems to have faded from the scene.
Synlait's other big brand which has received ongoing publicity is product supplied to Munchkin using grass-fed milk.  American-based Munchkin will be carrying the risk associated with brand development, although many of the supplying farmers will also have had to modify their farming systems.
One of the challenges for Synlait is that forthcoming Chinese regulations will only allow three brands and nine formulations per company. There may still be scope for further formulations of base powder supplied to other companies.
Whether the a2 Milk Company itself should be considered a New Zealand company is now a moot point. The company is run from Australia and most of the shareholders now come from there. Regardless of locational issues, there is no doubt that they have recently been on a huge roll.
Recently, I asked an independent Shanghai-based market research CEO as to his impression of the success of the a2 Platinum brand over there. His response was four words: 'it is absolutely huge'.
Given my own long-time and ongoing involvement with the A2 science (i.e. relating to milk free of A1 beta-casein), I watch both Synlait and The a2 Milk Company with great interest. But I do so from the sidelines.  Back in 2011, I introduced the CEOs of these two companies to each other, based on the belief that they had potential complementarity. However, just like everyone else outside the companies, I rely on public information as to where they are now heading. And despite many requests, I never make recommendations as to whether or not the respective shares are a good buy.
Another company of relevance to some New Zealand farmers is Australian-based Bellamys. They produce organic infant formula and, like a2 Platinum, their product has gone 'gang-busters' in China. The relevance to New Zealand is that, although nothing has been said publicly, almost certainly they are getting a lot of their product from Fonterra's New Zealand organic farmers. Bellamys now have an arrangement that the total processing will be done by Fonterra, including final stage canning at Fonterra's Darnum Park establishment in Victoria.
My assessment is that as long as Bellamys continues to do well, then Fonterra's organic farmers will have a great outlet for their milk. But if Bellamy's star should ever fade. then the demand for organic milk powder from New Zealand will also fade.
The other New Zealand company that deserves mention is the New Zealand Goat Milk Co-operative. They have a genuinely differentiated product, and one which, just like the a2 Platinum, is free of A1 beta-casein.
Fonterra is also in the market through its JV with Chinese Beingmate.  This product, like Bellamys' product, will be produced at Darnum Park in Australia. This is in contrast to Anmum, which is manufactured in Fonterra's under-utilised Canpac factory near Hamilton.
One of the challenges for the Beingmate product, and also products produced by Yili and Yashili in New Zealand, is that Chinese consumers have a strong preference for brands that are also marketed in the country of manufacture. This message that comes through loud and clear when comparing the A2 Platinum and Bellamys products with results achieved with Synlait's Akarola and Pure Canterbury. This issue has been known for a long time, but the Synlait experience has highlighted the extent of the challenge.
Another challenge for New Zealand is that, in a marketing context, our major dairy companies missed the early sailings of the Chinese 'imported infant formula boat'. So now it is catch-up.  Without a clearly differentiated product, such as a2 Platinum or goat formula, that is not easy.
There is another threat to New Zealand infant formula producers which no-one is yet talking about. It is the likely move some time in the future that the Chinese will require what they call a 'one line' production system.  This would create issues for those New Zealand companies who regularly use a dry-wet-dry method. This method involves first drying the milk quickly during the peak of the season, then subsequently hydrating it again for a wet-mix. Most international companies with non-seasonal production are already 'one line'.  
Whether or not China will in future require a 'one line' system I do not know. What I do know is that their policy makers are giving it thought.  And that should be enough for New Zealand to be front-footing the implications.
In future, there may also be rules in relation to the use of base powders, such that use-by dates of the final product would be determined by the original use by date of the milk powder used in the product. This would affect both New Zealand and China-based companies, but have less impact elsewhere.  So there is plenty to think about as we face the future.
---
*Keith Woodford is an independent consultant who holds honorary positions as Professor of Agri-Food Systems at Lincoln University and Senior Research Fellow at the Contemporary China Research Centre at Victoria University.  His articles are archived at http://keithwoodford.wordpress.com