Ministers announce cap for Recognised Seasonal Employer (RSE) scheme in 2016/17 raised by 1,000 to 10,500; say allows horticulture and wine exporters to keep growing; Winston Peters rails against National's "immigration madness"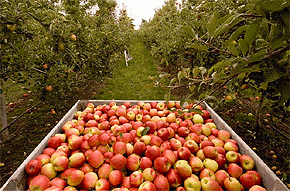 By Bernard Hickey
The Government has increased its quota for the Recognised Seasonal Employer (RSE) scheme for short term migrants working on vineyards and orchards by 1,000 to 10,500 for the 2016/17 season.
The decision came a day after figures showing net migration rose to a record high 70,300 in the year to October and after New Zealand First Leader Winston Peters described the National-led Government's policies as "migration madness."
Social Development Minister Anne Tolley and Immigration Minister Michael Woodhouse said the horticulture and viticulture industry was the fourth largest export earner and needed the extra workers to keep growing.
"The industry has forecast an additional 2,500 workers will be needed for the upcoming season," Woodhouse said.
"The increase of 1,000 RSE workers shows the Government is committed to enabling the industry to continue to grow and maximise export returns, while ensuring jobs aren't being taken from New Zealanders," he said.
Tolley and Woodhouse said the increase was made on the understanding that the industry continued to maximise opportunities for New Zealanders, particularly in regions with relatively high unemployment.
Tolley said around 5,000 beneficiaries had taken part in the New Zealand Seasonal Work Scheme and a "significant number" had not gone back on the benefit.
"In 2015, MSD placed over 4,000 people in the agriculture industry across New Zealand, which includes the horticulture and viticulture industries. HortNZ figures show that this sector employs around 60,000 people annually," Tolley said, adding MSD was developing other new initiatives to increase the number of New Zealanders working in the industry.
The RSE scheme was launched in April 2007 with a cap of 5,000 workers under the then Labour Government led by Helen Clark when unemployment was under 4%, but the cap was lifted to 8,000 in October 2008 when unemployment was rising and was lifted again in 2014 from 8,000 to 9,000, and then again from 9,000 to 9,500 in December last year when unemployment was over 5%. The workers come mostly from the Pacific Islands.
Unemployment is currently 4.9%, while the under-utilisation rate is 12.2%.
The number of unemployed actually rose by 1,000 to 128,000 over the last two years and the number of 15-24 year olds who were Not in Employment, Education or Training (NEET) rose by 3,000 to 74,000. The NEET rate has been unchanged at 11.1% over the last two years. The under-utilisation rate, which includes those people in part time jobs who want more work, fell in the September quarter to 12.2% from 12.7% in the June quarter, but is unchanged from two years ago. There were 329,000 under-utilised people in the September quarter.
The Reserve Bank has warned that record high net migration, particularly of working age people, was moderating wage growth in an economy growing at almost 4%.
'Reckless migration policy'
Earlier, New Zealand First Leader Winston commented on yesterday's record-high migration figures, describing policy settings as reckless.
"We have tens of thousands of young New Zealanders who can't get a job, congested roads, a housing crisis, over-burdened hospitals and schools and yet the government persists with a madcap policy that is not working in the best interests of all New Zealanders," Peters said.
"The high level of low-skilled workers coming to New Zealand, including international students, has undermined working conditions and put a lid on wages," he said.
"It is clear that the government's only strategy for the 2017 election is bloat the economy with consumption and perpetuate the myth that consumption growth equals real GDP per person growth. It doesn't, and as the one political party that understands that we intend to blow their political strategy clean out of the water."
Meanwhile, Peters reacted to comments from construction firms that at least 1,000 foreign workers would be needed to rebuild the road and rail connections through Kaikoura. He said New Zealanders should be used to rebuild the roads and rail, "not cheap foreign labour."
"Recruitment and immigration companies who make big money bringing in foreign labour perpetuate the myth we don't have the workers and labour when we do," Peters said.
"A skilled structural fabricator/welder in Christchurch recently told NZ First that foreign workers in the Christchurch Rebuild were being paid 'very low wages' which was driving down wage rates for Kiwis," he said.