The Weekly Dairy Report: The dry starts to enter dairy regions, as milk powder future prices again ease ahead of auction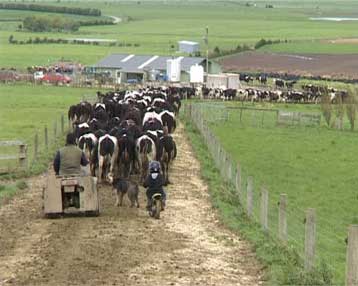 The summer dry tightens and more is forecast for the hot month of February, but West Coast farmers report they have had too much rain, and many are on OAD to cope with feed shortages.
Larger parts of New Zealand's east coast are now entering a drought phase and forecasters blame the weak La Nina for rain shortages. Dry areas are now affecting dairy powerhouse province Waikato with some in the region reporting pasture growth rates down to 20/kg/ha/dm/day and feed supplements are being used before the OAD option is implemented.
Those with feed and with irrigation will be carefully monitoring BCS of their cows and planning the speed of the rotation up to dry off, as the conflict between cow condition, cow production and maintaining pasture quality is thought out for the rest of the season.
No milk auction for another week clouds where the market is at, as a 6% parcel of the European's skim milk powder intervention stocks failed to attract the reserve price, and surplus volumes continue to grow.
Milk powder futures are easing which is not what is wanted before any gdt event, and in Australia suppliers are deserting processor Murray Goulburn, with a 100 leaving in the last 3 months.
Fonterra's Chinese partner Beingmate announces further big losses in it's dairy operations, but the big NZ Co-Op did reassure shareholders of confidence in the long term investment with the financially troubled company.
2016 milk production figures for NZ ended up just short of last year ( by 38,00kg ms), which could be considered a good result with the reduced numbers of cows producing more per head and managers utilising feed supplies well.
Experienced director Michael Spaans steps down as a director at Fonterra citing health reasons, as a search begins to fill his role in a demanding period for the company
A live export sale of 5000 cows has been organised by a Saudi businessman out of Napier bound for China, as demand continues in Asia to grow locally produced milk.
Confidence in the sector is slowly being restored and Fonterra Cooperative Group shares are now at their highest level for four years at $6.26.
A big dairy beef weaner sale at Temuka last week attracted strong interest, and rearers were well paid for their efforts in a market desperate for store stock.