The Weekly Dairy Report: The OECD warns NZ on slow environmental progress of intensive agriculture as the milk auction returns to the positive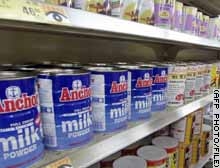 Dryland areas have responded well to recent rains, but more regular falls will be needed to break the drought in the most at risk areas.
NIWA is now suggesting another El Nino could be on the way, as stage one looks to be developing for an August/October start.
There has been a big variation in milk flows nationally, with some regions on once a day, and others enjoying record production, but analysts estimate volumes will be up on earlier forecasts.
This is proving negative to milk prices, especially powders, as the market is proving very sensitive to global supply news.
Milk futures seem to have stabilized last week, as the premium for Oceania skim milk powder over EU produced product, appears to have disappeared.
However, a surprising result at auction over night, as the milk futures market was weak and analysts predicted a 3% fall, but the market was positive and the platform lifted by 1.7% against all expectations.
Serious over supply issues continue with skim milk powder stocks, with the large European stocks overhanging the market and prices fell yesterday for that product by over 10%.
Whole milk powders recovered to US $2855/tonne and with better prices from the fat products, combined to give a better result.
Fonterra announced its interim results which revealed increased revenue and profit, and  reconfirmed a forecast cash payout of $6.40/share including dividend.
The earnings per share has been reduced 10c from 55-65c to 45-55c as returns from added values are less than originally forecast, and this will disappoint shareholders looking for value from all that extra investment.
Oceania prices moved back with last weeks auction result and powder prices are now back where they were last spring, although the current exchange rates are more attractive for exporters than they were then.
Interest is steadily growing in sheep milking, as producing this form of niche dairy product has many environmental advantages, ahead of its bovine counterparts.
An OECD report lead by ex NZ MP Simon Upton, says NZ is at environmental risk due to an economy that is too reliant on primary industries, and recomends a reduction of stocking rates for intensive livestock farming to reduce nitrate leaching problems.
Agriculture has responded to these issues, citing progress made by the sector so far in fencing waterways, and changing of farm systems, and hopes that science may be able to solve some of these issues with GM pastures that will emit less nitrate losses.