The Weekly Dairy Report: Auction prices stuck at present levels as another welfare abuse case taints all in the industry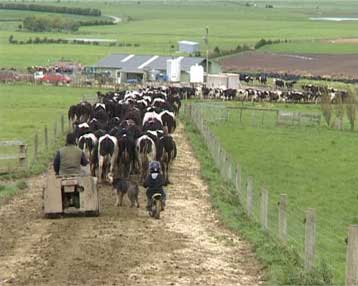 After a drier week, rains returned with a vengeance on Monday and soils returned to waterlogged levels.
Most of the country is in moisture surplus and unless it starts to dry up soon, this wet weather pattern could affect the spring milk flows.
Pasture covers are good on most farms, but managers are striving to push feed forward so plenty is available when the second rotation starts, and milking cow numbers have grown to the maximum.
DairyNZ reports managers up north are working hard to keep to the spring rotation plan, and are applying bagged N, feeding silage and grazing off, when covers fail to meet the targets.
The payoff for sticking with this discipline, will be better quality and better volumes of pasture, that should allow the spring flush of milk flows to continue longer into the milking season.
The auction overnight returned another easing price return, (the 4th out of the last 5) but analysts are still comfortable these levels will return the strong forecasts all processors suggest.
The optimistic ASB economists believe milk fat prices have more upside to go yet, as stocks are tight and demand strong.
They qualify this opinion by stating that early season production will be the key in further price lifts, suggesting that a milk flow hindered by a wet spring may tighten supply further. 
Reports suggest good compliance with the new bobby calf loading regulations, as all in the sector work hard to improve animal welfare perceptions.
"One bad egg" can do a lot of damage to consumer perceptions and the prosecution of a corporate farm and it's managers for significant animal welfare abuse in Southland, was a major disappointment to all in the industry.
The financial penalties seem light compared to the number of cows that had to be euthanised and the many others that required special treatment and many believe harsher penalties should apply for those who fail in this area.
MPI says that after extensive testing, the mycobovis outbreak has been confined to two farms, but report it could take another 2-3 months before answers can be given on the cause of this outbreak.
Mataura Valley Milk looks for 25-30 suppliers for its nutritional formula milk plant being built in Gore, as another competitor enters the milk processing market.