The Weekly Dairy Report: Wet conditions continue as analysts suggest this year could be influenced more by production than prices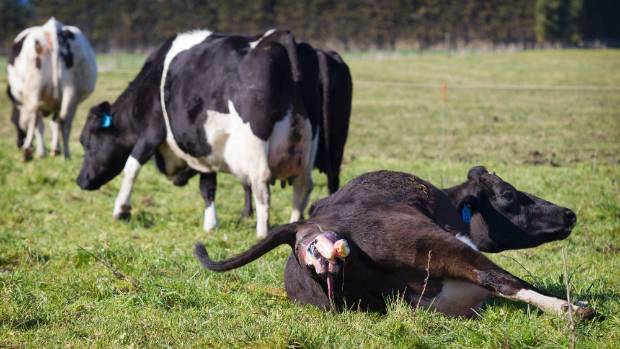 While early signs of spring are now evident with blossom and daffodils emerging, the wet conditions continue, and soil moisture levels remain very high.
Calving on many farms is nearing the half way mark in the South Island and most despite the wet have strong covers, but high utilization of that pasture has been difficult to achieve.
Waikato and Taranaki  farmers are also suffering from the wet conditions and pasture yields are behind the norm due to surplus moisture and late N fertiliser applications.
Many are still feeding supplements, feeding off on pads, still supplementing with magnesium, and treating mastitis far too often.
The next challenge for the early calving mobs is achieving a high in calf rate for this new season and the countdown to achieving good body condition scores for mating begins now.
Regions in the northen North Island are achieving growth rates in the low 20's kg/ha/day while middle NZ are growing grass in the late teens.
Slower growth rates in the south are matched with a later calving date, but good covers have been achieved from the winter spell of pastures.
Another auction last week and another small dip in prices, but all analysts seem very comfortable where the present market is at.
Milk fat prices took a breather, which is not surprising given how quick they have risen in 2017, but demand still remains and stocks are tight so nobody is predicting problems maintaining prices.
Fortnightly Oceania prices showed a similar response to the global dairy trade event, as butter leads  the charge with some sales peaking at US$6650/tonne.
ASB economists believe the future weather may have a bigger influence than the prices received for dairy products, as more rain may put restrict milk flows this spring.
The slow process of testing has continued in the mycoplasma bovis outbreak, and today MPI announced another farms animals directly involved with the infections source, also tested positive to this disease.
Synlait plans to triple it's infant formula supply with New Hope Nutritionals over the next 5 years, profiting from its 25% investment in this Chinese company.