The Weekly Dairy Report: Mating started in the north with some cows behind in condition, as milk price trends are volatile amid uncertain production levels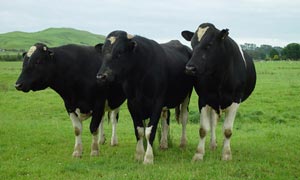 After a dry week the rains returned and heavy soils were soon topped up again, although some irrigators in Canterbury were started on the lighter land.
Southland has had the driest of the weather nationally, while dairy areas in the North Island are finding the wet conditions have brought pastures into the reproductive phase earlier than normal.
Toppers will soon be seen in these areas as managers strive to keep quality in their pastures and keep milk flowing at high rates with cheap spring feed.
The Met Service forecast of a warm dry October will be welcome, after 3 months of above average rainfall and below average sunshine.
All the focus is now on checking the pre mating status of cows, to allow time for intervention for slow cycling animals.
Some managers are reporting some loss of BCS in cows and with the balance date not yet arrived in the South Island, significant supplements, including palm kernel, are still being fed.
Demand is strong for all types of supplements as farmers look to add more energy to the feed that is short and muddy in the wet areas, and some are experiencing delays in supply.
Bulls will be being prepared at a BCS of 4.5-5, vet checked, and BVD tested, to ensure no loss in momentum once the AI period has finished.
Dairy prices fell at auction by 2.4% last week, in a volatile market where the derivative trades predicted a lift.
Extra volumes offered were the highest for the year, and this seemed to dampen demand, as whole milk powder prices moved down closer to the $3000/tonne mark, needed to keep the forecast steady.
A softer exchange rate, some suggesting driven by the present political uncertainty was however helpful, and butter and cheese prices were at yearly highs for Oceania listings.
Rabobank has predicted that the milk price peak is here and production increases imminent, but they are confident extra demand out of China will nulify any immediate price fall.
The mycoplasma bovis outbreak has been found in another South Canterbury/North Otago farm of the Van Leeuwen group, and soon officials will have to make some tough decisions on how hard to cull.
A dairy apprentership scheme has been launched by Federated Farmers and PrimaryITO,  as the sector looks to upskill applicants to the needs of the industry.