The Weekly Dairy Report: The global dairy market weakens further but dry conditions may trim milk flows to tighten future supply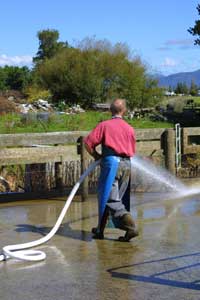 Another week without rain in the east of both islands and Manawatu, has farmers talking about how dry it is, even after the wet winter, and lack of north west winds.
Economists report that the dry conditions may soon affect the countries growth prospects if the rural sectors imput is restrticted by a lack of rain.
Some dairy farms are still topping up the pasture with supplements of silage, grain and palm kernel, and expressing concerns how dryland winter brassica crops will strike with the present low soil moisture levels.
ECan South Canterbury has warned farmers to prepare for irrigation restrictions, even though the Opuha dam is near capacity.
Last weeks auction did nothing for market confidence to return the fourth fall in a row, and once again build the pressure of a reduced milk forecast from Fonterra in December.
The dairy derivative market fell after this event, as the volumes of global milk flows at present seems to be the dampener to steadying the pricing ship.
Industry statistics show that cow numbers are falling but per cow performance improving, as farmers lift feeding rates and genetics, to increase total milk flows.
Dairy NZ has launched a new industry strategy, and promises to be more transparent with industry issues, while Fonterra's new emission targets have been branded weak by climate change critics.
Synlait has opened its North Island canning plant amid optimism for its product direction, and A2Milk shares surged again, on its double profit growth.
However new leadership is imminent as John Penno steps down as CEO, but retains his directorship position after 12 years as CEO of this successful dairy company
Westland Milk Products is heralding its turnaround, with improved plant efficiency lifting the volumes of processed milk out of the Hokitika plant.
The harvest of bobby calves has dropped this year, as more animals are reared with some beef genes, to capitalise on the demand for live animals in the beef sector.