The Weekly Dairy Report: November milk production holds up well but auction prices fall again and mycoplasma bovis spreads across both islands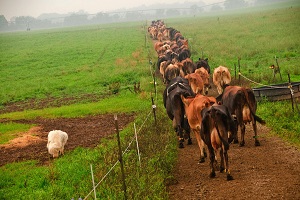 As the year draws to a close, the weather moves to a fluctuating phase with now some rain to mix with the very hot days, and some areas have had sharp heavy falls with thunder.
The dryland pastures have changed to golden colours, and irrigators struggle to replace soil moisture losses in the heat, but last week's of rain in Canterbury did boost summer and winter brassica seedlings.
The fine weather has allowed the more mature saved pasture to be made into hay, a month earlier than normal, but most regions are reporting their silage stocks are behind last year.
Advisers are urging managers to do a thorough check of their stock water systems for leaks before summer proper, as peak animal demand will test even those with plenty of storage.
Much interest will be taken in this week's dairy auction as the market seems to be at a crossroads. Buyers are having to decide how much the dry conditions will affect NZ's supply, or will increasing global production allow prices to ease further.
Another fall was the result overnight from the last global event before Christmas, and powder prices are now at yearly lows, and even the fats are  well back on the highs of a couple of months ago.
Farmers will be uncomfortable with the recent milk price trends, although sales of the yearly production and forward contracts already undertaken, will mask the forecast figures from much of the present market conditions.
The nations milk flow figures for November were surprisingly up (4.2%) on the same month last year even as the dry took affect, and this reflects positively on farm managers skill on managing to keep pasture quality high, during this difficult season.
The mycoplasma bovis outbreak took a turn for the worse last week, with further outbreaks announced out of South Canterbury and into Southland, Mid Canterbury, and even across the strait and into Hawkes Bay.
It appears all had links with the host farms, but some are questioning the efficiency of the NAIT system, or how accurately farmers followed this procedure.
The new Minster for MPI threatened to close Cook strait for cattle movements, and asks officials to look into more transparency, to allow neighbours to take precautions of cattle contact from the infected farms.
The level of concern amongst farmers associated with the ever increasing impact of this disease was seen by the large numbers attending meetings about mycoplasma bovis, with the Southland venue unable to fit all those who came.
The Big Sky Dairy operation in Central Otago has been sold by Harvard University, and ownership returns to New Zealand hands with a Waimate man investing heavily in this big venture.