Red meat farmers may be telling Federated Farmers they are losing optimism but most of the market signals are impressively positive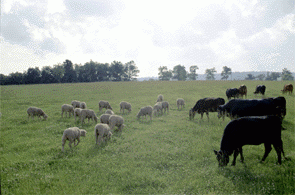 By Guy Trafford

Hopefully all have survived the effects of what was Cyclone Gita. Currently rain is persisting down in my neck of the woods (Canterbury). We are being spared the severe winds, however, notifications of Civil Defense alerts abound and news of some farmers having to evacuate areas in the Takaka, Golden Bay area have just come through.
A recently released Federated Farmers survey showed that farmer confidence is down for the first time in two years. Perhaps surprising given the strong prices being experienced in most sectors. However, the survey was taken in mid-January and a lot of water has passed under the bridge since then. Major reasons given were the effects of the drought then affecting many parts of New Zealand and dairy prices were then only at the start off a lift in prices, so dairy farmers were in particularly negative. Other reasons given was the concerns around future regulations and compliance cost and staff recruitment also featured.
SHEEP
Not all news is bad however with another positive week for lamb and mutton producers with only one processor reducing the schedule by 10 cents.
With widespread rain over much of the country, and good pasture growth, producers are needing considerable forethought before pruning schedules - especially with a limited number of lambs available due to many farmers having to bail out in December and having surplus space on farm now. It will be interesting to see soon what is the breakdown of sheep processed with the good prices being offered for ewes.
Another positive outcome of the wet weather should be a good flushing season for breeding ewes resulting in more lambs next season.
World demand appears sound for all sheep meat products and while the Easter shipments have all gone, apart from chilled airfreight product, Ramadan is next off the block with the middle of June when fasting finishes and feasting begins - hopefully with increasing amounts of NZ lamb.
Trade with Iran, traditionally the most important of New Zealand's Muslim trading partners, resumed last year after a 20-year hiatus and it remains to be seen whether they can compete for product at the current higher prices. China have taken over their role as the consumer of cuts that don't go into the EU.
WOOL
There was no Christchurch wool sale last week but Napier softened slightly on the previous sale for most lines between 1- 3%. However, the finer lambs' wool appears to have taken a lift. This wool which is in the 27-micron band is reducing in volume as lambs mature, buyers have been purchasing as a substitute for mid-micron wool or finer presumably for the apparel trade. Hogget wool, on very small volumes had a lift also.
This week there is only the Christchurch sale on this week so it will be interesting to follow the price comparisons with lambs wool yet again.
The questions over microns remains unanswered but with less people left to query hopefully some conclusion will be forth coming shortly.
BEEF
No news is good news for beef producers with monitored schedules remaining unchanged for the week, and this is 'good news' because the NZ dollar is creeping up towards the 74 US cent mark. With international markets seemingly firm and, as with sheep good feed reserves at home, producers can expect fairly modest drops if they do occur.
There are reports of increased volumes of US beef going into China. Exports to China from the US only began after a trade ban, a result of "mad cow disease', was lifted June 2017. Currently beef volumes have gone from zero in 2016 to 3,000 metric tons in 2017. That is still less than half of what New Zealand currently exports, but China is growing in importance for all agricultural producers and New Zealand may end up competing with the US. Australia however is well ahead at approximately 94,000 tonnes going into China.
DEER
The market development work being done by DINZ certainly appears to be working with the news around venison becoming increasingly repetitively positive with yet another lift in prices by one of the processors. The $11.00 mark is getting closer. This is up nearly +$3 on the same time last year and it didn't seem such a bad price then.
The 2017 processor results showed that the percentage of total deer processed being hinds was 48%, down on previous and indicates that more hinds are being held back on farm and the breeding herd re-build may be occurring. Good news for the industry after several years of falling numbers.