Good summer and autumn pasture growth brings higher facial eczema risks. Wool rises. Beef prices holding. Deer industry checking waterway impacts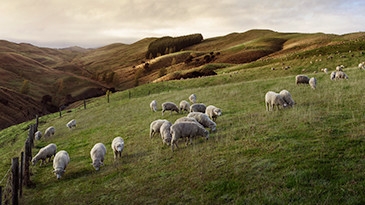 By Guy Trafford

Facial eczema warnings are stretching through-out the North Island and well into the top and West Coast of the South Island.
The scourge of sheep farming, although a lot of good work has been done with developing sheep with better tolerance, many farmers will be anxious about its impact especially with tupping coming up.
Facial eczema is often the down-side of a good summer and autumn pasture growth wise. But as with most things in life there are no free lunches. Currently levels look to be behind those of the very bad year of 2016 but with the current trends, are heading to catch-up with spore counts generally peaking mid to later March. Also see this.
SHEEP
Increases in the mutton schedule lead the sheep news this week with an up to +15 cent per kilogram rise.
The saleyards numbers have dropped off from all classes of livestock which has meant prices have held or lifted, especially for the smaller lambs with $65 a head as the base rate currently.
There are some modest reductions in the lamb schedule but given we are heading for the traditional trough in the season, prices are holding well. Top prime lambs are also selling particularly well with prices of $180 being achieved in Canterbury and $185 in Tuakau. Given the proximity to major centres it may be local butchers who are paying top dollar.
Beef and Lamb NZ appear to have adopted a more proactive approach with dealing with famers and consumers in recent times. A new initiative to develop a generic brand, complimenting the existing meat companies branding, which highlights the good stories that relates to New Zealand's meat products and help to assure consumers of the positive qualities and attributes they have.
In addition is the proposal for a sheep and beef hill country property able to be leased and used for developing a model "Future Farm". This is similar in principle to the Lincoln University Dairy Unit which aids the industry to test principles in a commercial setting and open to the wider industry. Apparently, they are in negotiations with a potential lessor but no information of who and where is available.
WOOL
There was a wool auction held in Christchurch last week and for most lines, apart from lambs' wool, a good lift in prices was observed. Main fleece wool lifted by up to +13% on the previous Napier sale.
BEEF
Most of the activity took place in the North Island on the beef schedule with some quite large lifts of up by +30 cents a kilogram in the manufacturing grades and prime lifting also. However, with most prices at least holding most farmers will be satisfied. As with sheep, low numbers are coming to the saleyards but prices are holding well.
Dairy cross calves prices don't appear to be affected by any impact from Mycoplasma Bovis disease as yet with 149 kg Hereford Friesian cross bull calves achieving $580 and 135kg heifer calves making $550.
DEER
A quiet week this week with no changes to the schedule reported this week.
With a similar approach as being taken by the other livestock industries, Deer NZ is partnering with AgResearch to investigate both the impact and mitigation techniques deer farmers can learn about deers' impact upon waterways. To date two farms in the North Island have been selected for monitoring and three in the South Island. Five more farms are to be selected with the project to start in 2019. Anyone interested should contact geoff.asher@agresearch.co.nz