Lamb and mutton schedules hold as processors forced to use saleyards to get the volumes they need as farmers appear to value building flocks. Deer weaner sales positive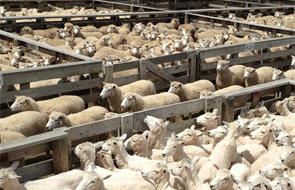 SHEEP
Saleyard prices for lambs read well at the moment, but it appears the quality of the bottom end of lambs has lifted making prices look better than what similar quality lambs were achieving some time back.
However, with good forward store lambs achieving up to $120 and heavy prime lambs getting up to $180 sellers are still being treated very well.
With the period for chilled premiums now past for the season it will be interesting to see how much more, if anything, processors are prepared to pay as supply drives pricing. Schedules for mutton and lamb held this week and Quality Meat Scotland chief economist Stuart Ashworth said supply into the UK in February is less than last February, over the season the volume is similar but prices are 30% higher. New Zealand farmers are also receiving the benefit of improved currency movement from last year when the NZD was worth £0.5778 and at the same time this year is at £0.5234, approximately -9% lower.
Beef+Lamb NZ are reinforcing this message stating that lamb exports will surpass $3 bln for the first time this season while beef which have exceeded this mark in the 2014 -16 period are predicted to reach $3.2 bln in sales. At the start of the season lamb prices to farmers were predicted to be around $5.55 per kg. Now with the season well past the mid-point this has been revised upwards to $6.61. Farm-gate prices for mutton are also up by +37% to an average of $3.94 although volume is predicted to be down by -7.3%. The drop in volume is welcome news as it was appearing by the strong presence of processors at livestock sales many potentially breedable ewes were going to the works - although they were but it appears ewes were not making their way to the works by the more direct route due to the premiums being achieved through the saleyards.
Farmers using the saleyards to capture premiums is likely to be part of the reason for the result of some recent Lincoln University survey work which found "New Zealand is missing out on higher market returns for meat exports because of a lack of commitment and trust between farmers and meat companies," and "The majority of farmers do not commit to forward supply contracts that specify quality requirements and delivery schedules." Completed by Nic Lees the research highlights the gap between processors and producers but to date has not explained why this gap occurs.
New Zealand livestock producers can feel pleased that they are no longer part of the Middle East live shipment trade after the reports and video coverage of the Awassi Express shipment in which upwards of 2,400 sheep are reported to have died. While many in Australia are calling for the banning of such trade the Australian version of MPI are still defensive of the trade saying farmers need it. However, the damage being done to the image of the Australian livestock trade is likely to end up being greater than any benefits. The Awassi Express is owned by Saudi millionaire Hmood al Khalaf, owner of Awassi NZ. He made headlines in 2015 after the Government made a deal with him which saw 900 sheep flown live to the Saudi desert, after which many of the lambs died. New Zealand banned live-shipments in 2003 although live shipments for breeding are still allowed with MPI approval. The last major such shipment was in 2015 when over 45,000 sheep were exported to Mexico and 191 died, (0.4%).
WOOL
Wool prices are relatively stable at the moment with minor fluctuations only. Second shear wool is slightly up while full fleece and lambs' wool are back slightly.
BEEF
The slide that began last week in the beef schedule has continued into this week. Manufacturing grades in particular have dropped.
On the positive side beef weaner steers and heifers are still selling well. Angus steers in particular, no doubt driven by the demand from Five Star Beef are achieving premiums over other breeds at the same weight.
In the South Island, top price for weaner steers at Coalgate last week was $1,300 per head or $3.55 per kg. Heifer prices topped at $1,060 shared by two pens, one Angus and one Hereford. These prices were bettered at Temuka with steers fetching $1,330 and heifers $1,270.
In the North Island similar prices are being achieved with top steers at the Te Kuiti weaner sale making up to $1,280 and Fielding $1,260. The prices being achieved by heifers at $1,000 plus is perhaps the surprising aspect of this year weaner fairs.
DEER
Weaner sales are in full swing now, although many remain under the radar due to private contracts. However, prices that have been able to be gleaned are very positive. Not surprising given the $11.00 price being paid for venison in the South Island.
An average price for mixed sex weaners appears to be around the $6.50 per kg liveweight although some exceptional sales have exceeded that by quite a margin. But sources did make the point they were the exception.