When it's natural, real and as nature intended we have a real competitive advantage so long as we have our story straight, says St John Craner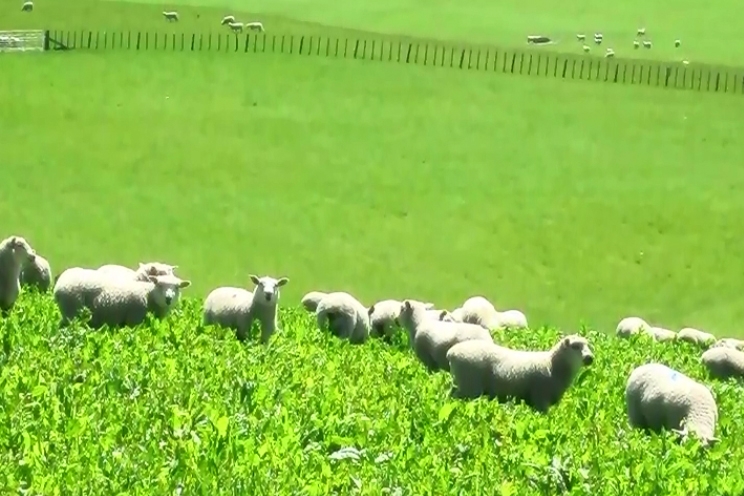 This the second part of an article first published here.
---

My fellow speaker at the East Coast Farming Expo this week, Dr Derek Moot suggested a legume farming system would help substantiate a back story to a "as nature intended" red meat proposition.
Using nitrogen fixing lucerne can help reduce our dependence on synthetic fertilisers which in turns adds greater credence and authenticity to our "as nature intended" story.
With the likes of Atkins Ranch growing your stock on specified herbs they will pay a premium which discerning high-end consumers have been able to fund. Nick Pyke, recent CEO of FAR, went further and suggested we could also be part of the plant protein market to stop the cycle of commoditisation in arable cropping. Rather than see plant-based meat as a threat we could view it as an opportunity.
It makes sense to diversify the risk when you think of those recent farmers hit by mycoplasma bovis who not only lose their cows but the genetic worth of those herd that have been built up over decades.
We could hedge and spread our bets or diversify our farming systems to de-risk our exposure like a good managed fund does. Could we look at more dual animal and plant protein systems within farms?
To counter the threat of "fake meat" we could also think about producing the most nutritionally dense food from the most nutritionally dense soils.
Dr WA Albrecht was a renowned Professor of Soil Sciences who worked for decades promoting the direct relationship between healthy soils and healthy animals and therefore humans. Even back in the 1950s, Professor Albrecht risked his academic reputation warning of the public health risks posed by big, big, industrial agriculture. Albrecht claimed the declining health of our population (poor health, nutrition deficiencies) was a direct correlation to was correlated to the declining health of our soils. He argued that the health of people couldn't be restored without restoring the health of our soils. Even today, this same thinking makes a lot of sense when you consider the food chain.
When I talk about synthetic meat with farmers they they ask me in frustration: "How have we got here?".
My answer is simple: a failure to innovate.
Sustaining innovation comes in the form of small incremental changes that offer more efficiency in a current market with current customers.
We see this type of innovation being employed across meat works up and down the county - robotics, more accurate cuts, greater use of the whole carcass. However tightly controlled and closed supply chains suffocate innovation and the lack of capital means there isn't a fighting fund to invest in new R&D to examine new emerging markets that don't reward with profit straight away - profit that meat companies need like oxygen.
Disruptive innovation comes from the likes of Alibaba, Airbnb or Netflix. New models with new customers and new markets that carry little or no inventory or profit at the time of start-up. Disruptive innovation that our capitally constrained meat companies can't entertain as their payback needs to be more immediate. Because our meat companies are so capitally constrained from pursuing a high volume, low value commodity model they are starved of the ability to invest in new disruptive technologies and so the commodity cycle continues with incremental efficiencies applied along the way.
If you're not buying the natural argument here look at the success of All Birds. NZ Merino shoes sustainably produced and marketed who this March sold their one millionth pair. They saw a market niche that would value sustainably produced shoes with a great back story. All Birds are now the corporate wardrobe of the tribe that is Silicon Valley. And if that isn't endorsement enough Time Magazine called All Birds "the most comfortable shoe in the world." All Birds is a success story we can all learn from and has demonstrated the sustainable nature of wool which is an industry that also faces its own challenges outside merino.
So, what's the solution? If your meat companies won't support you in your drive for innovation and disruption find a collective of like-minded farmers in your region that do. Pulling combined resources together can help share the risk and provide the scale and support to become something bigger and better together.
Coastal Spring Lamb did it and now export into Macau, Vietnam, the Philippines and many other South East Asian countries.
Iwi farming operations are doing the same on the East Coast by looking at how they can reduce the intermediaries in the value chain to provide a better return to their shareholders. There will be others I've missed.
In my Kellogg report I suggested the concept of local producer groups who can differentiate on their provenance and terroir because I wanted to offer solutions rather than more "conversations". All year supply and scale pose challenges but I believe where there is a will there's a way.
The technology is here already to connect farmer and consumer.
Eating animal protein is what humans have done for centuries in the same way we have a deep intrinsic connection with fire. Both provide energy. They are both real and natural resources. As humans we have a huge affinity to the land as well. We foraged from the land and still today live from the land.
Maori and the principle of Kaitiakitanga can explain this far better than I am ever able, and I wonder if urban New Zealand has lost touch with this concept because of its lack of contact to the natural environment (out of sight out of mind?).
In the end some consumers will want to eat plant protein and some will opt for animal protein. Is one better than the other? That depends on the customer and the choice they make.
What it teaches us is that we have to deeply know and focus on the right customer segments. All we can do is our best which is to promote our own story of truths rather than leave a communications vacuum for others to fill. Or we can leave the gate open and allow others to tell our story. But this means the space we're left with is dictated to us rather than one we can actively choose ourselves. 
While dairy beef is the sector to most likely suffer from cheaper, more efficiently produced synthetic meat because of US paddy market, the rest of the sector should take great heart. This is exactly the wakeup call our red meat sector needed.
We got complacent and we haven't told our story well.
Have we got anything to fear? Hell no. We have everything to gain.
If we can get our act together with the right quality assurance and accreditation we can offer a distinctly different proposition to big industrial farming which is the same brush we've been tarred with and one which modern and future consumers have a growing distrust of.
Let's talk towards this synthetic meat challenge and meet it head on, not shy away from thinking it might go away because it won't.
When it's natural, real and as nature intended we have a real competitive advantage so long as we have our story straight.
---
St John Craner is managing director of Agrarian: an independent advisory whose clients are agribusiness firms who are under-performing in sales and marketing. His archived blogs can be found here where you can connect with him, or follow him on LinkedIn. This part two of a two part article. The first part is here.