Allan Barber finds that despite opportunities, there are a thicket of questions to be sorted through before retiring livestock land for forestry as part of the new Government's billion tree program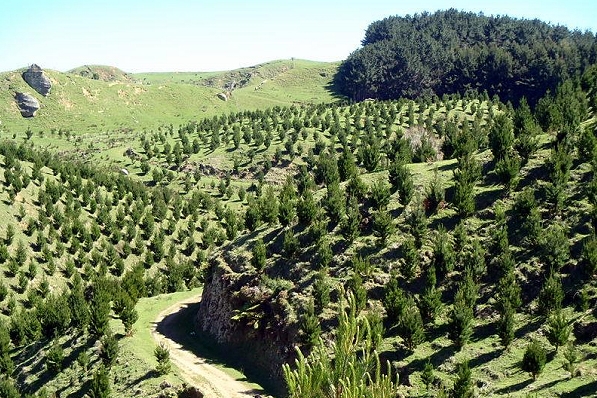 By Allan Barber

The B+LNZ Northland Annual Showcase Field Day, held in April on James Parsons' steep hill country farm north of Dargaville, provided a good insight for a farm enterprise into the benefits and challenges of planting trees.
Two key speakers on the day – Julie Collins, MPI Acting Head of Forestry, and Stuart Orme from Wairarapa forestry consultancy, Woodnet – gave contrasting and informative presentations on how to integrate tree planting programmes into a working sheep and beef property.
Julie addressed the topic of the Government's one billion tree programme, explaining the objectives, timetable and respective roles of government and the commercial sector including farmers, as well as the assistance available and where to find it. There are two main objectives: to help New Zealand transition to sustainable and resilient land use and support the regeneration of the regions. It is a 10 year programme which will scale up over the next three years reaching its peak in 2021, but the targets for this year and 2019 will be met by the baseline forecast of existing planting and replanting before the additional planting required to meet the target kicks in in 2021. She emphasised the importance of planting to provide shade and soil erosion protection in the face of the effects of climate change.
She was at pains to point out that the commercial sector will only be expected to meet half the annual target by planting 50 million trees a year with the other half being met by crown forestry ventures, DOC, regional councils and coalitions between government, Maori incorporations and NGOs. To meet these ambitious projections will require an overall policy framework, large volumes of seedlings, hugely increased labour supply, land and processing infrastructure.
Sheep and beef farmers have several incentives to plant, such as gaining carbon credits, currently at $21 per tonne, to retire farm land and generate an income stream from livestock shelter, riparian planting, soil protection and Manuka for bee hives. A significant proportion of the planting programme will comprise wattle, poplar and gum with pine trees expected to make up the balance, although this poses a number of challenges, not least the estimated cost of farm road infrastructure for felling at $60-200,000 per kilometre and the distance to market.
The goal is to plant 15,000 hectares of new forest by 2020 to offset the decline in new planting over the past 20 years. To help achieve this goal, MPI has introduced the afforestation grant scheme which offers $1300 per hectare for forestry planting between 5 and 300 hectare lots with $19.5 million available until 2020 and assistance from regional councils with fencing and riparian planting. The 2018 grant funding round closes on 14th May. To help farmers further with their cash flow MPI intends to look at the ETS settings to replace the peaks and troughs of normal forestry life cycles with an average credit over the life of a plantation allowing for replanting.
Julie emphasised the sheep and beef sector's role in strengthening the resilience of rural communities through the tree planting programme which MPI is keen to assist with, although she acknowledged the challenges of finding enough management capability and labour and developing more domestic wood processing.
Stuart Orme took a very pragmatic approach to the topic, saying land use decisions were about ensuring the right species was being farmed or planted in the right place to achieve the right balance of sustainability, productivity, economic benefit and emotion. A matrix approach works best with IRR calculations being used to compare the different land use options. He stated that poplar and willow would produce $433.90 per hectare over five years and pine would increase returns significantly, but he noted the infrastructure cost and distance to market or port. Manuka offers enormous potential, particularly for medical use, but as well as being able to trust the hive owner he warned of the risks associated with it, notably disease like myrtle rust and uninformed investment potentially leading to boom and bust like goats and kiwifruit 30 years ago.
He also warned advance planning is critical to any investment decision, especially where this involves the need for a reduction in stock units in order to gain carbon credits. If there are pre 1990 forestry blocks on the farm, the farmer is entitled to claim carbon credits, but it is important to realise cutting them down means handing back carbon credits to the government in compensation within four years, while approval for replanting must be gained in advance to avoid penalties.
It would be accurate to say the B+LNZ Field Day attendees went home with a lot more information and knowledge than they had when they arrived, but also many more questions. The best advice would be first to look at MPI's website, then talk to MPI, the regional councils and a forestry adviser before making any long term decisions about planting programmes and changes of land use. But what is certain is that there are plenty of profitable opportunities for incorporating a planting programme into farming systems.
---
This article first appeared at Beef+Lamb NZ. It is here with permission.