Infant formula concerns raised for Fonterra and Beingmate in China. Fonterra says it's a technical not food safety issue, plays it down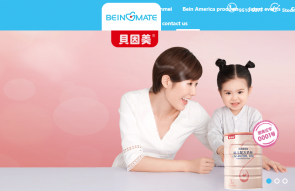 Fonterra's relationship with Beingmate has taken another turn for the worse if the reports coming out of China are correct via "The Spinoff".
Beingmate is accused of its infant formula containing additives that may not have come from licensed suppliers, with questions over whether the additives were certified for use.
After an audit of Beingmate's Heilongjiang infant formula factory, Chinese authorities announced last Friday the issues, which basically consist of a DHA algae oil powder (similar to fish oil powder) used in its products which is "inconsistent with the material requirements of your company". Several large Chinese daily newspapers have published warnings to mothers to "be aware" and one pondered whether this would re-ignite the controversies around milk powder safety in China.
Fortunately, perhaps, Beingmate is one of several companies accused of similar issues. These include Dumex China, which was previously owned by French group Danone before being sold to Yashili in 2015.
Fonterra has vigorously defended its Chinese partner and downplayed the breach as a technical issue. A spokesperson for the co-operative said an enterprise standard (individual company standard) had been used on packaging by Beingmate's regular supplier, rather than the national food safety standard.
Fonterra said the issue was rectified the same day and there was no issue with the product.
"It was not a food safety issue, no product was recalled or removed from shelves and no warning was issued to consumers by Chinese authorities."
However, enterprise standards within China are considered to be an inferior standard and firms are "encouraged to use/adopt National Standards, Professional Standards and Local Standards if they are available".
A Fonterra spokesman has said that as "only" an 18.8% shareholder it was not Fonterra's business. However, Auckland-based dairy commentator Jane Li is quoted as saying that as the second largest shareholder in Beingmate, Fonterra is liable for Beingmate's financial losses and they can also be held liable for Beingmate's infant formula food safety issues in China.
Li said that in February Fonterra chairman John Wilson was warned there was "a moderate to high risk" Beingmate would be implicated in a food safety issue involving infant formula in China. In March, Li also warned that financial losses in the Beingmate investment wasn't the "worst-case scenario", and that there was "potential for more serious risk exposure".
Fonterra's seemingly cavalier attitude is playing right into Acting PM Winston Peters hands and if the rumours are found to be true and especially if Chinese media 'wind up' consumers' and it further worsens Beingmate's financial state and standing in China, Fonterra's senior management are going to come under further flak.
No-one has accused Beingmate of selling unsafe products, but they and Fonterra have been made aware that Chinese authorities were lifting the stakes around infant formula compliance, and back in March Chairman John Wilson admitted Beingmate was having difficulty in making the transition. Three months later perhaps authorities have grown tired of waiting.