Domestic log demand shows signs of softness, but export volumes hold up. Ironically, lower grades are getting price increases but higher grades not. Probably temporary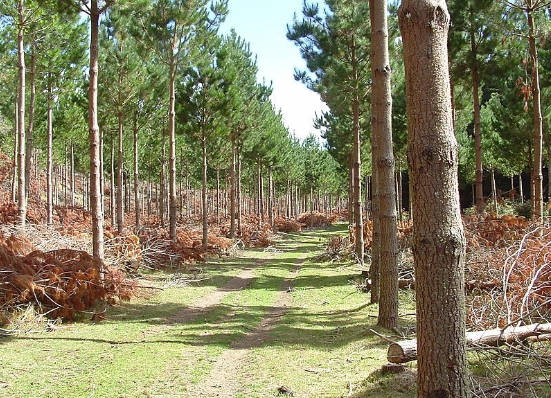 At Wharf Gate (AWG) prices for unpruned sawlogs delivered to ports around New Zealand in September increased by $4 to $6 per JASm3 depending upon location and grade. The AWG prices for pruned logs remained virtually unchanged from August prices.
The AWG log prices have been boosted by the NZD depreciating against the USD. Except for pruned logs, the demand for New Zealand logs is still strong in China with estimates of daily port offtake ranging from 72,000-80,000 m3 per day, and there is a range of sale prices depending upon grade mix, location, and customer seller relationships- as there usually is when a market has undergone a period of flux. The weakening of the CNY against the USD has stabilised in the past three weeks and this should provide more confidence to the log buyers.
There is little change in domestic demand for sawn timber non-clearwood sales now tracking similar to last year levels. The anticipated spring surge in demand for timber has not yet occurred as wet weather has continued. Export markets for New Zealand sawn timber generally mirror log demand and pricing, while mills report very strong demand for clearwood continues from Europe and the US.  
Due to the increase in AWG sale prices the PF Olsen Log Price Index increased $2 to $127 for September. The index is currently $2 above the two-year average, $4 above the three-year average, and $12 higher than the five-year average.
Domestic Log Market
Pruned logs/Clearwood timber
Local mills producing clear-wood report some sales down as remanufacturers purchase imported finger jointed products to reduce their average costs. There have been reports the quality is not as good though, so we will see if this lasts. A consistent message from mills around New Zealand is that sales of decking timber are well below expectations. Fortunately, their export clear-wood markets continue to have strong demand and pricing with many European buyers already locking in 2019 orders. They are chasing the higher-end 150mm wide boards. Some of these arrangements already have agreed sale prices that will fluctuate with the mills purchase price for logs. More local mills are also exporting finger jointed block product.  
Some mills buying pruned logs continue to juggle their FSC mix, as often log supply from woodlots isn't FSC certified. This FSC supply issue will increase as supply switches from large corporate forest owners to woodlot owners. FSC supply is a prerequisite for most US and European customers. We note that over the last couple of months mills have been receiving pruned logs that have been carted farther distances than previously.  
Un-pruned logs/Non clerwood timber
The domestic non-clearwood lumber market is still steady. Over the last couple of months sawn timber sales for most mills have tracked about the same as last year. This is an improvement on the first half of the year where sales were below last year's levels. There has not been any spring surge in demand yet and this is probably down to continued wet weather. Their markets for export sawn timber are similar to logs with stronger demand in the lower industrial and cut-of log (COL) grades. The drop in sawn timber prices has been less in these grades than in the higher end grades.
Export Log Markets
China
Total softwood logs stocks in China has stayed around 3.2million m3 with some reports of a recent drop to 3.15million m3. Demand is still okay but not as strong as expected for this time of year. Daily port off-take has increased from 70,000 last month to current reports ranging from 72,000-80,000 m3/day.
Total inventory levels have been controlled as the supply from both South America and the US has diminished. Within this inventory there are varying levels of stock at each port, and South China is proving more difficult for log exporters than North China.
Australian pine has replaced New Zealand radiata in the plywood sector which is strong in South China. The Australian pine arrives by containers and is taken direct to the factories which reduces handling costs in China. Business activity may also be somewhat subdued in South China as the weather is still quite hot and sticky compared to North China.
Most exporters are selling A grade logs in the low 130's with very strong buyer resistance to anything over 134 USD. The lower log grades are more difficult to sell at the moment. The irony is that AWG prices for KI and KIS increased more than the higher grade in September, but this is mostly due to some exporters reducing the differential they had between the grades.
There is negative sentiment around pruned logs. The CFR sale price for pruned logs a few months ago was up to 180 USD and is now in the mid 150's USD. The exporters are not optimistic for a strong recovery in the near future.
India
The Indian log market continues to be adversely affected by liquidity issues and exchange rate fluctuations. The downward movement of the Indian Rupee against the USD presents a formidable challenge. Letters of Credit (LCs) have a long 150/180-day usance tenor in India. Many buyers have opened LCs at a cost rate of 1USD = Rs 65 and are now repaying banks at 1USD = Rs 72.50. This has sucked out any profitability from the industry. The NZ pine sawn timber price of Rs 481/cft has not budged due to many sawmillers forced to sell cheaper just to retain cash flow and stay afloat.
Kandla: Stock levels including stocks in mills and orders are close to 150,000 m3 which is not really unhealthy. However, many New Zealand exporters have continued to supply their regular vessel call volume into the market and this has created downward pressure on price. Prices are in a range of US$146 – US$149 for A grade logs, but discounted sales are likely to happen to tempt buyers to provide LC's. It has been observed that some portion of buyer re-payments have been taken up by lending banks for the exchange rate adjustment margins. Labour shortage issues affecting mills in previous months are largely sorted, but sawn timber offtake has slowed down from normal levels by about 20% due to heavy rains and the onset of festival season.
Many incoming vessels with sold cargo but awaiting LCs, are going into the Custom Bonded Area in Port of Kandla. It is unlikely that the Indian log market will move up in the near future, and best case would be stabilization of prices in October. Everyone is hoping for a stable Rs/USD exchange rate so that business can be conducted with confidence.
It is worthwhile mentioning that the import of hardwood logs is most affected by the Rupee depreciation and mills utilizing hardwood logs are virtually at a standstill while NZ radiata pine logs are still moving through the supply chain relatively well. It is likely from October that log supply to India will be less from New Zealand as more cargo gets diverted to China where the market is beginning to seek more cargo as inventory levels reduce.
Tuticorin: Stock levels of NZ radiata pine logs are low and inventory, including cargo on order from NZ, is about 45,000 m3. A recent new entry of a large NZ trader has put the incumbent significant player 'on the back foot' resulting in a large price drop as a market manoeuvre and re-negotiation of existing contracts.
The South India market continues to receive significant quantities of Southern Yellow Pine from the USA and pine from South Africa in 40-foot containers. Prices of New Zealand radiata pine sawn timber are in general over Rs 500/cft levels. The main driver of timber demand for NZ radiata pine is from the packaging industry. This demand is currently reasonably strong and expected to remain healthy as a weak rupee is likely to spur export sales thereby boosting orders for packaging.
Exchange rates
The NZD has continued to depreciate against the USD. At the end of August when AWG prices were set for September the NZD was worth 0.6662 USD. This was a significant drop from 0.6824 at the end of July when August AWG prices were set. At a CFR sale price of USD 130 and ocean freight of 30 USD this change in exchange rate adds over $3.50 NZD to the AWG price per JASm3. The NZD has since fallen to 0.6522 USD and threatens to drop below the 0.65 mark.
NZD to USD
The Chinese Yuan (CNY) has stabilised against the USD in the last three weeks. A continuation of this stabilisation would be good for New Zealand log sellers.
CNY to USD
Ocean Freight
Ocean freight shipping costs for NZ log exporters have stabilised and average ocean freight costs to China is about USD $30/JASm3. The Singapore bunker prices have stabilised as graphed below.
Singapore Bunker Price (IFO380) (red line) versus Brent Oil Price (grey line)
Source: Ship & Bunker
The Baltic Dry Index (BDI) is a composite of three sub-indices, each covering a different carrier size: Capesize (40%), Panamax (30%), and Supramax (30%). It displays an index of the daily USD hire rates across 20 ocean shipping routes. Whilst most of the NZ log trade is shipped in handy size vessels, this segment is strongly influenced by the BDI.
The graph below shows the recent BDI rises have reversed in September.
Source: Lloyds
PF Olsen Log Price Index - September 2018
The PF Olsen Log Price Index increased by $2 to $127 for September. The index is currently $2 above the two-year average, $4 above the three-year average, and $12 higher than the five-year average.
Basis of Index: This Index is based on prices in the table below weighted in proportions that represent a broad average of log grades produced from a typical pruned forest with an approximate mix of 40% domestic and 60% export supply.
Indicative Average Current Log Prices – September 2018
Log Grade
$/tonne at mill
$/JAS m3 at wharf
 

Sep-18

Aug-18

Jul-18

Jun-18

May-18

Sep-18

Aug-18

Jul-18

Jun-18

May-18

 
 
 
 
 
 
 
 
 
 
 
Pruned (P40)
170-195
175-195
175-195
175-195
172-190
176
176
194
195
192
Structural (S30)
130
130
130
128
128
 
 
 
 
 
Structural (S20)
114
114
114
112
112
 
 
 
 
 
Export A
 
 
 
 
 
139
136
147
147
144
Export K
 
 
 
 
 
131
128
140
140
137
Export KI
 
 
 
 
 
123
114
132
133
127
Export KIS
 
 
 
 
 
111
 
 
 
 
Pulp
50
50
50
49
49
 
 
 
 
 
Note: Actual prices will vary according to regional supply/demand balances, varying cost structures and grade variation. These prices should be used as a guide only..
A longer series of these prices is available here.
---
This article is reproduced from PF Olsen's Wood Matters, with permission.