Adrian Orr says the RBNZ is 'monitoring' the banks to assess any degree that they might be 'front loading' the central bank's upcoming capital proposals; says bank customers should 'question' their banks on issues of competition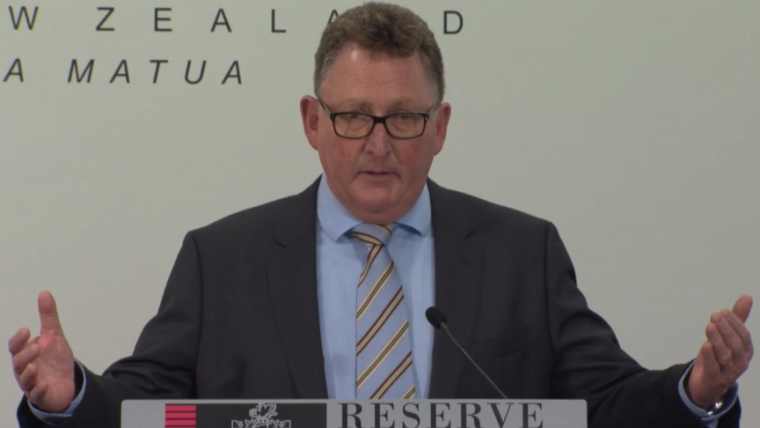 Reserve Bank Governor Adrian Orr has launched a broadside attack on the country's big banks and he says the RBNZ is "monitoring" their behaviour to assess the degree of any "front-loading" of the central bank's upcoming capital proposals.
Orr launched his attack in a speech in Auckland on Thursday, during which he encouraged all bank customers "to question their banks on issues of competition".
And in a wide-ranging address Orr also stated he thought it was unlikely that the RBNZ would have to use "unconventional" monetary policy tools as the usual monetary policy tool, the Official Cash Rate gets ever closer to zero. Previously he has appeared to indicate this was a possibility.
The RBNZ has been consulting over proposals for banks to hold significantly more capital. The banks have been strongly resisting this.
Previously the RBNZ has indicated that its final decision would be out in November. However, Orr confirmed publicly for the first time that the decision will not be released till December.
"Whatever our final decisions, we will be insisting on transition to higher capital at a sensible pace. But we will be talking more and better quality capital," Orr said.
"How have some lenders (banks) responded to date? Many of the large banks have spent the past 10 or so years lending aggressively to households and the dairy sector during the good times," Orr said.
"They have also spent the last 12 months or so revisiting this wisdom, and have been raising their lending margins and/or making credit much harder to access for some customers – especially rural customers."
Orr said such bank activity was "pro-cyclical, fair weather, behaviour that leads to misallocated capital, industry booms and busts, and larger economic hardship on broad society – not the bank shareholders themselves".
He said that over the last 12 months or so - as the RBNZ had been working with all stakeholders on its capital proposals - it had reduced the Official Cash Rate by more than the banks' estimated costs of the higher capital requirements.
"Yet, for some sectors of the economy, such as agriculture, their borrowing costs have risen.
"This can only happen if banks are significantly raising their margins," he said.
"This is not a sign of long-term thinking when it comes to bank borrowing and lending," he said.
"...And it is not a sign of a highly competitive banking services in core sectors of the New Zealand economy.
"We are monitoring this behaviour, to assess the degree of any 'front-loading' of our capital proposals, and I encourage all customers to question their banks on issues of competition," he said.
Orr's comments came a day after the RBNZ had left the OCR unchanged at 1% - the level if hit in August after the RBNZ stunned the markets with a 50 basis points cut.
Orr said that when the RBNZ  made the August announcement it was "rightly challenged" by some commentators as to whether it knew something more than the conventional economic indicators had been showing about the state of the economy.
"Our answer remains – no we don't. We operate in a transparent manner with primarily public data, but it is our job to be forward-looking.
'Pleased' with OCR cut outcome
"In making our decision, we assessed that the impact on the New Zealand economy from slowing global economic growth and persistently low inflation necessitated further monetary stimulus – so as to maintain our inflation and employment objectives. We also judged that it would be better to move early and large, rather than risk doing too little too late. A more tentative easing of monetary policy risked inflation expectations remaining stubbornly below our inflation target, making our work that much more difficult in the future."
He said the RBNZ was "pleased" with the outcome of its August decision to date.
"Interest rates have declined across the board, as retail banks have passed lower lending rates to many businesses and consumers. The New Zealand dollar exchange rate also eased, and the cumulative impact of the easier monetary conditions is now working through the economy. Lower interest rates alter peoples' investment decisions, especially with the confidence that interests rates will stay low for a long time ahead."
On the question of the possible reduced effectiveness of the OCR as it heads closer to zero, Orr raised the subject again of the possibility of the RBNZ having to use "unconventional" monetary policies, such as quantitative easing.
"The obvious challenge for many central banks, including us, is that the decline in the neutral rate means we have less room to manoeuvre our policy interest rates without concern for the zero per cent lower bound. What happens if we hit zero? Should the OCR go negative, and/or should we embark on direct asset purchase programme, and what other monetary policy strategies could be implemented?
"We are currently thinking hard about these questions, because it makes sense to do so as a precaution – it's best to put the roof on when the sun is shining. Our current view is that we are unlikely to need 'unconventional' monetary policy tools. But we would be remiss not to be prepared."
Call for Government and business spending
Orr again put in a plug for businesses and the Government to invest more to help stimulate the economy.
"The friends of central banks are government fiscal policy (taxes and public spending and investment) growth supportive structural policies, and the business confidence and capability to invest in productivity-enhancing infrastructure.
"The good news for New Zealand, unlike many other OECD economies, is that our government's books are in good shape and there is already a strong fiscal impulse underway from public spending and investment. We have the trifecta of sound government finances, clear infrastructure demands, and low hurdle rates for investing.
"The same can be said for corporate balance sheets in New Zealand, with relatively low levels of debt, and a strong demand for goods and services, our businesses are well placed to perform.
"So what is holding businesses and government back from further increasing investment and expenditure?"
Orr said New Zealand's economic 'problem definition' appears well advanced, and the solutions "sit largely with us as New Zealanders".
"We have the macroeconomic stabilisers in place - well-established monetary policy practices and sound long-term fiscal parameters. However, there remains a loud call from all quarters of the country for leaders to better signal investment intent, and ensure we have the policy and goodwill to facilitate access to capital and resources to execute.
"This call for investment-intent is to all collectively-owned (e.g., Iwi), Crown-owned (i.e., central and local government), and co-operatively owned (e.g., traditional primary sector) sectors. It is not just to traditional businesses, or any one party.
"Easily said, harder to do without a clear desire to work together over an agreed horizon."