Banking Ombudsman Nicola Sladden says new whistle-blowing service offers bank staff 'a safe and independent channel to sing out and raise concerns'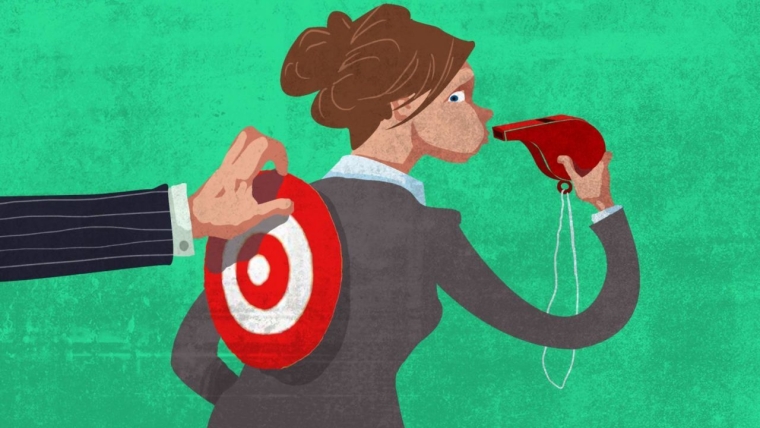 The Banking Ombudsman Scheme is launching a whistle-blower service for bank staff and adding individual bank complaint data to the industry-wide bank complaints dashboard it operates.
Banking Ombudsman Nicola Sladden says the whistle-blower service provides bank staff with a "safe and independent channel to sing out and raise concerns." Sladden says the service will be run as a separate arm of the Banking Ombudsman Scheme, a dispute resolution scheme that has all the country's major banks as members.
"There is a strong connection between the environment banks create for staff and the resulting outcomes for customers," says Sladden.
"Bank staff can now raise their concerns about behaviour or practices at their bank through this independent service, which will be run as a separate arm of the Banking Ombudsman Scheme. Bank staff can speak up anonymously, and their concerns will be managed and reported back to banks for investigation. The new service will supplement banks' existing whistle-blowing channels."
The banks themselves support the dashboard and whistle-blowing service, with both projects having the backing of bank lobby group the New Zealand Bankers' Association, the Financial Markets Authority (FMA) and the Reserve Bank (RBNZ).
"It's exciting to be delivering on findings from the [RBNZ and FMA] Bank Conduct and Culture Review and responding to the need to improve trust and confidence in banking," Sladden says.
In terms of the individual bank complaint data, Sladden says this provides a snapshot of the number of complaints each bank receives, its market share, the time complaints take to resolve, and the proportion resolved.
The dashboard shows more than 27,000 complaints were received by all banks between October 1 and December 31 last year. 
"It is inevitable that things go wrong sometimes. What matters is how problems are put right. Banks deal with hundreds of thousands of customers and process millions of transactions every day. We strongly encourage banks to capture all complaints, so they have every opportunity to improve their products and services for customers," says Sladden. "High complaint numbers could signal a strong commitment to capturing and learning from complaints, no matter how small," says Sladden.
Announced last August, the dashboard is an attempt to placate customer and regulators' concerns about bank conduct and culture. Last August Sladden said the dashboard would, for the first time, provide an overview of the nature and extent of customer complaints to banks and detail of how banks responded.
The dashboard comes after a period of heightened scrutiny of banks' behaviour. Revelations from Australia's Royal Commission into Misconduct in the Banking, Superannuation and Financial Services Industry led to a review in 2018 by the RBNZ and FMA of New Zealand banks' conduct and culture. The FMA and RBNZ report highlighted a culture of banks acting in their own, not their customers', interests. Subsequently, in February 2020, the Government introduced the Financial Markets (Conduct of Institutions) Amendment Bill to Parliament.
Commerce and Consumer Affairs Minister David Clark says the Government is committed to increasing consumer trust in the banking system and addressing concerns with conduct.
"In particular, the Conduct Bill currently before parliament continues to be a priority focus. The Bill aims to increase financial institutions focus on consumer outcomes and conduct risks, as well as to get institutions to design financial products with consumers in mind. These aims are strengthened by independent initiatives such as the dashboard and the whistle-blowing service," says Clark.
The Banking Ombudsman Scheme is funded by levies on its members/participants. They are ANZ Bank New Zealand, ASB Bank, Bank of Baroda NZ, Bank of China (NZ) Ltd, Bank of India, BNZ, China Construction Bank (NZ) Ltd, Citi NZ, Heartland Bank, HSBC NZ, ICBC, Kiwibank, Nelson Building Society, NZCU Baywide, Rabobank NZ, SBS Bank, The Co-operative Bank, TSB, and Westpac NZ.
Miriam Dean QC is the independent chairwoman of the Banking Ombudsman board, which also includes consumer representatives Jon Duffy who is the CEO of Consumer NZ, and accountant Kenina Court, plus banking representatives Angela Mentis and Donna Cooper. Mentis is CEO of BNZ and Cooper CEO of TSB.