Judith Collins wouldn't empower the country's banking regulator to restrict interest-only mortgage lending, arguing the Government shouldn't outsource its housing policy to the RBNZ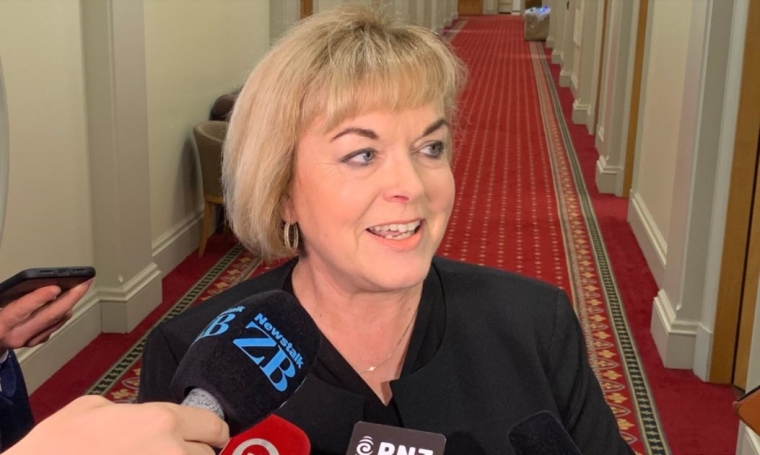 National Party leader Judith Collins isn't particularly keen for the Government to enable the Reserve Bank (RBNZ) to restrict bank lending to residential property investors seeking interest-only loans.
Asked whether she would give the RBNZ this tool if she were in government, Collins said: "No, I don't think so."
Her reasoning was that government policy on housing shouldn't be offloaded to the RBNZ.
"That seems to be what the current government is doing," she said, also saying that most developers use interest-only loans.
Collins didn't mention the fact that one the RBNZ's main jobs is to regulate banks and promote financial stability.
She said removing impediments to increasing the supply of housing was National's focus.
Finance Minister Grant Robertson on February 25 asked the RBNZ to provide him with advice on the risks interest-only mortgage pose to financial stability and whether restrictions - particularly on investors - could be applied.
Robertson on Tuesday couldn't put a date on when the RBNZ would report back, but expected a response within weeks, not months.
As at December, 39% of bank lending to residential property investors, worth $32 billion, was interest-only. This portion was on par with where it was pre-COVID-19.
Yet because borrowing against housing surged during 2020, the value of interest-only mortgages taken out by investors plateaued at a level about 10% higher than pre-COVID-19.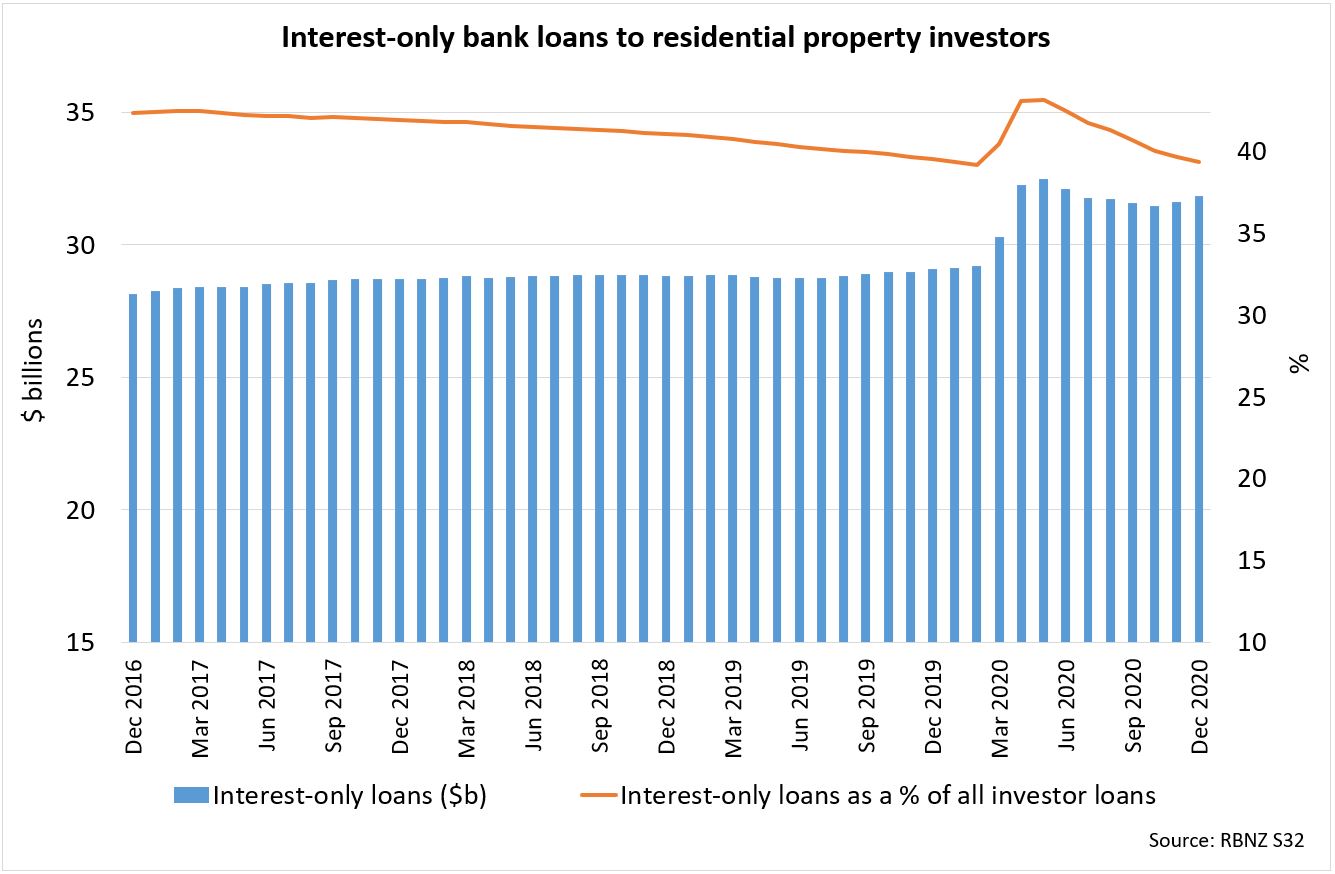 Only 13% of owner-occupier lending, worth $28 billion, was interest-only as at December. Yet the value of interest-only mortgages held by owner-occupiers was about 12% higher than it was a year earlier.
Note interest-only loans spiked for both investors and owner-occupiers during 2020 as the RBNZ relaxed bank rules to make it easier for banks to offer struggling customers mortgage repayment deferrals.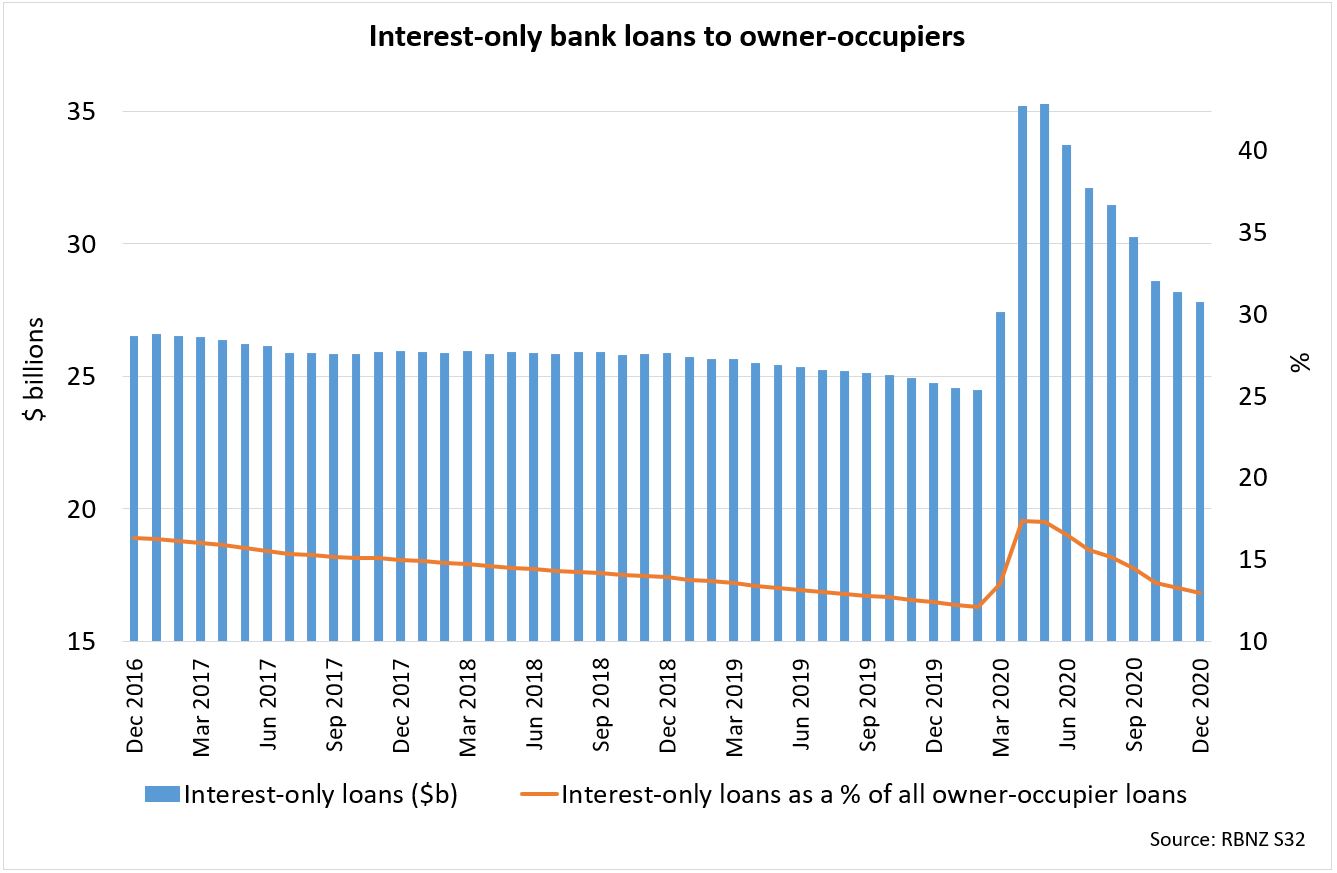 The Australian Prudential Regulation Authority put a cap on interest-only residential mortgage lending between March 2017 through to the end of 2018.
In December 2018 it said the temporary measure led to a "marked reduction" in the proportion of new interest-only lending, which fell to below its 30% threshold.
RBNZ Governor Adrian Orr last week told interest.co.nz the RBNZ hadn't yet formed a view on whether it should restrict interest-only mortgages. 
The RBNZ has also been tasked with reporting back to Robertson on whether it could apply debt-to-income (DTI) ratio restrictions to property investors. 
The RBNZ has long wanted the Government to add these DTI tools to its macro-prudential toolkit.