The nuts and bolts of how central bank digital currencies might operate and what they might mean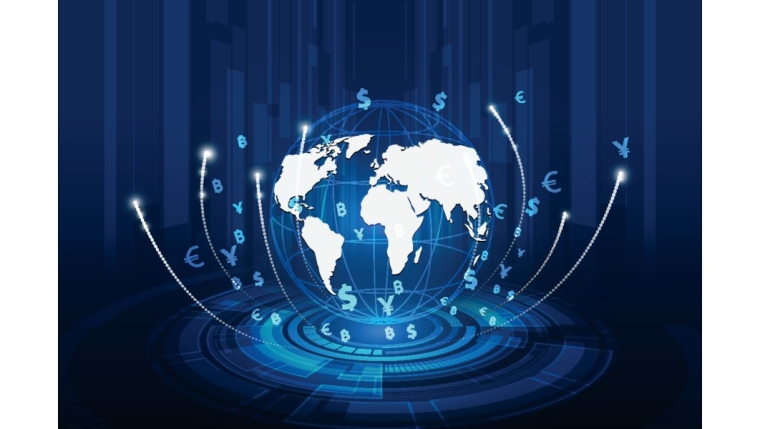 As the Reserve Bank of New Zealand (RBNZ) mulls the idea of introducing a central bank digital currency (CBDC), it's far from alone in thinking about what this could mean.
From the likes of Swift and Accenture, to the Bank for International Settlements, the Bank of England, Fitch and Bernstein, people all around the world are committing time and money to the topic.
Speaking at a press conference earlier this month, Christian Hawkesby, Reserve Bank of New Zealand (RBNZ) Assistant Governor and General Manager of Economics, Financial Markets and Banking, said the RBNZ is among dozens of central banks actively researching CBDCs.
"We have a money and cash department which is in part dedicated to thinking about things like that. So we're working on it and we're planning to say more about it through the course of this year," Hawkesby said.
Many other central banks are further down the CBDC path, as demonstrated by the chart below taken from a report by Swift and Accenture looking at the potential impact of CBDCs on international payments.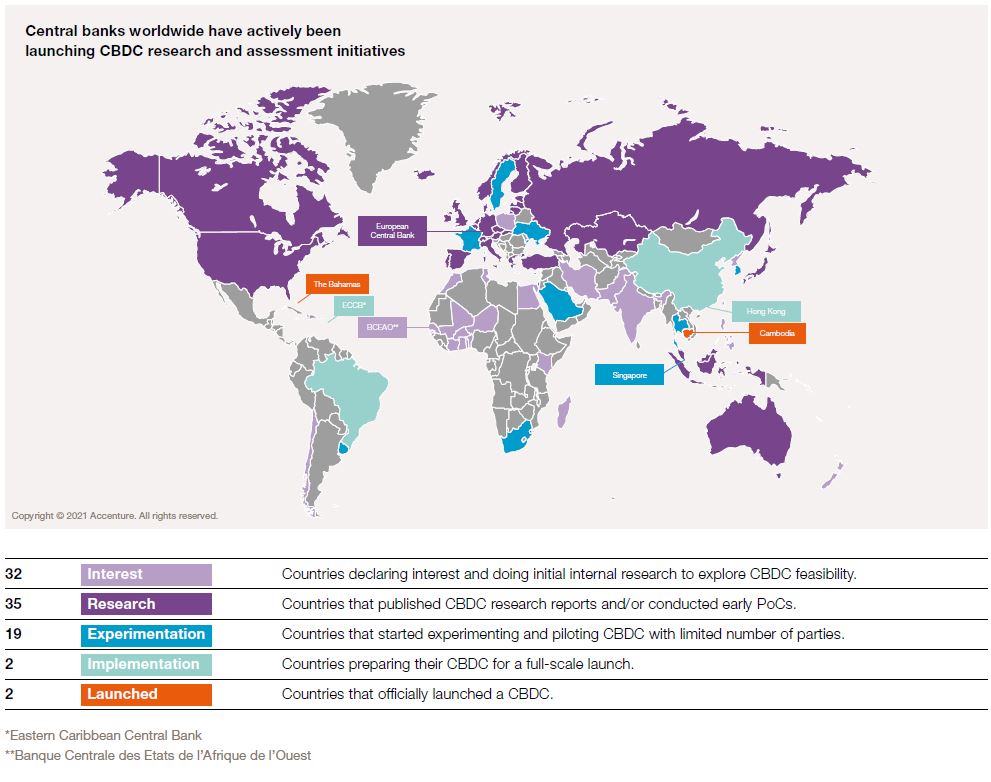 In terms of a CBDC, we are talking about using an electronic record or digital token to represent the virtual form of a country's fiat currency, which in New Zealand's case is the NZ dollar. This is against the backdrop of a world awash with cryptocurrencies such as bitcoin, and the development of stablecoins, which are a type of cryptocurrency backed by a reserve asset, such as fiat currency or gold.
'The concept of CBDCs moving across borders is complex'
Swift and Accenture say their current working assumptions are that CBDCs will be:
1. Issued by many central banks over the next few years as a new form of central bank money to facilitate digital transactions and payments on a domestic and potentially international level tackling a range of applications, most obviously the new digital economy but potentially extending to wholesale and other transactions.

2. Issued in relatively lower quantities in practice compared to commercial bank money. In today's market, the liquidity cost of central bank money naturally inhibits the amount held and we would expect that to continue with CBDCs in normal times. Issuance of CBDC will be subject to the liquidity preferences of the relevant financial system. Central banks may also choose to limit the amount held to avoid significant holdings being built up by individuals or corporates.

3. Distributed via authorised institutions (typically financial institutions) in a two tier model in either token or wallet/account to avoid central banks having to replicate the full account holding and management infrastructure that already exists.

4. The roles of commercial banks will not radically change in the two tier model. They would provide wallets or accounts for their customers and would distribute CBDC to both retail and institutional clients.
Swift and Accenture say cross-border payments will need a scalable interchange mechanism, strong governance, institutions that can exchange and make use of information across borders, a foreign exchange mechanism, standardised, exchangeable rich data, financial crime compliance, and compatible infrastructure in different jurisdictions with overlapping operating hours.  
"The concept of CBDCs moving across borders is complex. It is technically achievable with various technologies, but the meaning and usage of a CBDC outside its native jurisdiction is unclear. It may simply become a foreign currency asset in the same way as a foreign currency note or government bond is. To be practical, some form of interchange mechanism with local currency must exist."
"A bilateral solution between two countries will work but is not scalable and quickly becomes unmanageable if applied globally. What will be required is a multilateral interchange mechanism that enables payments to be made end-to-end in a frictionless form," Swift and Accenture say.
"As with domestic integration, it is not necessarily the case that the international exchange must always be CBDC to CBDC – it could also be CBDC to other local fiat currency, for example. It is normal for an international payment today to cross different payment systems and be based on different forms of money on its path. Various models are possible and examination of these is beginning."
Swift and Accenture say CBDCs won't remove the need for foreign exchange, assuming one or more parties will buy and sell CBDCs in a free market as happens today with currencies.
"There might be different forex rates for CBDCs as there are for notes. These institutions could be the same as the ones providing the interoperability but they don't have to be."
"Typically a cross-border payment will pass through one or more local payment systems. To avoid friction, these systems will need to have long and overlapping operating hours. CBDC-based systems will ideally operate 24/7 to facilitate cross-border payments in different time zones," Swift and Accenture say.
Retaining monetary independence
The Bank for International Settlements (BIS), the central banks' bank, argues in a digital world governments may need to offer CBDCs in order to retain monetary independence.
"The ongoing digital revolution may lead to a radical departure from the traditional model of monetary exchange. We may see an unbundling of the separate roles of money [store of value, medium of exchange, and unit of account], creating fiercer competition among specialized currencies. [Digital currencies may specialize to certain roles and compete exclusively as exchange media or exclusively as stores of value]. On the other hand, digital currencies associated with large platform ecosystems may lead to a re-bundling of money in which payment services are packaged with an array of data [gathering] services [and social networking services], encouraging differentiation but discouraging interoperability between platforms," a BIS working paper on the digitalisation of money says.
"Digital currencies may also cause an upheaval of the international monetary system: countries that are socially or digitally integrated with their neighbours may face digital dollarization, and the prevalence of systemically important platforms could lead to the emergence of digital currency areas that transcend national borders. Central bank digital currency ensures that public money remains a relevant unit of account," says BIS.
"Digital currency, and its integration with pervasive platforms and services, raises important questions regarding the competition between private and public money. In a digital economy, cash may effectively disappear, and payments may center around social and economic platforms rather than banks' credit provision, weakening the traditional transmission channels of monetary policy. Governments may need to offer CBDC in order to retain monetary independence," BIS suggests.
Keeping a role for public money
In a recent speech Jon Cunliffe, the Bank of England's Deputy Governor for Financial Stability, pointed out introducing a CBDC would be a very major public project with material implications for the financial sector, many parts of the economy and for society more broadly.
There are benefits of introducing a CBDC, Cunliffe says, and there could be risks in allowing publicly available state money to disappear with the possible entrance of non-bank issuers of private money, including stablecoins, such as the 'Big Tech' companies.
Cunliffe says the majority of money held and used by people in the UK today, as in NZ, already isn't physical 'public money', issued by the state. Rather it's digital private money issued by commercial banks.
"Around 95% of the funds people hold that can be used to make payments are now held as bank deposits rather than cash. In everyday use, only 23% of payments pre-pandemic were made using public money in the form of cash, down from close to 60% a decade earlier. This private money is not a claim on the state or backed with the resources of the state. It is not covered by that familiar Bank of England promise to 'pay the bearer'," says Cunliffe.
Most importantly, Cunliffe says, are the financial stability implications of the absence of public money for use by the general public. This is because ensuring confidence in money as a means of payment and store of value is fundamental to financial stability. 
"First, the role that generally available public money plays in ensuring both the perception of uniformity of money in the UK and the reality of the substitutability, of all of the monies used in the economy."
"The fact that holders of any private money issued by a commercial bank have the right to convert it into public money –i.e. cash - on demand is in my view one key element in the framework that guarantees to users that one form of money in the UK, say claims issued by Bank A can be exchanged for claims on the state or claims on Bank B without any change in value. From the user's point of view, it is all just the same 'money', pounds sterling," says Cunliffe.
A second important issue is the role access to public money may play during times of stress when confidence in the issuers of private money comes under threat.
"This is a complex issue. On the one hand during such episodes, easy access to safer, public money may stimulate runs out of private money amplifying the stress. On the other hand, the knowledge that under stress depositors have the option to switch into state money may be important in preventing a more general loss of confidence in money," Cunliffe says.
"There are other areas in which there may be risks in allowing publicly available state money to disappear and benefits from a CBDC. These concern the wider benefits from a well-functioning money and payments ecosystem for economic activity...Specifically I am thinking about promoting competition, innovation, inclusion and privacy."
What about monetary policy?
Meanwhile, the BIS paper goes on to say arguments on why unbacked private money failed in the past might be less relevant today because public money is often a very poor substitute for modern digital currencies. Thus digital currencies may be much less susceptible to failure.
"For instance, cryptocurrencies can be used to conduct large international transactions, or evade capital controls, in a way not possible with ordinary money. Some privately issued money also grants access to automated payment agreements, smart contracts, or prediction markets that are specific to a particular platform. Most importantly, the owner of a platform could effectively impose that its currency is the sole form of tender that can be used on that platform unless the government intervenes," BIS says.
"The prospect of viable independent currencies also raises concerns for monetary policy. Monetary policy is usually considered a public function that private issuers would conduct inefficiently. The fear that an entity with the power to conduct its own monetary policy will act in its own favor is what underlies the 'original sin' faced by emerging countries in sovereign debt markets."
"Large private issuers of digital currency would similarly face the concern that if permitted to freely conduct monetary policy, it would be tailored to benefit the firm rather than the public. Similarly, the provision of emergency liquidity has usually been thought of as an essential function of the central bank. In a banking system centered around a digital network's currency, it would likely be necessary for some entity to be able to provide emergency liquidity directly on the network, and it is not at all clear that the network's owner would provide the optimal emergency funding facility," the BIS paper says.
"These concerns present an additional rationale for enforcement of an interoperability and convertibility regime: convertibility would constrain issuers' monetary policy, and interoperability with the national currency would allow the central bank to provide emergency liquidity directly."
Potential disintermediation for banks
Credit rating agency Fitch is warning about the potential of disintermediation, or loss of business and relevance, for banks from the introduction of CBDCs.
"We believe the introduction of CBDCs will inevitably involve households and businesses converting some of their commercial bank deposits into CBDCs. All other things being equal, this would require banks to shrink their balance sheets – a process known as disintermediation," Fitch says.
"A potentially significant risk posed by the broader introduction of CBDCs is that disintermediation could occur at a destabilising rate, for example by triggering a sharp contraction in bank lending. The potential for bank runs could even increase in stress scenarios."
Fitch goes on to say investors might view CBDCs as risk-free, because they're backed by the central bank. This could especially be the case if CBDC wallets were managed directly by the central bank, rather than being administered by authorised financial institutions.
"Even in the latter case, funds may still flow from deposit accounts into CBDC wallets if fears rise over financial instability. This risk could grow if interest rates fall close to zero, diminishing the attractiveness of holding funds in deposit accounts. In many ways, this effect is similar to the existing danger that depositors may convert their account holdings into cash during a crisis," Fitch says.
However, the credit rating agency says disintermediation risks can be managed, for example by placing caps on the amounts that can be held in CBDC wallets or by deterring CBDC holdings, such as through negative interest rates.
"However, political pressure could impede central banks' ability to take this type of action in a crisis. Moreover, such measures may also deter uptake of CBDCs and weaken their function as a means of exchange," Fitch says.
"Alternatively, central banks could lend funds held in CBDC accounts back to banks. The heightened state involvement in the allocation of funds within the financial sector that this would involve could make this option unpalatable in some countries. However, this is likely to be less of an issue in markets like China where banking systems are already tightly controlled by the state."
Does regulation pose a threat to bitcoin?
In another report money management firm Bernstein takes a look at whether regulation poses a threat to cryptocurrencies, concluding it does.
"Regulatory uncertainty is one of the greatest impediments to the institutional [investor] adoption of crypto, and more importantly, of the whole potential range of tokenised assets. The focus of this discussion tends to be on the potential for crypto to be used in various nefarious activities. However, this has been an issue from the beginning of crypto currencies but has not been sufficient to cause the authorities to shut them down, so we suspect that regulators have decided that they can live with this aspect," Bernstein says.
"What is more important is the question of whether crypto currencies could get in the way of future possible policy innovations. For example, the imposition of negative interest rates, wealth taxes, adoption of CBDCs. At the moment this seems distant, however, if pension funds were to express significant interest in gaining exposure to crypto then that could accelerate this debate."
Bernstein also notes regulatory uncertainty as to the status of tokenised assets.
"At the moment this asset class is at an even more nascent state. The prime motivating feature for institutional adoption here is not the technology per se, but that it is arriving just at the point when asset owners likely need to materially increase exposure to real assets. Tokenisation gives the potential to broaden the pool of real assets that are open to investment, increase liquidity and lower the fee. However, the regulatory backdrop is still unclear. All eyes are on [US] Securities and Exchange Commission chairman Gary Gensler in this regard. His recent pronouncements suggests that regulators should be 'technology neutral,' that crypto tokens do indeed fall under the purview of regulators and that there is a need for greater investor protection."
Bernstein suggests a crypto crackdown is possible in many developing countries as they may view crypto as a threat to their fiat currencies and monetary system.
"The crypto regulatory landscape is evolving rapidly as rules are frequently modified and interpreted and applied in an inconsistent manner from one jurisdiction to another. Given that cryptocurrencies have already become substantially big, 100 million plus people hold cryptocurrencies globally, institutional money is now getting involved, corporate treasuries are taking note, and the merits of the technology are more evident now than ever before, we do not expect governments to take a knee-jerk reaction against cryptocurrencies," Bernstein says.
The firm also suggests, however, that a better regulatory framework for cryptocurrencies could trigger a new wave of innovation and infrastructure development as it further legitimises cryptocurrencies.
*This article was first published in our email for paying subscribers early on Wednesday morning. See here for more details and how to subscribe.