Auckland's Covid-19 Delta outbreak delays RBNZ consultation on debt-to-income restrictions & interest rate floors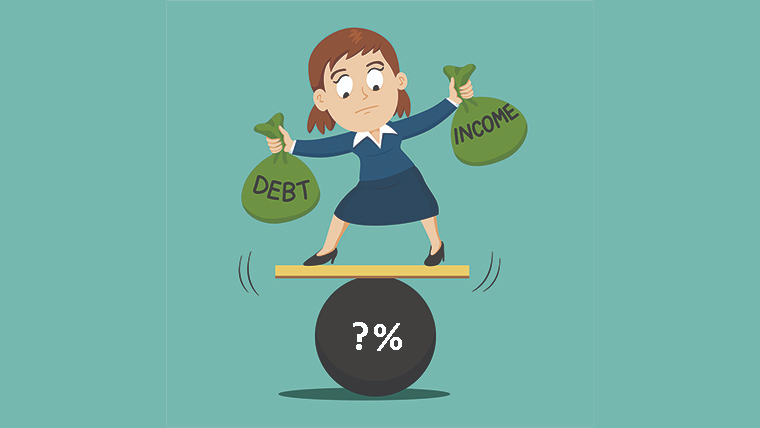 The Reserve Bank is delaying its planned consultation on how it could enforce debt-to-income (DTI) restrictions and interest rate floors on banks due to Auckland's Covid-19 Delta variant outbreak.
On August 3 the Reserve Bank announced the signing of an updated Memorandum of Understanding (MoU) on macro-prudential policy between its Governor Adrian Orr and Finance Minister Grant Robertson. The updated MoU adds debt serviceability restrictions to the Reserve Bank's list of tools.
Also in August the Reserve Bank said it planned to consult in October on implementing DTI restrictions and/or interest rate floors in an effort to provide further comfort that home loan borrowing is sustainable.
However, the consultation is now on ice until mid-to-late November with a Reserve Bank spokesman telling interest.co.nz; "Given the disruptions from heightened COVID-19 alert levels this [consultation] timeframe is being revisited."
The Reserve Bank has coveted a DTI tool for years and its most recent formal request for one was made to Robertson last December.
An interest rate floor involves settling floors on the test interest rates banks use when assessing borrowers' serviceability. The Reserve Bank spokesman says this will also be canvassed in the planned consultation. It's currently up to banks to decide what interest rate floor they want to use.
The concept of a test rate is that when considering home loan applications, banks calculate the ability of the borrower to repay the loan at a higher interest rate than current rates. Thus the lender looks to satisfy themselves that the borrower could maintain their repayments if interest rates rise. Lowering test rates increases borrowing capacity and increasing them decreases it.
In June an ANZ spokeswoman told interest.co.nz the bank's test rate, used across all types of homeowner borrowing, was 5.8%. An ASB spokeswoman said ASB's was 6.45%.
The Reserve Bank published the chart below in its Financial Stability Report released in May.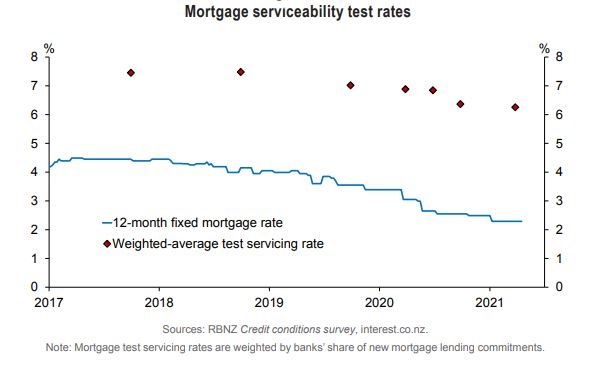 Meanwhile in Australia where the parents of New Zealand's big four banks operate, the Australian Prudential Regulation Authority (APRA) on Wednesday announced an increase to the minimum interest rate buffer it expects banks to use when assessing the serviceability of home loan applications.
APRA has told lenders it expects they will assess new borrowers' ability to meet their loan repayments at an interest rate that is at least 3.0 percentage points above the loan product rate. This compares to a buffer of 2.5 percentage points that has been in use.
APRA said the decision reflects growing financial stability risks from lenders' residential mortgage lending.
In a report on the APRA move, Macquarie banking analysts suggest it will reduce borrowing capacity by 5% to 6%. Macquarie also notes that 22% of new lending was on done at a DTI greater than six times in June this year.
"The regulator also noted that should the flow of loans at high DTI continue to grow, further macroprudential measures would be considered. While this step is likely to have a modest impact on credit availability, it may be enough to achieve the objective if it weakens confidence and moderate's property price appreciation," Macquarie says.
The chart below comes from Macquarie.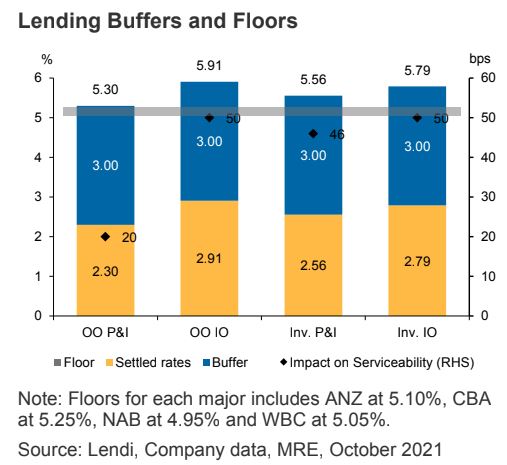 *This article was first published in our email for paying subscribers early on Friday morning. See here for more details and how to subscribe.