Finance Minister Grant Robertson says he moved as quickly as was responsible to give the Reserve Bank new tools to restrict banks' mortgage lending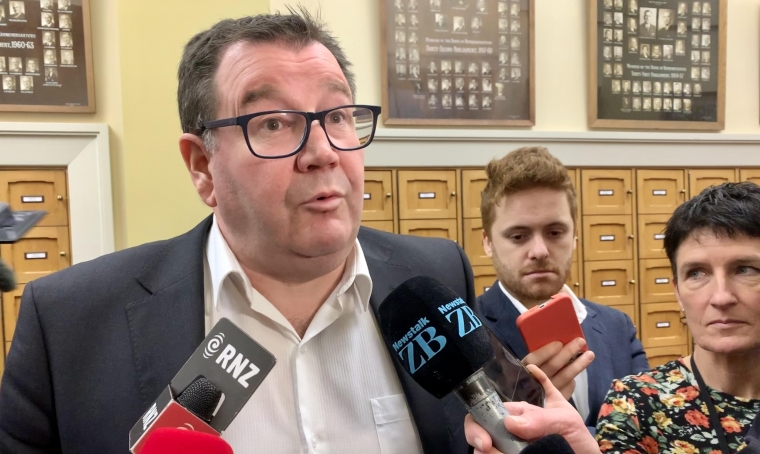 Finance Minister Grant Robertson says he moved as quickly as he thought was responsible, empowering the Reserve Bank (RBNZ) to impose new mortgage lending restrictions.
Robertson and RBNZ Governor Adrian Orr on Monday signed a Memorandum of Understanding, which stipulates the RBNZ can impose debt serviceability restrictions on banks' mortgage lending.
Orr formally asked for these debt-to-income (DTI) tools in December - eight months ago.
In meantime, mortgage lending has surged, with banks writing $60 billion of new mortgages between December and June, according to the latest available RBNZ data.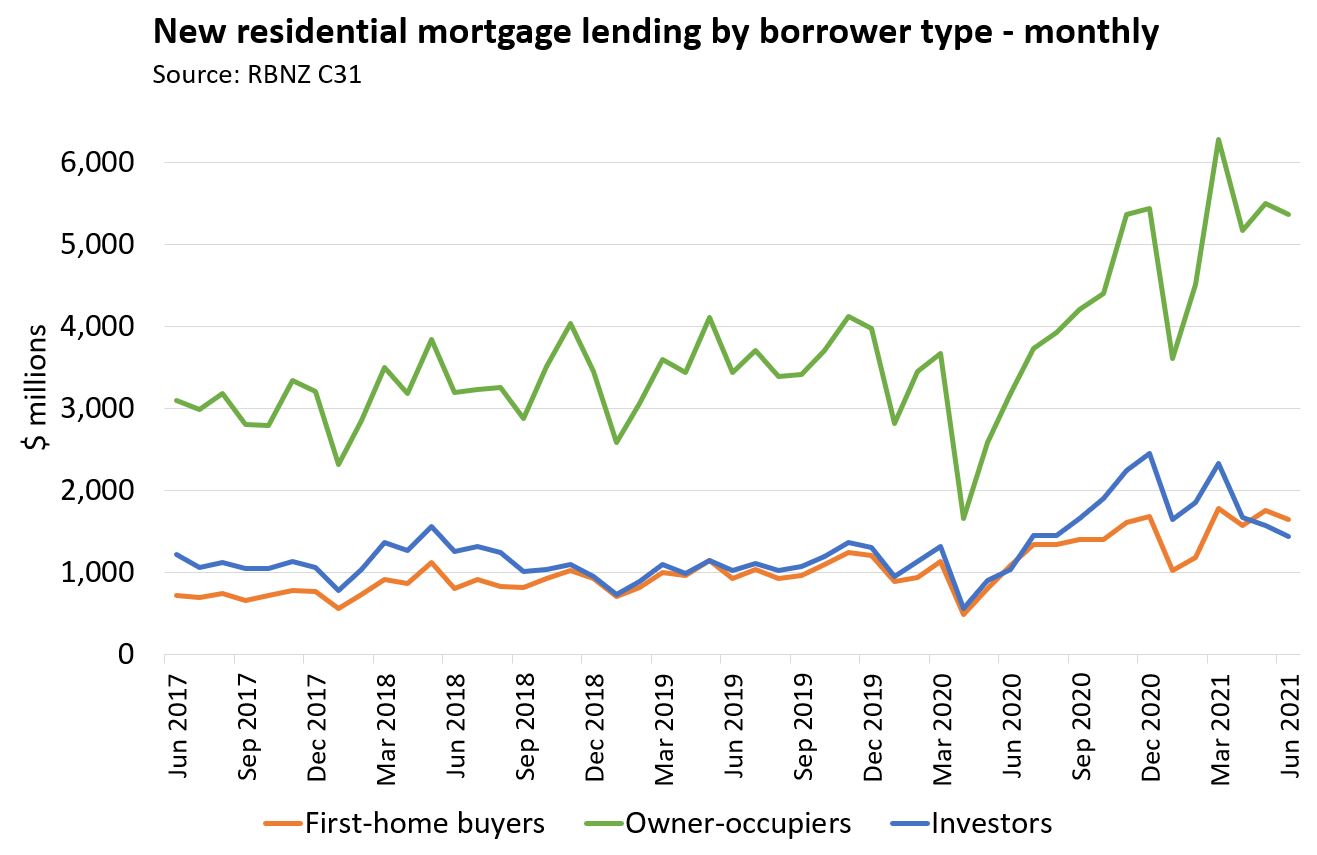 Mortgage lending to borrowers seeking a lot of debt compared to their incomes has also increased as house prices have shot up.
The grey lines in the graph below show the increase in the portions of new lending to borrowers with debt worth more than five times their incomes.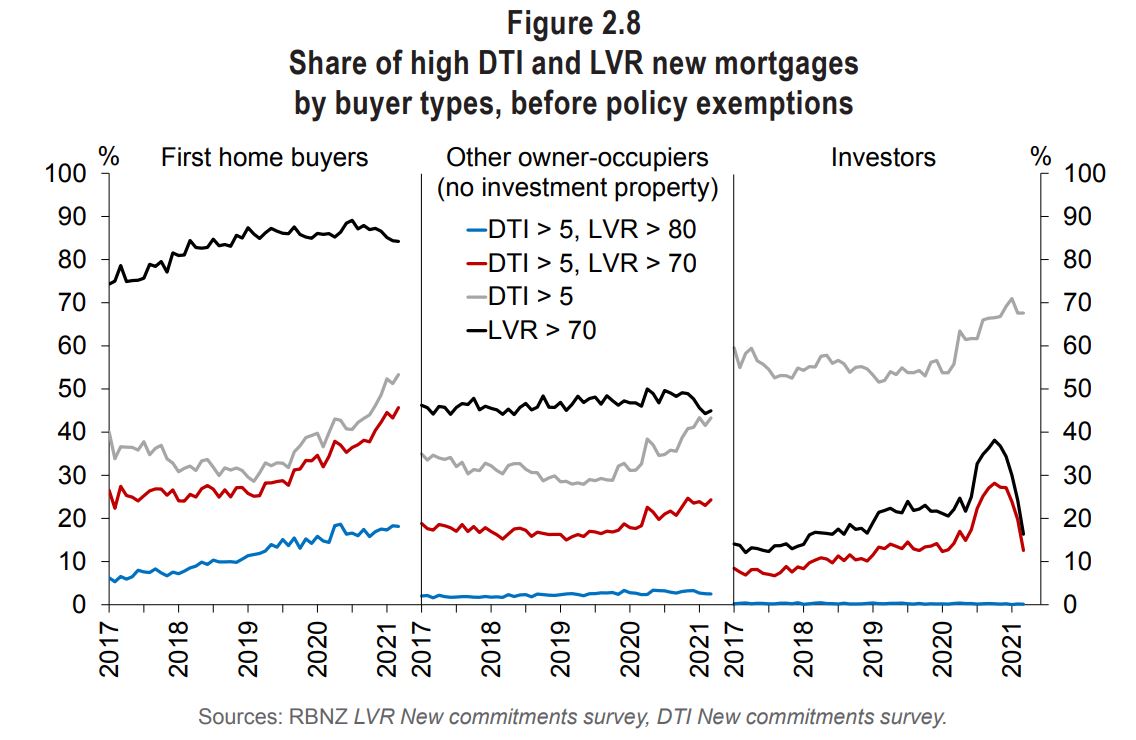 Asked by interest.co.nz why he couldn't give the RBNZ DTI tools sooner, Robertson said: "We've moved as quickly as I think is responsible.
"I've made clear that for me the introduction of debt-to-income restrictions is something we have to handle carefully.
"We want to make sure that we don't price first-home buyers out of the market."
Put to him that it seemed ironic his fear of being seen to hurt first-home buyers might've actually put them in a worse position. They now face higher hurdles to get mortgages on top of even higher prices, which might have been lower if restrictions had been imposed earlier.
Robertson responded: "I don't accept that at all. We think we've made policy decisions that'll tilt the balance in favour of first-home buyers."
He managed to get Orr to agree to include a line in the MoU that says, when designing and implementing DTIs, the RBNZ will "have regard to avoiding negative impacts, as much as possible, on first-home buyers, to the extent consistent with the Bank's purposes and functions".
Robertson noted: "The RBNZ has responsibility for the overall financial stability of the country. I think they're doing their job responsibly." 
More on what the RBNZ is doing
The RBNZ will in October start consulting on implementing DTI restrictions and/or interest rate floors.
It previously estimated it could take at least six months to design and implement DTI restrictions, but said interest rate floors could be implemented more quickly.
Interest rate floors would set a minimum interest rate at which banks have to ensure borrowers can afford to repay their mortgages.
The RBNZ on Tuesday also announced plans to tighten loan-to-value ratio (LVR) restrictions, to make it harder for owner-occupiers (including first-home buyers) to get mortgages.
From October 1, only 10% of banks' mortgage lending to owner-occupiers can go to borrowers with deposits of less than 20%. Currently, 20% of lending can go to these higher-risk borrowers.
---
Like what you read? Support our journalists. Find out how.
---
The RBNZ is making this change despite Robertson in February directing the RBNZ to have regard for the Government's housing policy when implementing macro-prudential tools like LVRs.
This policy is to "support more sustainable house prices, including by dampening investor demand for existing housing stock, which would improve affordability for first-home buyers". 
The RBNZ's general manager for financial stability Geoff Bascand said: "We are particularly concerned about those who have borrowed in the past 12 months at high LVRs and high DTIs.
"If house prices were to fall, some buyers could face the possibility of negative equity - which means the value of their property is below the outstanding balance on their mortgage."
The RBNZ reimposed LVR restrictions in March, after removing them in May 2020 due to COVID-19. 
Collins accuses the RBNZ of 'seeking headlines'
National wouldn't say whether it would've gives the RBNZ DTI tools.
The former National-led Government declined such a request from the RBNZ, like Robertson, out of fear of hurting first-home buyers.
Asked by interest.co.nz what she would've done if she was in Robertson's shoes, National leader Judith Collins took the opportunity to have a go at the RBNZ.
"I think we would be a little worried about some of the things that have been going on at the Reserve Bank," she said.
"I always like reserve bank governors and reserve banks to be boring people, not seeking headlines."
Asked what she was specifically worried about, Collins referenced a slightly different issue - the way the RBNZ had conducted monetary policy. IE the way its lowering of interest rates and provision of ample liquidity had boosted inflation/increased the cost of living.