The RBNZ finally gets conditional agreement from the Finance Minister for debt serviceability tools, but the initial one it's able to use is likely to be one pushed by the bank lobby group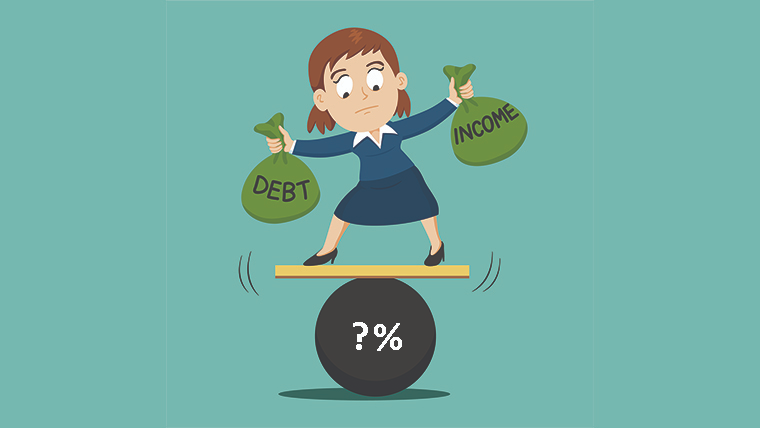 By Gareth Vaughan
Finance Minister Grant Robertson may have finally agreed, in principle, to the Reserve Bank adding debt serviceability restrictions to its macro-prudential toolkit, but the tool initially available might be one proposed by banks as an alternative to the regulator's favoured tool.
The Reserve Bank (RBNZ) has wanted a tool restricting residential mortgage borrowers' debt-to-income (DTI) ratios for at least five years. However, firstly the National-led government and now the Labour government have been reluctant to acquiesce to the RBNZ having the tool due to it potentially stopping significant numbers of would-be first home buyers buying a house.
And the DTI tool remains caught in the political cross hairs to a degree. That's because even though Robertson on Wednesday said he had agreed to debt serviceability restrictions being added to the RBNZ's macro-prudential toolkit, this is only if they don't impact first home buyers. The development and design of a debt serviceability tool such as a DTI ratio limit should apply only to investors, Robertson said.
In 2016 the RBNZ asked then Finance Minister Bill English for a DTI tool. That came after a Memorandum of Understanding (MoU) signed by English and the then RBNZ Governor Graeme Wheeler in 2013, included four macro-prudential tools but not a DTI tool.
The idea of macro-prudential tools, such as restrictions on high loan-to-value ratios (LVRs), is that the RBNZ can introduce them on banks to dampen excessive growth in credit and asset prices and strengthen the financial system. DTI limits are usually calculated as a ratio of total debt to gross income. From a financial stability perspective the RBNZ says a key benefit of DTI restrictions is they link credit availability to income growth and can be effective through an economic cycle.
"By contrast, since LVRs of existing property automatically fall as house prices rise, LVR restrictions become less binding over time in a rising housing market," the RBNZ says.
In 2017 the RBNZ publicly consulted on a DTI tool, and undertook cost-benefit analysis. This was required by Steven Joyce, who had succeeded English as Finance Minister, and effectively kicked the issue into touch until after that year's election.
On Wednesday Quotable Value said the average value of homes at both the top and bottom ends of the market are continuing to rise but at a slower pace than previously. And the RBNZ makes the point that macro-prudential tools are not a silver bullet to resolve all housing market problems.
"It should be noted that while debt serviceability restrictions and other macro-prudential tools can be of some assistance in supporting the Government's housing policy objectives, the fundamental drivers of house prices and housing affordability (for example, population growth, land use constraints, infrastructure, building costs, and long-term trends in global interest rates) fall outside of our remit and require a broader public policy response," the RBNZ says.
A slow burn
Even with Robertson's in-principle agreement now, the addition of any new tools to the RBNZ's macro-prudential toolkit appear unlikely this year.  Amongst Wednesday's RBNZ information dump, the prudential regulator said it was formally requesting Robertson agree to add debt serviceability restrictions to the MoU, with Treasury to also be involved in the process. And it plans to consult again.
"For DTI limits, we estimate that a lead time of six months or more would be needed to consult on design and calibration and for industry to implement the necessary systems," the RBNZ says.
"This timeline would need to be discussed further with the industry, particularly since banks are currently upgrading their systems to comply with Credit Contracts and Consumer Finance Act Responsible Lending Code requirements which come into force in October."
The RBNZ goes on to say that if it needed to take action more quickly, "an interest rate floor potentially could be implemented within two or three months." This could involve settling floors on the test interest rates banks use when assessing borrowers' serviceability. The RBNZ says the floor can be specified in absolute terms, or be set as a margin above commercial lending rates.
This is the alternative to a DTI ratio tool suggested by bank lobby group the New Zealand Bankers' Association (NZBA) in its response to the 2017 consultation. NZBA argued the evidence linking high-DTI loans and loan defaults was weak, with job loss having the most significant impact on the likelihood of loan default. 
With the actual rate decided by the RBNZ, all banks would apply a serviceability interest rate to their affordability assessment calculation as a minimum affordability measure for borrowers. Individual banks already build in a debt serviceability buffer at an interest rate higher than current mortgage rates to get a feel for what repayments borrowers could afford if interest rates rise.
Options
The RBNZ notes there are a range of debt serviceability tools in use internationally, including DTI limits. Additionally there are loan to income (LTI) limits, which are similar to DTI limits but with reference to a specific loan rather than total debt. And there are debt-servicing to income (DSTI) limits, which set a cap on the percentage of a borrower's income that can be allocated to servicing debt repayments.
"We consider that DTI limits have some advantages over other debt servicing tools, particularly in moderating house price cycles and dampening investor demand. However, when we consulted on debt serviceability restrictions in 2017, the majority of the industry expressed a preference for a floor on test interest rates, on the basis that it would be easier to implement within their current systems for assessing debt servicing...the bulk of our analysis and modelling to date has focused on DTI limits. The two tools are not necessarily mutually exclusive, for example an interest rate floor could be put in place in the short term while DTI limits are designed and consulted on for implementation at a later stage," the RBNZ says.
An "initial high-level assessment" of interest rate floors has been undertaken by the RBNZ.
The RBNZ wants debt serviceability restrictions to be specified in the MoU in general terms. This, it says, would allow flexibility to design, calibrate and adjust the tools as required to maximise their effectiveness in meeting both the RBNZ's mandate and the Government's housing policy objective.
Getting the Minister over the line
With Robertson reluctant to see DTI restrictions imposed on first home buyers, the RBNZ appears to have tailored a tool to meet this requirement. 
"Our analysis suggests that in the current market a DTI cap of seven would have minimal impacts on first-home buyers while deterring some purchases by investors. A lower DTI cap of six would be expected to have more impact on moderating house prices and dampening investor demand, but would also have higher allocative efficiency costs and could prevent a small number of first-home buyers from entering the market," the RBNZ says.
In the past the RBNZ has described a DTI of five as high.
Another idea the RBNZ floats is differentiating the caps by borrower group, as is the case with the existing LVR restrictions.
"For example, the DTI cap could be set at seven for owner-occupiers and six for investors. DTI caps could also be combined with a speed limit (which could be differentiated by borrower group), allowing banks to allocate credit to those they judge as better high-DTI borrowers. These detailed design question would need to be considered further and consulted on if we were to proceed with implementing DTI limits."
The RBNZ also emphasises the point that if debt serviceability restrictions are added to the MoU, it won't necessarily implement them straight away.
"Any decision would need to be informed by our assessment of financial stability risks and house price sustainability, taking into account the impact of recent policy changes on the housing market. However, we would begin engagement with industry immediately, to make sure banks are well positioned if we do decide to proceed."
"In 2017 we estimated that, after allowing for the likelihood that some constrained borrowers would be replaced by low-DTI buyers, house sales could fall by around 9% following the introduction of DTI restrictions at a cap of more than five, which in turn could reduce house prices and credit growth by 2% to 5%," the RBNZ says.
"Since the 2017 consultation house prices have continued to rise faster than incomes and DTI ratios have become even more stretched. Therefore, DTI restrictions at the same level (>5) would have a stronger effect on credit growth and house prices. We estimate that using a DTI cap of six now would be roughly equivalent (in terms of the amount of lending constrained) as a DTI cap of five in 2017."
"The impact of DTI restrictions is likely to be sustained over time to a greater degree than LVR restrictions. This is arguably well-aligned with the objective of house price sustainability," the RBNZ says.
*The chart and table below come from the RBNZ.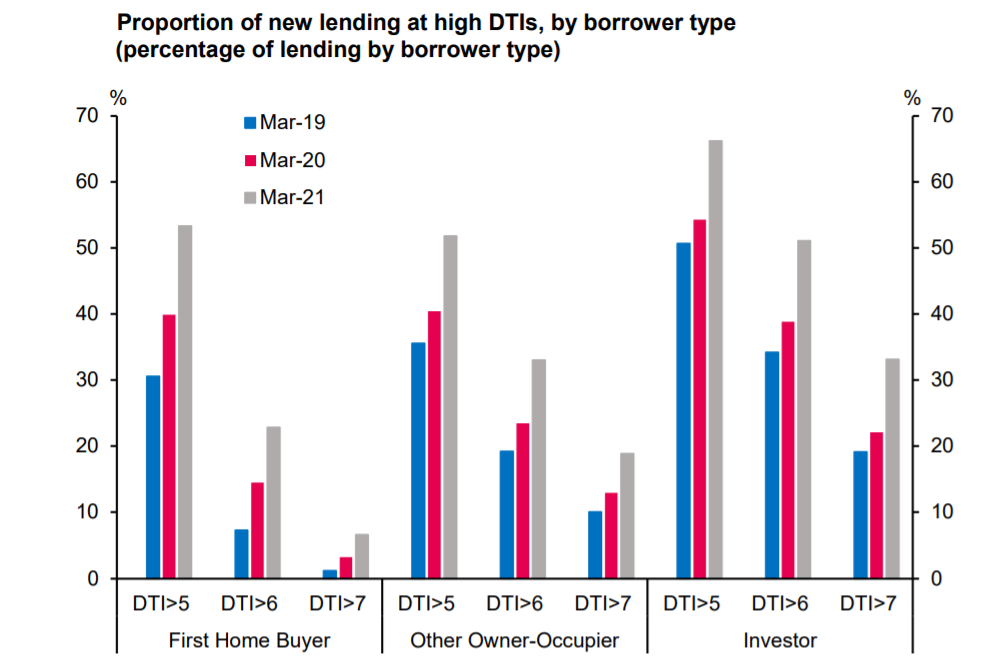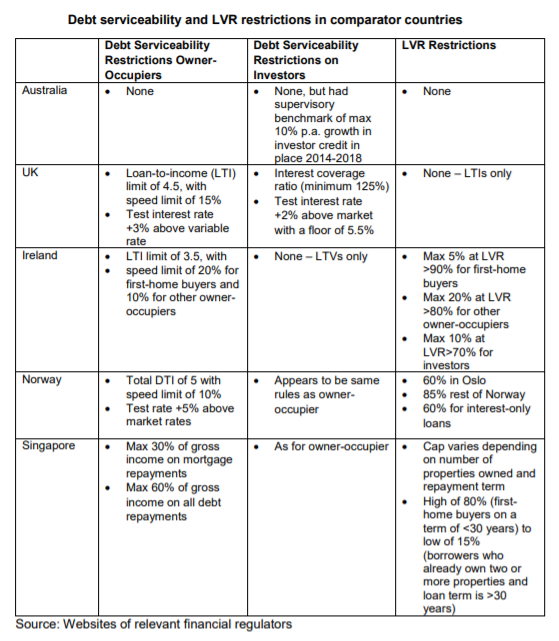 *This article was first published in our email for paying subscribers. See here for more details and how to subscribe.