RBNZ gives clearest signals yet how and where it could pitch a debt-to-income ratio restricting tool for mortgage borrowers, and which type of borrowers would be targeted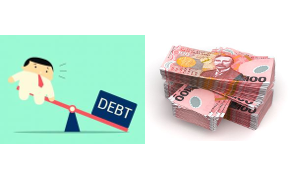 By Gareth Vaughan
The Reserve Bank has given its strongest indications yet on how and when it might use a tool regulating the amount of debt some mortgage borrowers can access from banks relative to their incomes. 
Speaking at a press conference after the release of the central bank's bi-annual Financial Stability Report on Wednesday, Deputy Governor Grant Spencer said a debt-to-income ratio above five was "pretty high."
"We think if we get up over five that's pretty high. And it tends to be the area where potential stresses are going to emerge if there's a shock to interest rates or incomes," Spencer said.
He emphasised, however, that no specific level for where any debt-to-income (DTI) tool could be set has been determined.
"It wouldn't necessarily have a specific threshold attached to it just as LVRs [restrictions on banks' high loan-to-value ratio mortgage lending] are in the toolkit that don't have any particular thresholds identified. Those are the policy decisions that have to be made in any given set of circumstances," said Spencer.
Consultation paper currently with Joyce
Governor Graeme Wheeler said a consultation paper on the potential addition of a DTI restricting tool to the Reserve Bank's macro-prudential policy toolkit was likely to be released within a couple of weeks. Wheeler said the paper was currently with Finance Minister Steven Joyce because the Minister usually has a couple of weeks to look at such papers and express any views.
The Reserve Bank last year formally requested that a DTI tool be added to its Memorandum of Understanding with the Finance Minister on macro-prudential policy. However, in February Joyce  effectively kicked the DTI tool issue to the curb until after the September 23 election announcing, "I have decided that, consistent with good regulatory principles, a full cost-benefit analysis and consultation with the public should occur before I consider whether to amend the Memorandum of Understanding (MOU) on Macro-Prudential Policy." 
"The Finance Minister and the [Reserve Bank] Governor have signed an MOU that governs the use of macro-prudential tools. This MOU sets objectives for and requires accountability around the use of the tools. The introduction of DTI limits would require that this MOU be amended," said Joyce.
Meanwhile, Wheeler reiterated that if the Reserve Bank currently had a DTI tool available to it, it wouldn't actually use it.
Asked under what circumstances a DTI tool would be used Wheeler said, "If we were in a situation where we saw house price inflation start to pick up again and we also had debt-to-income ratios starting to increase again like they have over the past three years. So if they continued to rise, or even remained at high levels, while house price inflation was resurgent again, then they're the sorts of things that we would look at."
He also said there would likely be a speed limit, as with the LVR restrictions.
"If we did introduce something at some stage it would probably have a speed limit aspect to it just like the LVRs. So if you look for example at the UK, I think they've got a [DTI] ratio of 4.5 where new lending for owner-occupied housing you [banks] are allowed 15% above that 4.5 DTI. So that concept of a speed limit is probably something we would look closely at," said Wheeler.
 Asked whether there would be any specific targeting of residential property investors through a DTI tool given they tend to have higher DTIs than owner-occupiers and make greater use of interest only loans, Spencer suggested not. Reading between the lines here, the idea could be that a DTI tool would be targeted at owner-occupiers, leaving the LVR restrictions, whereby investors require a deposit of at least 40%, targeting investors.
'I wouldn't say so [that something would be included in the DTI policy targeting investors]. Of course the LVRs we put in last October are residential investor focused. So actually because investors tend to have high DTIs, and you see in some of the charts in here [see below] that the restraint on investor credit has actually reduced the overall DTIs because the risky lending will tend to be high on both counts," Spencer said.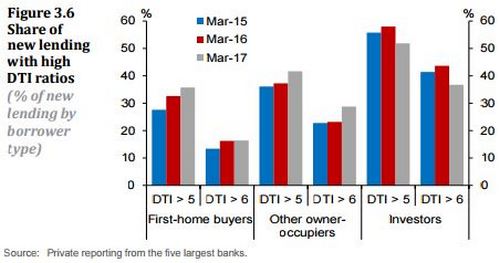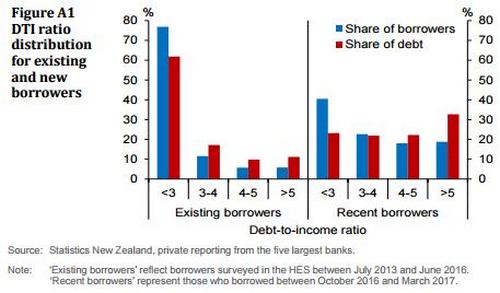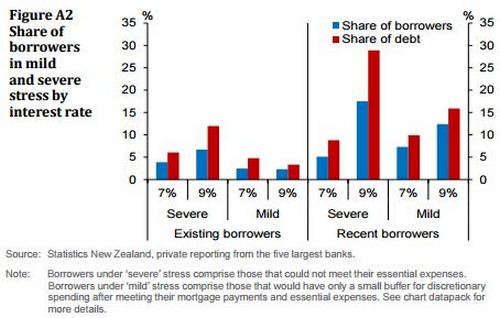 The chart below comes from last November's Financial Stability Report.
'Do they want to make the whole thing take a haircut straight away?'
According to KPMG's annual Financial Institutions Performance Survey (FIPS) released in February, New Zealand bank executives believe an ideal level would be between five and seven. The FIPS report also suggested bank bosses were in unanimous agreement that the Reserve Bank's consideration of a DTI macro-prudential tool was happening too late given "most borrowers are already at levels of nine to 12." 
Meanwhile, when I've questioned them on the prospect of a DTI tool over recent months two of the big four bank CEOs have expressed caution.
Below is what Westpac's David McLean had to say when I asked him last November about the Bank of England's 4.5 times, and the Central Bank of Ireland's 3.5 times debt-to-income ratios.
"You look at Auckland, the average house price now in Auckland is over $1 million and the average income's only just recently hit $100,000. So neither of those [British or Irish] numbers would work particularly well in Auckland. So I don't want to second guess how they [the Reserve Bank] do it," said McLean.

"But do they want to make the whole thing take a haircut straight away or do they want to just start at a level which stops it growing any further? My personal view with the housing market is people worry about the housing market going up and affordability is an issue. But it's worth remembering the opposite situation, which if house prices were tanking is actually far worse for the economy because it's destroying people's wealth and putting pressures on all sorts of parts of the economy."
"So in some ways a rapidly rising housing market is what I'd call a fairly high quality problem because it's a sign that the economy's going well, people want to come here. So I think the best thing for the New Zealand housing market would be if the growth tailed off and it didn't increase for a long time, and economic growth was happening which would gradually improve affordability. I don't think the right answer is a big crash in house prices," McLean said.
And in February ASB's Barbara Chapman said the Reserve Bank ought to think about a potential DTI macro-prudential tool in the context of which part of the housing market it's concerned about.
"...We looked quite hard at first home borrowers and has their debt-to-income ratio changed to the point that we might think that it's of some concern. And what I was quite surprised about was how stable that ratio had been over time. And so while obviously it's something the Reserve Bank needs to think about, I do think you need to think about it in the context of which part of the market might you be concerned about," Chapman said.
"And if you look at the fundamental drivers in New Zealand around what makes for a stable borrowing market, it is more around people's cashflow. So it's more around people's ability to repay, which is a lot to do with interest rates and a lot to do with unemployment, more so than some of these other multipliers. So I think there's a number of things that really need to go into that mix."
Asked for specific figures on the DTIs of ASB's borrowers who are/were first home buyers, Chapman said she didn't have the report with her.
"But what I looked at was a three year view of debt-to-income for first home buyers and it was remarkably stable," said Chapman.
Household debt-to-disposable-income ratio at record high
The DTI debate comes against the backdrop of a household debt-to-disposable-income ratio at a record high of 167%, as demonstrated by the chart below.
The Reserve Bank says an increase in the share of borrowers with high DTI ratios has contributed to the rise in household indebtedness.
"These borrowers are vulnerable to debt servicing shocks, such as higher interest rates or a fall in income. This makes them more likely to default on their mortgage or cut consumption sharply, and makes them more likely to sell their house to repay their mortgage, in response to mortgage affordability shocks. If a significant proportion of households have debt burdens that are unsustainable in the event of an affordability shock, financial stability could be threatened by direct losses on bank mortgage lending and by indirect losses on banks' other assets, caused by an economic downturn," the Reserve Bank says. 
Banks have been reporting DTI ratio data on new lending to the Reserve Bank since early 2014.
"Banks are in the process of improving the data quality. The preliminary data are likely to overstate the share of lending at high DTI ratios, due to data collection issues such as the incomplete capture of borrower incomes. Despite these data challenges, it appears that the share of new lending at high DTI ratios has remained elevated."
"Banks report that the share of new lending at DTI ratios above five has continued to grow over the past year for first-home buyers and other owner-occupiers, to 36% and 42% respectively in March. For investors, the tighter restrictions on high-LVR investor lending have had a significant impact on high-DTI borrowers, reducing their share of investor lending from 58% to 52%, the Reserve Bank says.
"Preliminary Reserve Bank analysis on the impact of higher mortgage rates on recent borrowers suggests that many would struggle to service their mortgage if mortgage rates increased. Mortgage rates can rise quickly. For example, the average new floating mortgage rate in New Zealand rose from around 7% to over 10% between early 2004 and 2007. Fixed interest rates may give some borrowers time to adjust to higher interest rates. However, based on banks' current mortgage portfolios, about 40% of mortgages would re-price within six months and 60% within a year."
DTI tool snubbed in 2013
Back in 2013 when the Reserve Bank's macro-prudential toolkit was put together, via the MoU between Wheeler and then-Finance Minister Bill English, a DTI tool was left out. Four tools were included, most notably the one in use that restricts high loan-to-value ratio residential mortgage lending. At that time the Reserve Bank did not appear interested in a DTI tool. 
In the 2013 MoU the best the Reserve Bank could muster in terms of DTI limits was a vague mention of a potential debt servicing tool at some unspecified time in the future. The central bank noted areas of regulation "not in scope" for the "base framework," but that "may form part of the bank's future work programme" included: "The case for incorporating debt-servicing capacity into the macro-prudential framework."
The four new tools already in the Reserve Bank's macro-prudential toolkit are:
Adjustments to the Core Funding Ratio - altering the amount of equity, retail funds and longer-term wholesale funding banks have to hold. This is currently set at 75%.
A Countercyclical Capital Buffer - effectively banks holding more capital during credit booms.
Adjustments to sectoral capital requirements - increasing the amount of capital banks must hold in response to sector-specific risks.
Quantitative restrictions on the share of high loan-to-value-ratio loans to the residential property sector.