Bank bosses see debt-to-income ratio between 5 and 7 as ideal in any new RBNZ macro-prudential tool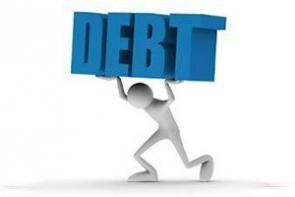 By Gareth Vaughan
New Zealand bank executives believe an ideal debt-to-income (DTI) ratio set by any Reserve Bank DTI tool should be between five and seven, according to KPMG's annual Financial Institutions Performance Survey (FIPS).
The report notes bank bosses are in unanimous agreement that the Reserve Bank's consideration of a DTI macro-prudential tool is happening too late given current DTI ratios have already topped levels that would have been considered ideal.
"According to executives an ideal DTI level would be in the range of five to seven. However, they say that most borrowers are already at levels of nine to 12," the FIPS report says.
Both the Bank of England and the Central Bank of Ireland have introduced DTI ratios in recent years. The Bank of England's DTI ratio of 4.5 applies to no more than 15% of the total number of new mortgage loans for owner-occupiers. And for Irish banks the DTI limit of 3.5 should not be exceeded by more than 20% of the value of all housing loans for owner-occupier homes during an annual period.
The table below comes from the Reserve Bank's November 2016 Financial Stability Report.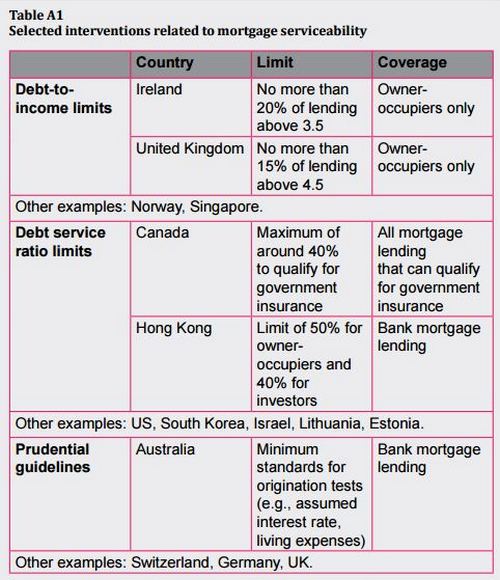 In the November report the Reserve Bank said about one-third of new mortgage lending was being done at a DTI ratio of over 6.
The Reserve Bank says a macro-prudential DTI policy would allow it to limit the degree to which banks can reduce mortgage lending standards during periods of rising housing market risks, in order to protect financial system soundness. It also says an important feature of a DTI policy is that the borrowing capacity of constrained borrowers grows in line with their incomes. 
"DTI policies can support financial stability by reducing the scale of mortgage defaults during a severe economic downturn. All else equal, borrowers with higher DTI ratios have less disposable income to draw on as a buffer to avoid defaulting on their mortgage, without selling their home, in a period of lost income or higher mortgage rates. Loan serviceability is a crucial determinant of probability of default, reflecting that many borrowers will attempt to service loans even if they are in a position of negative equity,' the Reserve Bank says.
"Forced house sales by high-DTI borrowers would likely amplify house price declines, impair the ability of banks to resolve distressed loans, and increase loss given default for banks. High-DTI households are also likely to reduce consumption more sharply during a severe downturn, in an attempt to continue servicing loans and increase precautionary savings."
New Zealand's debt-to-disposable-income ratio recently hit a record high of 167%. And household debt rose 8.7% last year to reach $246.877 billion. The latest Real Estate Institute of New Zealand figures show both the national and Auckland median house prices fell in January, hinting at a potential cooling of the hot housing market.
Sympathy for young families
Meanwhile, KPMG says NZ bank executives "sympathise" with young families, arguing the implementation of DTI restrictions could block them from buying a house. This, they suggest, could be an unintended social consequence the effect of which "might not have been adequately researched."
Bank executives also told KPMG any Reserve Bank DTI tool would need a clear, fair and explicit definition of what constitutes income and what constitutes debt, with this being something banks and the Reserve Bank could be at odds over.
The Government has kiboshed the Reserve Bank's attempts to get a DTI tool for the timebeing. Finance Minister Steven Joyce last week requested a cost-benefit analysis and public consultation before any decision is made on potentially adding a DTI tool to the prudential regulator's macro-prudential policy toolbox.
Joyce's decision came after the Reserve Bank requested a DTI tool be added to its Memorandum of Understanding on macro-prudential policy with the Minister of Finance.
(Also see: The RBNZ was late to the debt-to-income limit party which is why this tool won't be added to its macro-prudential toolkit anytime soon).
*This article was first published in our email for paying subscribers early on Thursday morning. See here for more details and how to subscribe.