The RBNZ is keen to bolster its macro-prudential arsenal with a debt-to-income ratio limiting tool. What might this mean for borrowers, banks, the housing market & politicians?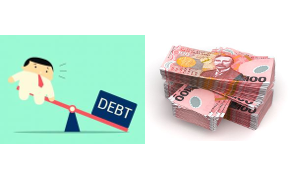 By Gareth Vaughan
The Reserve Bank has formally asked the Government to add a tool allowing it to place limits on debt-to-income ratios (DTIs) for residential mortgage borrowers to its macro-prudential toolkit.
A spokesman for Finance Minister Bill English confirmed to interest.co.nz that a formal request has been made. The Government, however, is yet to greenlight the move.
"The Minister has asked the Reserve Bank for further information and the Government will make a decision in due course," English's spokesman said.
How things play out from here will be very interesting. Because the introduction of a DTI limiting tool has the potential to have a major impact on borrowers, banks and the housing market.
In 2014 the Bank of England introduced rules through which mortgage lenders must constrain their proportion of new lending at loan-to-income (LTI) ratios at or above 4.5 (four-and-a-half times a borrower's income) to no more than 15% of the total number of new mortgage loans.
In 2015 the Central Bank of Ireland also introduced LTI ratio limits. Loans on primary dwelling homes in Ireland are now subject to a limit of 3.5 times loan to gross income. For banks this limit should not be exceeded by more than 20% of the euro value of all housing loans for primary dwelling home purposes during an annual period.
Potential game changer
We don't yet know the detail of Reserve Bank DTI ratio limits, should they go ahead. So let's take a look at the impact Irish or British style rules might have in New Zealand.
As of September, the national median house price - according to the Real Estate Institute of New Zealand (REINZ) - was $515,000. In Auckland it was $825,000. At the Irish 3.5 times DTI limit a couple earning a combined $100,000 per year could borrow $350,000. That's equivalent to 68% of the September national median price, and 42% of the Auckland median price.
At those levels a DTI limit as strict as Ireland's doesn't seem like a big deal.
However, the chart below, from the Reserve Bank's May Financial Stability Report, suggests about 35% of owner-occupier mortgage lending in New Zealand is done with debt-to-income multiples of more than five, while almost 60% of investor lending is done with DTI ratios of more than five. And in August last year Reserve Bank Deputy Governor Grant Spencer said 30% of new borrowers were taking on mortgages at greater than six times income, noting; "At these ratios, it would not take much of an increase in interest rates to substantially erode mortgage affordability."
Thus an Irish style 3.5 times DTI ratio limit, or even a British style 4.5 times limit, would change the game for a large volume of Kiwi borrowers, especially in Auckland, at either the 15% of loan volume or 20% of loan value UK or Irish limits.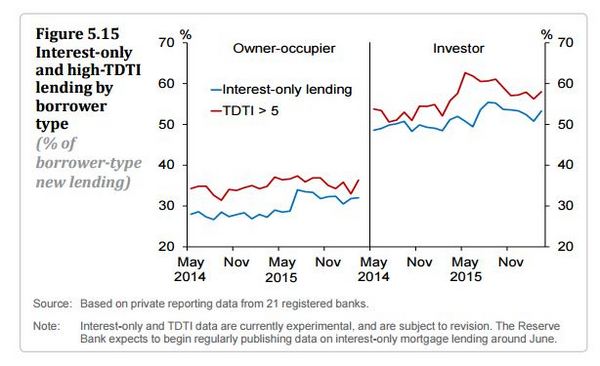 What are the political ramifications in election year?
In May Reserve Bank Governor Graeme Wheeler said DTI ratio limits were something the central bank would look at, adding, "It has been successful in other countries, particularly the UK, which has recently adopted debt-to-income ratios." At that time English and Prime Minister John Key said they were open to the idea of a tool limiting DTI ratios.
But undoubtedly Key, English and their colleagues will be considering the potential political fallout of DTI limits, especially with 2017 being an election year. It's not hard to imagine vested interests in the real estate sector, disappointed would-be first home buyers, and opposition MPs railing against the DTI restrictions, and perceived government housing market failure, on the 6pm television news.
And the Government, of course, will also have its own housing agenda. Especially given housing will unquestionably be a big election issue.
To this end English recently suggested the Government was preparing to ramp up its programme of building new houses on Housing New Zealand land in Auckland, saying up to 30,000 medium-density and medium-priced houses could be built in the coming decade. Then on Wednesday English and Social Housing Minister Paula Bennett said Housing New Zealand lodged 60 resource consent applications in the last quarter. If approved these would see 1297 houses built for more than 3200 people in 20 Auckland suburbs.
The Labour Party, meanwhile, has appointed its housing spokesman, Phil Twyford, as its election campaign chairman. Labour's pledging that, if in government, its KiwiBuild policy would build 100,000 affordable homes and sell them to first home buyers. And Twyford also says Labour would change the law so someone selling a rental property within five years would pay income tax on any capital gain, as well as shut down tax breaks allowing "speculators" to write off their losses on rental properties by paying less tax on other business activity.
Bolstering financial stability
So why is the Reserve Bank keen on DTI limits? The Central Bank of Ireland says the key objective of its DTI ratio policy is to increase the resilience of the banking and household sectors to the property market, and to reduce the risk of bank credit and house price spirals from developing in the future.
Here the Reserve Bank is tasked with maintaining financial stability. At 165% New Zealand's debt-to-disposable income ratio is at an all-time high. As of the end of August housing debt stood at $224.981 billion, up 9.2% year-on-year, the fastest growth rate since 2008. Along with the existing high loan-to-value ratio (LVR) limits, DTI restrictions would further limit the amount of debt available in the economy.
Even with the Auckland median price down 2.1% from its record high to $825,000 in the latest REINZ figures, other parts of the country experienced double digit house price inflation year-on-year pushing the national median price to a record high of $515,000 showing high, arguably unsustainable, house price inflation is spreading. And let's not downplay Auckland. The ASB chart below demonstrates Auckland prices have been on one heck of a run.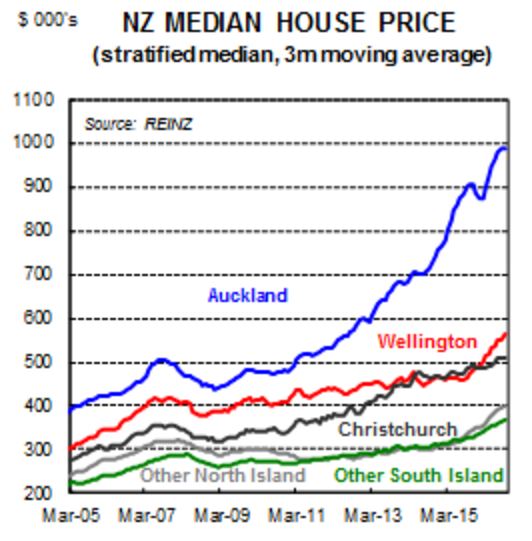 Left out
It's interesting to note that no DTI ratio limiting tool was included in the Reserve Bank's 2013 macro-prudential policy framework when it was established. However, it did say although "the case for incorporating debt-servicing capacity in to the macro-prudential framework" was among areas not in scope for initial implementation, it may form part of the Reserve Bank's future work programme.
Aside from the high residential mortgage LVR restrictions already in use, the Reserve Bank also has three other macro-prudential tools in its toolbox. They are; the countercyclical capital buffer, which effectively is banks holding more capital during credit booms. Adjustments to the minimum core funding ratio, which could be increasing the amount of retail funding, longer-term wholesale funding and equity banks have to use to fund their lending. And sectoral capital requirements, or increasing the amount of capital banks must hold against certain types of loans (IE home loans) in response to sector-specific risks. 
Based on the push to have DTI restrictions added to this toolbox, it appears the Reserve Bank now views them as a better option than any of the other tools already available.
It's also worth noting there are rules in place for the notice period the Reserve Bank must give banks if it plans to introduce a macro-prudential tool. For the countercyclical capital buffer it's up to 12 months. For sectoral capital requirements it's up to three months. For adjustments to the core funding ratio it's up to six months. And for restrictions on high LVR housing lending it's at least two weeks. Obviously we don't know what the timeframe would be for introducing DTI ratio restrictions, should such a tool be added to the toolbox.
Do they work?
So are the DTI ratio limits in place in Ireland and Britain actually working?
A report released by the International Monetary Fund, Financial Stability Board and Bank for International Settlements at the end of August pointed out that as the broad use of macro-prudential policy tools internationally doesn't yet span a full financial cycle, lessons and empirical evidence based on their use remains tentative.
Of borrower-based tools such as LVR restrictions on high residential mortgage lending and DTI ratio limits, the report said, "Borrower-based tools can support the resilience of borrowers and contain procyclical feedback between asset prices and credit. Limits on LTV [loan-to-value] and DSTI [debt-service-to-income] ratios have been found to enhance borrower resilience and moderate lending growth. However, their effects on house price growth appear to be limited."
In June Central Bank of Ireland Deputy Governor Sharon Donnery said if Ireland's mortgage restrictions had been in place 15 years ago, the scale of Ireland's post-2008 financial crisis would have been much more limited. Data clearly showed a link between higher LVR and DTI ratios and subsequent mortgage defaults and also between higher LVRs and banks' losses from defaults, she said. (Ireland also has high LVR restrictions in place). 
"The mortgage measures are designed to act as a restraint on excessive repayment burdens and unsustainable increases in household debt and limit the risk of another house price-credit cycle emerging. They are constructed to protect the financial system as a whole across the medium to long term," Donnery said.
"I think a key issue has been that part of the issue previously was around what we call, house price credit cycle reinforcing each other. Where the ability to borrow more leads you to bid more for a house price which leads you to look to borrow more and it gets into a vicious cycle. Part of the purpose of the caps is to try to stop that kind of cycle re-emerging into the future and obviously the other aspect it is very important from a borrower indebtedness point of view but it is also important from a banking sector resilience point of view but those two aspects of the measures both borrowers and banks, I think, are important elements," Donnery said in an interview with The Sunday Independent.
There's more from the Central Bank of Ireland here. And the Irish central bank is due to review the macro-prudential tools in use in Ireland in November. Incidentally, as of June 30 the big five Irish banks still had €45 billion of non-performing loans, which represented 19% of their combined loan books.
The chart below comes from the Bank of England's latest Financial Stability Report, noting an increase in the proportion of new mortgages extended at LTI ratios just below 4.5.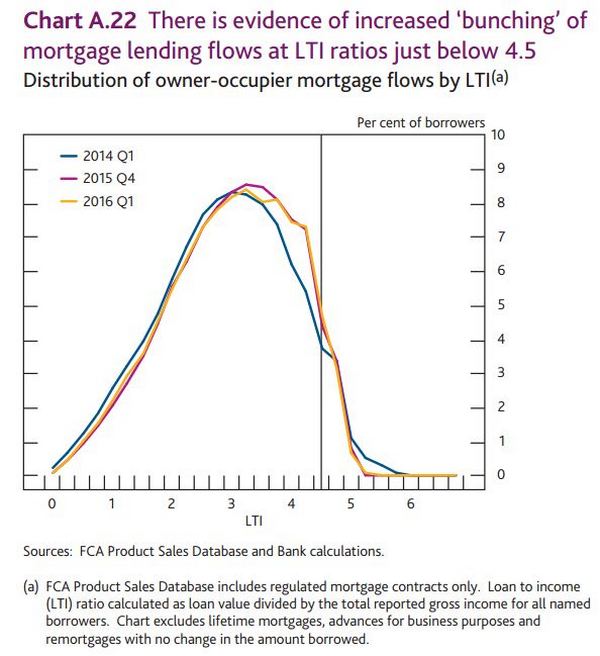 Below is an overview of Irish macroprudential regulations for mortgage lending.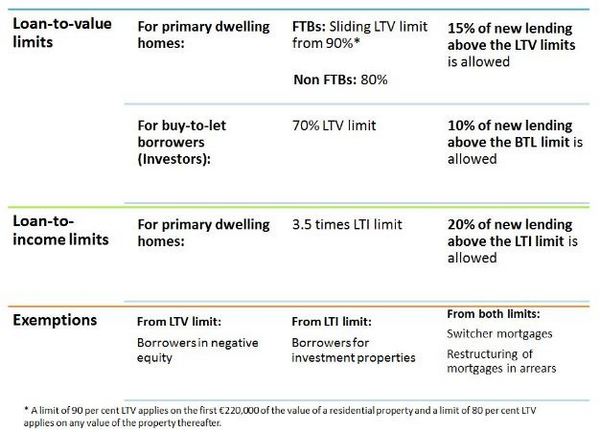 The table below comes from the Central Bank of Ireland. PDH stands for principal dwelling house, FTB for first time buyers, SSB for second and subsequent borrowers, BTL for buy to let, and LTV for loan to value.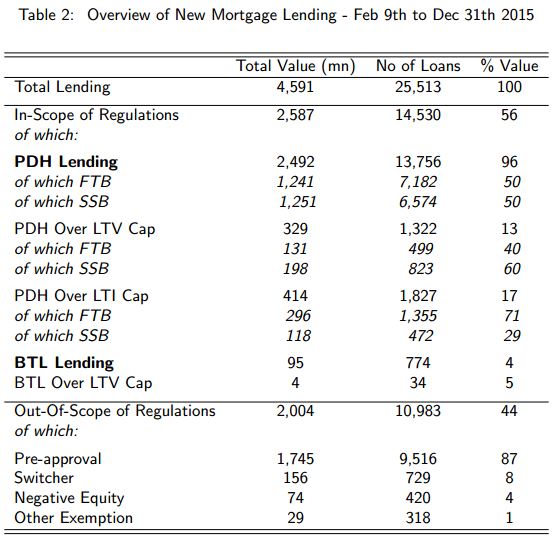 *This article was first published in our email for paying subscribers early on Friday morning. See here for more details and how to subscribe.